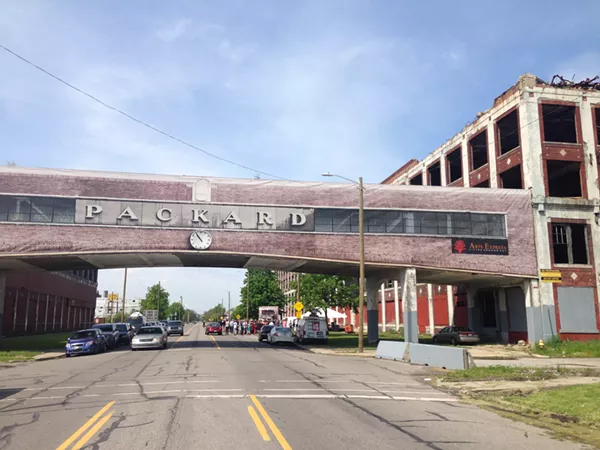 Developers celebrated the official groundbreaking today for the ambitious, multi million-dollar rehabilitation of Detroit's former Packard Plant.
The sprawling, decaying 106-year-old Albert Kahn-designed former auto plant will undergo the first phase of redevelopment, starting with the site's 121,000-square-foot former office building. The construction is headed up by Peruvian developer Fernando Palazuelo, who bought the 3,500,000-square-foot site for $405,000 at a tax foreclosure auction three and a half years ago. According to Palazuelo's firm Arte Express, the entire rehab project could cost $350 million and take up to 15 years.
"I must say how impressed I am by Detroiters," Palazuelo said during a groundbreaking ceremony Tuesday morning. "I have renovated buildings all over the world, and I notice the strength and the determination of the people here in Detroit that is unlike any other. I want you to know I am committed to this project and the lower east side of Detroit."
"When I came here three and a half years ago, they told me, 'Fernando, this is going to be a big risk ... it's going to be impossible,'" he said. He evoked Napoleon. "His generals said, 'Napoleon, this is going to be impossible. Napoleon answered: '
Impossible n'est pas français
' ... 'Impossible is not French.' So remembering Napoleon, we took the decision to move forward."
Eventually, the plan is for the site to host multifamily housing, manufacturing, artist spaces, and a coffee shop. After initially considering another location, German techno nightclub impresario Dimitri Hegemann has expressed interest in building a nightclub on the site as well, according to a
Free Press report
.