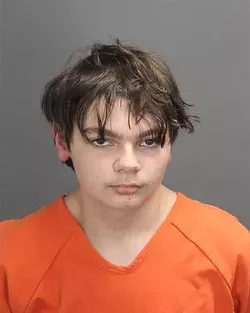 Michigan once again earned the dubious distinction of making national headlines, this time for the deadly school shooting at Oxford High, in which 15-year-old suspect Ethan Crumbley killed at least four students.
Oakland County Prosecutor Karen McDonald made headlines for her swift and severe punishment for the crimes, including charging Ethan Crumbley as an adult, and including a terrorism charge. She also took an unusual step in filing charges against Crumbley's parents, who bought the weapon used and ignored the school's concerns over their son's violent behavior.
Unsurprisingly, a number of
Metro Times
stories about the incident and its fallout were among the top 10 read this week. Here's what else our readers were interested in:
10.
"Too many puppies, not enough volunteer puppy raisers, Michigan's Leader Dogs for the Blind says"
9.
"Oxford High shooter Ethan Crumbley, 15, will be charged as an adult, Oakland County Prosecutor says"
8.
"The 2021 Best of Detroit awards"
7.
"Michigan company now sells cannabis plant clones to the public, a state first"
6.
"Music venue at former Chinese restaurant with ties to Detroit hip-hop clears Historic District Commission"
5.
"Cop scared Oxford students by saying 'bro,' causing them to flee for their lives"
4.
"Anti-vax Wayne County Republican is in ICU with COVID-19"
3.
"As the world burns, Michigan will be the place to be in 2050, expert says"
2.
"Detroit's Winter Blast 2022 canceled"
1.
"Anti-vax Republican who refused to certify Detroit's election died of COVID-19"
Stay connected with Detroit Metro Times. Subscribe to our newsletters, and follow us on Google News, Apple News, Twitter, Facebook, Instagram, or Reddit.