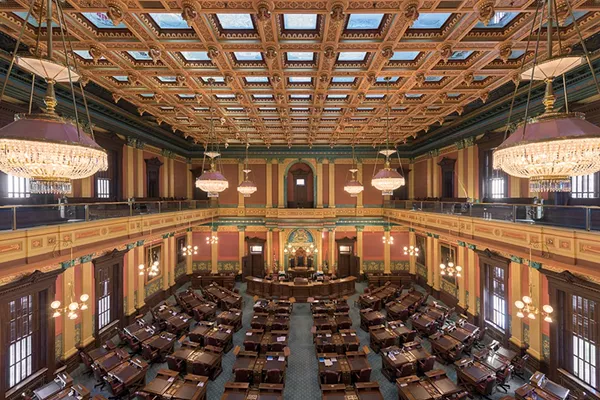 Michigan voters in November elected by solid margins a Democratic governor, attorney general, and secretary of state, all of whom take office in January.
In a normal democracy, that would mean a smooth transition from one party to the other. But this is America in 2018, so it's no surprise that Republicans are now trying to strip power from the incoming Dems.
The GOP is attempting to do so with two bills introduced Thursday in a lame duck legislative session that would weaken Secretary of State-elect Jocelyn Benson and Attorney General-elect Dana Nessel.
Legislation from Republican Rep. Rob VerHeulen would strip Benson of her authority over campaign finance laws. Benson
campaigned on a promise to crack down on dark money contributions
from the wealthy, corporations, and others.
Instead of Benson, a commission of three Republicans and three Democrats would oversee campaign finance laws. It would take a majority on the commission to approve any new limits on corporate and dark money campaign contributions. Since there are very few Republicans who would support limiting dark money, it would be nearly impossible to create tougher laws.
"Republicans are now trying to thwart the will of the voters with bills that ignore their voices, (defy) history and will make Michigan a national punch line by effectively ending enforcement of the campaign finance laws they are required to abide by," Benson's spokeswoman, Liz Boyd, said in a statement to the
Detroit News
. "It's shameful."
However, there's already talk of a citizen-led ballot initiative to reform Michigan's campaign finance laws that could go in front of voters in 2020, so even if the GOP passes its power grab, it could be checked by voters.
unpopular laws
. Nessel has said she won't use state resources to fight for laws that she sees as unconstitutional, such as one that allows adoption agencies to choose not to adopt to same-sex couples.
As the
News
reports, the proposed legislation "would give the state House and state Senate the right to take any action that other parties to the litigation have, including prosecuting an appeal and applying for a re-hearing."
gerrymandered maps in 2010
. That allowed the GOP in 2014 to keep a 63-47 edge in the state House, even though it lost the popular vote. It also lost the popular vote in the state House and Senate in 2018, but will hold majorities in each next legislative session.
Put another way, there's a party that didn't win the popular vote attempting to strip power from a party that did win the popular vote.
Stay on top of Detroit news and views. Sign up for our weekly issue newsletter delivered each Wednesday.