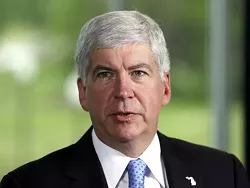 As this hellish year is winding down, we decided to take a trip down memory lane and revisit some of the stories that shaped 2016 into the cluster-fuck of a year that it is.
1.
Detroit teachers are using Twitter to document poor school conditions

DPS teachers started using the Twitter handle @teachDetroit to show photos of the awful conditions of the schools. The photos showed crumbling walls, mold, leaking ceilings, and other horrors. '
2.
This DPS student's open letter puts the sick-outs into perspective

Renaissance High School student Imani Harris wrote an open letter in wake of the sick-outs that were happening in DPS. Imani's letter struck a chord with a lot of people, and showed that students are just as fed up with the district as parents and the teachers.
3.
Gov. Snyder's Flint aid bill signing a PR disaster

I mean, everything Rick Snyder did in 2016 was pretty much a disaster, but this photo takes the cake.
4.
Michigan to welcome first full-scale Chick-fil-A's next month

The once homophobic fast food chain restaurant (actually, they still might be homphobic...we're not sure) announced that they were opening multiple restaurants in Michigan and people lost their minds.
5.
New emails reveal the switch to the Flint River was not about saving money

Motor City Muckracker obtained emails that basically laid out that the switch to the vial Flint River had nothing to do with saving money at all. And Rick Snyder still isn't in jail because...?
6.
Royal Oak school kids chant "build the wall" while Latino classmates cry
Just days after the election, a video surfaced of Royal Oak middle schoolers chanting "build the wall" in the cafeteria. C'mon Royal Oak parents, don't you teach your kids to be better than that?
7.
Dearborn police department is the first in country to have a uniformed officer who was also wears a hijab

Amal Chammout became the first officer in the country to don a hijab while on duty and all we have to say is YOU GO, GIRL!
8.
Public vows to boycott Bookies Bar & Grill following inflammatory Facebook rant
One of the co-owners of Bookies went on a Facebook rant after another unarmed black man was shot by police. The owner's comments were obviously not received well and people got pissed.
9.
Trump's "titties" flub now a Detroit ghetto house anthem
Trump made a stop in Detroit and may or may not have said "titties" instead of the word "city." A local DJ took the sound bit and transformed it into a ghetto house banger called "Massive Titties in Detroit" and the rest is history.
10.
New anti-Trump billboard appears over I-94 — in Arabic

The sign simply said, "Donald Trump: He can't read this, but he is afraid of it."