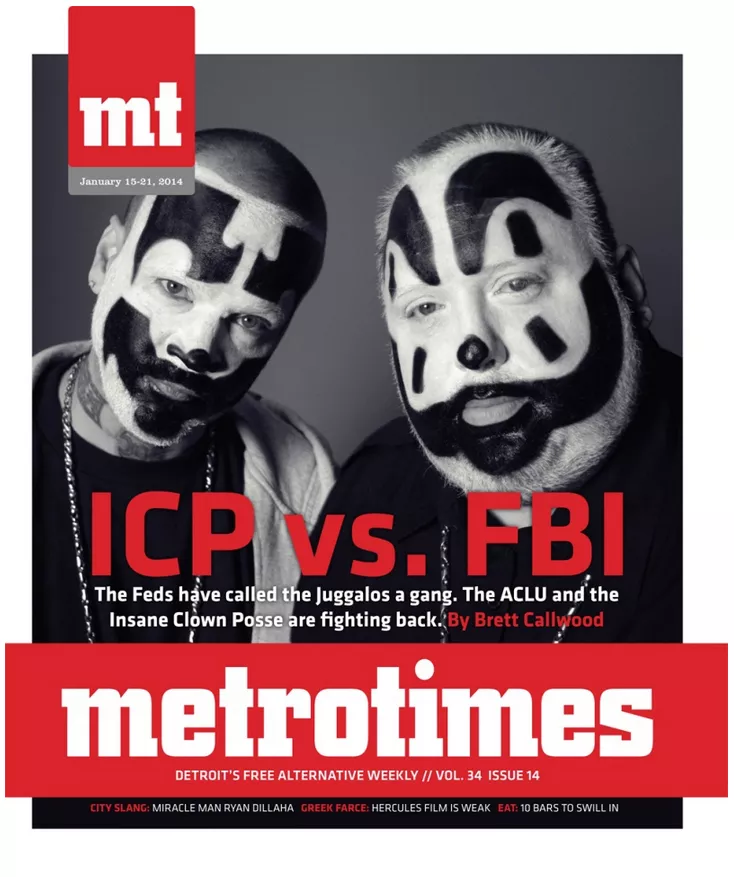 A Juggalo's Lament
Re: "ICP vs. FBI," I can relate to the Brandon Bradley, Scott Gandy and all the other Juggalos who find themselves targets of legalized discrimination because the FBI has labeled them gangsters. I am a member of a motorcycle club that is included in the gang threat assessment pretty much every year. There are veterans's clubs, even Christian-oriented motorcycle clubs, that are on that list every year.

You state, "Surely people are smart enough to know that individuals committing crimes in similar clothes does not a gang make." Unfortunately, no. To many people that is the very definition of a gang. In fact, if two of those people wearing similar clothes get caught committing two crimes together, they would be eligible to be charged under the RICO statute. If one of them punches a guy in the face for saying, "Juggalos are assholes," he could be charged with VICAR (Violent Crime in Aid of Racketeering). What would be "disorderly conduct" for a frat boy on spring break is a federal felony if you're in a "gang." I have been detained, searched, photographed ("for our gang files," I was told by a Rapid City, S.D., police officer) and sniffed by dogs, all because of the clothes I was wearing. —Chuck Connor, Warren

Do the Right Thing
Re: Jack Lessenberry's column about horse trading between George Cushingberry Jr. and Gabe Leland, Lessenberry is so correct about Gabe. I campaigned hard for him because I live in his district and also serve as the corresponding secretary of the Oakman Boulevard Community Association. I had Gabe come before our membership on three occasions and as the votes showed, it was a close race. I thought Gabe would be like his father, a man of integrity and confident enough in his position to stand alone, even on difficult decisions, no matter what pressure may have been applied. Needless to say, I was extremely disappointed in his vote and now question whether he is the right person for the position.
I know people sometimes make mistakes, and I can only hope that in the future Gabe will do his homework, not succumb to political horse trading, and stand for what's best for the citizens in his district. —Patrice L. Green, corresponding secretary, Oakman Boulevard Community Association

Legalize It
Re: Larry Gabriel's Jan. 15 Higher Ground column about medical research showing marijuana's beneficial properties, Gabriel got an arrow-splitting bull's eye, exposing government's vile denial of the beneficial God-given plant cannabis (marijuana), which hasn't killed anyone in over 5,000 years of documented use. That's safety on a biblical scale. Cannabis is safer than our government. —Stan White, Dillon, Colo.

Everybody Knows
Drug warriors who claim we don't know enough about the marijuana plant to legalize it are misinforming the American public. These taxpayer-funded liars deliberately confuse the drug war's tremendous collateral damage with a comparatively harmless plant. The good news is the American public is no longer falling for their ruse. A growing majority of Americans recognize that the war on marijuana consumers is a failed cultural inquisition, not an evidence-based public health campaign. This country can no longer afford to subsidize the prejudices of culture warriors. Not just in Colorado, but throughout the nation, it's time to stop the pointless arrests and instead tax legal marijuana. —Robert Sharpe, policy analyst, Common Sense for Drug Policy, csdp.org
We've already seen a few comments posted to our story about Gary Grimshaw's death. Notably, Stirling posted:
We used to distribute [Grimshaw's] wonderful fliers out of a locker at Grosse Pointe (South) High School. Gary was a sweet man, and I enjoyed the few times we spent together. I introduced him to the Go, at their request, and he designed a great logo for them … at least that's how I remember it. I have almost all of his work — some displayed and framed in my living room. My favorite is the Soft Machine at the Grande, with William S. Burroughs displayed in the lower right from the book cover art as a tiny icon. The colors are genius as well. We'll miss you.