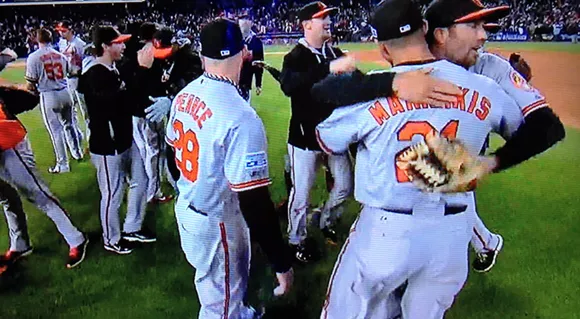 It's all over.
The Detroit Tigers' season came to a bitter end at Comerica Park today, this time at the hands of the Baltimore Orioles. It was
deja vu all over again
for the Tigers as Orioles designated hitter Nelson Cruz swatted the game-winning home run off Tigers starter David Price in the top of the sixth inning.
Cruz,
who as a Texas Ranger singlehandedly destroyed the Tigers in the 2011 playoffs
, struck again, this time with an opposite-field blast that landed in the first row of the right-field stands.
Despite eight strong innings from Price and a scoreless ninth from closer Joe Nathan, the Tigers could muster only one run against Orioles starter Bud Norris and the stingy Baltimore bullpen, as the Orioles swept Detroit out of the playoffs in the third and final game of their best-of-five American League Division Series.
Trailing 2-0 heading into the bottom of the ninth, the Tigers threatened to tie the game with back-to-back doubles from Victor Martinez and J.D. Martinez. But with one out, Orioles manager Buck Showalter proved what a brilliant tactician he is, ordering an intentional walk to Tigers third baseman Nick Castellanos to put runners at first and second.
The moved worked like a charm, as Tigers pinch-hitter Hernan Perez, batting for shortstop Andrew Romine, grounded into a season-ending double play.
It was eerily reminiscent of the end of the 1967 season, in which the Tigers were eliminated on the final day of the regular season when second baseman
Dick McAuliffe grounded into just his second double play of the year
.
But the Tigers came back the following year bound and determined to avenge that bitter defeat at the hands of the California Angels, and, thanks to the heroics of Mickey Lolich, won the '68 World Series, beating the St. Louis Cardinals in seven games.
The Tigers have won just one World Series since, in 1984, and after falling short of a world championship once again, it's a bitter pill for Tigers fans to swallow.
Still, it pales in comparison to the agony that Brooklyn Dodgers fans suffered throughout the 1940s and '50s.
With that in mind,
we have some suggested offseason reading
for Tigers fans.
So wait till next year, folks.
And we'll see you down in Lakeland for spring training.
Till then ...