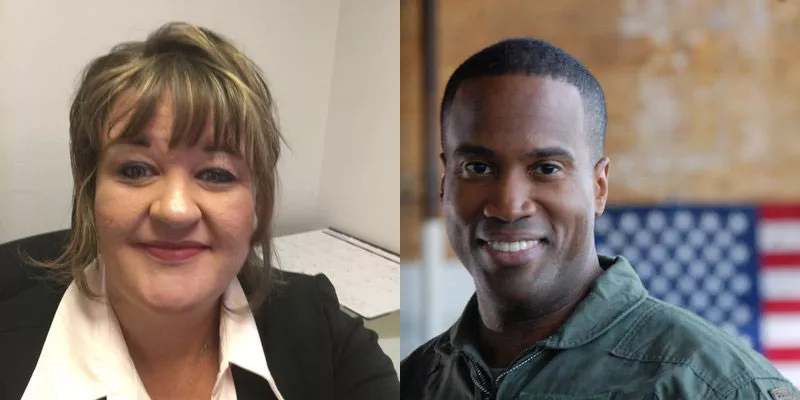 There is a Trump-led war on the media going on right now. The president routinely attacks reporters and media outlets, calling them "Fake News." All of this is against a backdrop of an endangered industry that has been badly wounded by the rise of the internet.
Shamefully, one Michigan newspaper just unwittingly played right into Trump's hands.
On Monday, Bad Axe's
Huron Daily Tribune
fired reporter Brenda Battel after she accidentally left a voicemail revealing a bias against Trump-approved Republican U.S. Senate candidate John James. Things started innocuously enough that day, with Battel calling the James campaign to set up a post-election interview. But Battel didn't properly end the call, and James' voicemail recorded a message Battel didn't intend on the campaign hearing.
"Man, if he beats her... Jesus!" Battel said, referring to James' opponent Debbie Stabenow, who
defeated James
on Tuesday. "Fucking John James! Whew! That would suck. I don't think it's going to happen though." (Oddly, Battel doesn't appear to be talking to anyone but herself.)
The James campaign swiftly seized upon the golden nugget that landed in their lap, posting the voicemail to YouTube:
And the
Huron Daily Tribune
was swift to respond. On Monday evening,
HDT
editor Kate Hessling
posted a statement
informing readers that Battel had been fired for her actions.
"I have listened to the voicemail left by Brenda Battel to Mr. James' campaign, and find no reason to defend this behavior. Brenda Battel's employment has been immediately terminated," she wrote. "The
Huron Daily Tribune
sincerely apologizes to Mr. James and to the public. These statements do not represent the views of the
Tribune
as a whole, nor do they reflect the actions of a responsible journalist."
Then on Tuesday, Battel apologized on Twitter. "My apologies to John James. I am human. I made a mistake," she wrote. "While I did my best to be a fair, objective, professional journalist, what I said reflected none of those traits. For this, I am truly sorry to all of those who have been affected by my mistake."
My apologies to @JohnJamesMI. I am human. I made a mistake. While I did my best to be a fair, objective, professional journalist, what I said reflected none of those traits. For this, I am truly sorry to all of those who have been affected by my mistake.

— Brenda Battel (@brendabattel) November 6, 2018
If I can add yet one more opinion into the mix, I'll say that I think that all of this — the apology, the firing, James' camp posting the recording like it meant something — is deeply misguided. Journalism doesn't mean that journalists don't have opinions. What it does mean is that reporters and editors should do their best to acknowledge and account for these biases.
Of course, reporters have opinions. As Battel says, we're only human, and that means we have our own experiences and perspectives that we inevitably bring to stories. And I suspect these strongly held opinions are, at least in part, often what fuel many journalists to toil for grueling hours and crappy pay.
Of course, I'm a bit biased here myself. We certainly weren't the biggest John James fans here at
Metro Times
. His speeches sounded
too much like The Handmaid's Tale
to us... which, thanks to Google, I'm only just now realizing caused
Tucker Carlson to name-check Metro Times
on Fox News. Look at Carlson's face when he quotes our story on-air. His eyes are rolling. He has an opinion about our opinion. My own anti-Fox News opinion causes me to find this very amusing. Somewhere in all of that is the truth.
If anything, Battel was perhaps the best reporter on hand to interview James the day after the election: Her biases would enable her to ask James tough questions, which is what a good reporter should do.
That's not to say that the media is perfect. I'll grant that Battel's flub was at least unprofessional.
But I do think that for a newspaper to shitcan its own reporter and surrender to a party that has become increasingly hostile to the very idea of a free press is an embarrassment to journalism, and is only certain to embolden Trump and the GOP in their war on the media.
I don't think Battel should have been fired. And I also think a Senator John James would have fucking sucked.
Stay on top of Detroit news and views. Sign up for our weekly issue newsletter delivered each Wednesday.