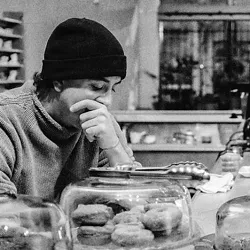 Detroit writer Drew Philp set out on a long, but important journey July 3. He left
his home on Detroit's east side (
you've probably read about it before
) and began the trek to Cleveland, Ohio, where he plans to attend the GOP National Convention, which begins July 18.
Why did Philp set out so early? Well, his trip may take a bit of time. He is, after all, walking.
Reporting for
Belt Magazine
, Philp aims to get down with Americans of all walks of life and really get to know and listen to them as he makes his way to the convention that's presumably going to name Donald Trump as the Republican nominee.
"There's a long, and almost forgotten, tradition from de Tocqueville to Woody Guthrie of getting out among the people and talking with them directly and plainly. That's what I intend to do," Philp writes in his first of four dispatches.
"I'm wandering to Cleveland not to judge or proselytize, but to listen, to really listen, to my fellow countrymen and women about their beliefs, their politics, and the direction they hope this country goes in November. I'm growing tired, in my bones, of New York desk jockeys speculating about what makes Trump supporters support Trump, without talking to any," Philp says.
"I'm over the nerdy political horse race journalism that tells us nothing about what's going to happen to this place, only who some phone survey favors at the moment. And I'm wondering about what real effects these have on the lives of the people I live around, the people I see every day, the people I love."
Read more of Philp's first dispatch from Dearborn
here
, and be sure to
follow him on Twitter
to stay abreast of his journey.