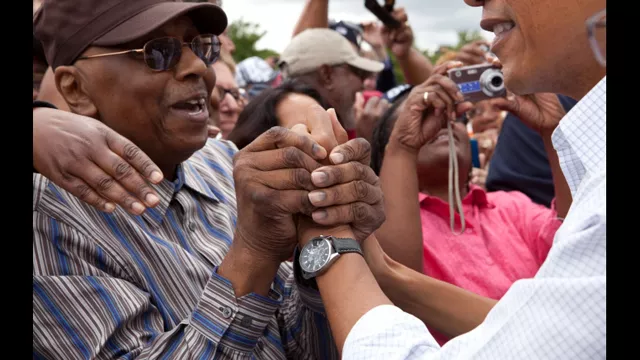 I was all set to lead a traditional New Orleans brass-band second line for a local union in the Labor Day parade. Then I got a call two days before the holiday asking if I'd like to be onstage with President Barack Obama for his speech in Detroit. I'm always ready to second line at the drop of an umbrella, but I figured sitting with the president was a once-in-a-lifetime opportunity, so I gave up my Mardi Gras beads for union gear.
Then I learned that I was one of 250 "onstage participants" and figured they need another hairy, wild-looking guy to balance their diverse demographics. I also I figured that I would be squeezed off to the side behind some large person, invisible to the cameras.
It was cold and breezy on Monday morning when I arrived at the area where the onstage participants were supposed to enter. Except there was no one there to greet us and the Secret Service guy (or whatever kind of fed he was) didn't know we were coming. He said that unless we were members of Congress we weren't getting in there and told us to go to the other side of the parking structure where most of the attendees were entering. He was gruff and made no bones about the fact that he was in charge and we weren't getting in. The people at the gate he sent us to then sent us back to his gate. And he sent us back to their gate. After ping-ponging back and forth between the two spots, we all decided to huddle in the middle until somebody who knew what was going on showed up.
Eventually they appeared and led us back to the point where the Secret Service man guarded the entrance. He still didn't want to let us in, but the woman in charge of our group pressed her point and waved a handful of papers in his face. He relented, but gave us a last sign that he was in charge by yelling at us to get in a single-file line or we weren't going to get in.
That was the first security point. At the next one we had our names checked off the list for a second time and were given green wristbands like those you get at concerts. At the third checkpoint, we had to go through metal detectors and the women had their purses searched. Sen. Debbie Stabenow, Rep. John Conyers and Michigan AFL-CIO director Mark Gaffney arrived as we were going in, and they went through the same security we did. At the fourth checkpoint, they just checked to make sure everyone passing through had the green wristband on.
As we arrived at the stage area, I found out that being an onstage participant meant sitting on the bleachers behind the stage with a passageway between them (although when I saw TV news coverage later it indeed looked like we were onstage). Many of the higher and side bleacher seats were taken. I sat near the front in the middle. That would seem to be a good spot, but the seat was right behind the riser with the drum set for Aretha Franklin's performance to get us ready for the president. So I sat contentedly behind the drums watching the Secret Service guys give evil stares to anyone who wandered too close to whatever area they were guarding. Maybe there were Secret Service women, but they weren't wearing the black suit, shades and earpieces the guys sported.
Eventually we got started with the national anthem sung by a group from the Mosaic Youth Theatre, and prayers from a minister and a rabbi (hmm ... no imam). Metropolitan Detroit AFL-CIO president Saundra Williams and Gaffney shared the emcee duties as a parade of politicians and union leaders spoke. Conyers, Stabenow, state Sen. Coleman A. Young II, and U.S. Reps. Hansen Clarke, John Dingell and probably a couple of others all spoke. I didn't have anything to take notes with. I can't recall all the union leaders, but UAW Secretary Treasurer Dennis Williams, AFL-CIO President Richard Trumka and Teamsters President Jimmy Hoffa were among them. The message was pretty consistent: Labor good, Republicans bad; support Obama.
Neither Detroit Mayor Dave Bing nor any Detroit City Council members were there; nor was Michigan Gov. Rick Snyder, although there were plenty of recall Snyder petitions circulating. I also heard that some union leader said Bing wasn't invited to the party because he was no friend of labor. I couldn't verify that it was said, but it made sense.
I also found it curious that the UAW's Williams spoke instead of UAW President Bob King. Then I thought about it. Williams, a former director of UAW Region 4 that includes Illinois, where Obama was once a state senator, was the first among the UAW's top leadership to support Obama's presidential candidacy. That made sense too. And later on I found out that King had flown in with the president on Air Force One. I also found that Bing and Wayne County Executive Robert Ficano greeted the president at the airport, so Obama was able to butter his bread on both sides.
Before the president came on, it was time for the Queen of Soul. The new, more svelte Franklin sang four songs, including the jazzy "Moody's Mood for Love" which I didn't expect to hear, and "Respect" which I did. After Franklin, the crew dismantled the drum set and took away the riser that it was on. Suddenly I was directly and visibly right behind the lectern where the president would speak.
Obama came on and gave a decent speech for the occasion (you can find it at tinyurl.com/3mpyokc) and the onstage gang did its best to cheer and clap for the applause lines, and threw in some chants of four more years here and there. I'm an Obama supporter. I may not agree with all his policies, but there are no Republicans I'd rather see in the White House. When I accepted the invitation to be there I decided that my job was to be supportive, pay attention, smile and clap. So I did it, and, apparently I was very visible just to the left of the president's shoulder. When he was done and waving to the crowd I pumped my fist into the air a few times, and Obama pointed his finger in my direction. I think he was responding to my fist pumps.
I got calls and e-mails from across the country from people I knew wondering if that was really me next seemingly to the president. Local news, CNN, MSNBC, PBS Newshour: I was on all of them, smiling and clapping. I was glad I did it.
Obama's speech was more of a PR event. He saved the real meat for his Thursday night address to Congress on his jobs plan. That's an initiative we can't just smile and clap for. That's where the boots-on-the-ground activism is needed and crucial. And my little 15 minutes of fame means little in that context.