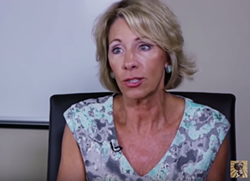 After a senate committee
narrowly approved
Betsy DeVos for the education secretary nominee, two GOP senators have announced that they will not support DeVos when the times comes to vote for her appointment.
Senator Susan Collins of Maine said today on the Senate floor that she "simply cannot support her nomination." Collins is the first Republican senator to oppose DeVos.
Shortly after, GOP senator Lisa Murkowski of Alaska
also announced
that she cannot support DeVos' nomination.
The Dems just need
one more Republican senator
to oppose DeVos and she will not have enough support to receive the nomination.