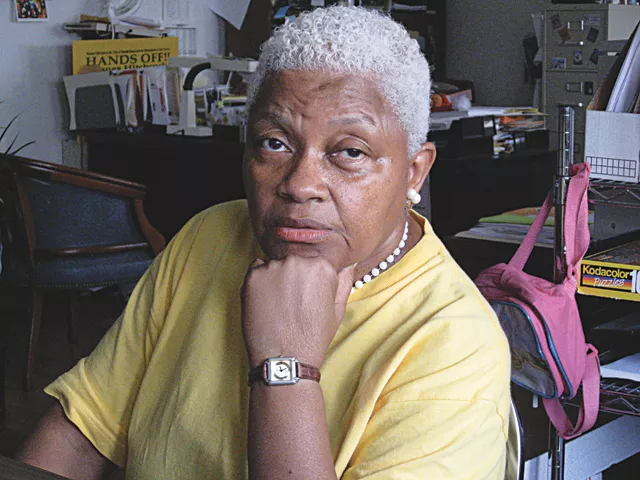 When we read last week that the state had sent out notices alerting some 13,000 families receiving welfare that they could be losing their cash assistance come Oct. 1, the first thing we did was contact Maureen Taylor to get her assessment of the news.
Currently the state chair of the nonprofit Michigan Welfare Rights Association, Taylor has been involved with the issue for more than a quarter-century. And in all that time, she says, we haven't ever seen anything close to the suffering that is about to take place.
"What," she asks, "are these people going to do?"
The seeds for the current situation were sown in the mid-1990s, when then-President Bill Clinton signed welfare reform legislation into law. Included in that reform was a five-year lifetime limit on cash assistance for people receiving welfare. States had the option of reducing that to four years, which the Michigan legislature voted to do in July.
However, until now, the state of Michigan has routinely granted "hardship" extensions to families with both children and no other outside source of income, says Sheryl Thompson, deputy director of field operations for the Michigan Department of Human Services in Lansing.
Under Gov. Rick Snyder, it was decided that it was time for the routine granting of those extensions to come to an end. "It brings us in line with most other states," Thompson says.
A total of about 50,000 people — the majority of them children — will be affected in this first round of cutoffs.
With Michigan's official unemployment rate standing at 10.5 percent in June, and the rate in metro Detroit a full 2 percentage points higher, the prospect of these people finding jobs now is pretty bleak, Taylor says. "I just got done talking with a woman who is well-educated, speaks two languages, and she hasn't been able to find a job, and she's been looking for one for the past two years."
Working out of an office on the fourth floor of the First United Methodist Church in downtown Detroit, Taylor says the organization has been flooded with calls. "It's just mayhem," she says.
Thompson tells us that even when their cash assistance comes to an end — $415 a month for a single parent with two children — recipients will still be eligible for food stamps and Medicaid. Those who are losing their welfare payment will be advised to contact the nonprofit social services agency United Way, which will help direct people to service providers that might be able to help.
There's an image that Taylor can't get out of her mind.
"I keep seeing this as a death train," she says.
Gilda Jacobs, a former state legislator who is now president and CEO of the nonprofit Michigan League for Human Services, says there's likely to be a domino effect of unintended consequences associated with the cuts. She sees the likelihood of more foreclosures and evictions, and with that more children being placed in foster care.
There will certainly be more desperation, and with that desperation more street crime and domestic violence. And its not going to be limited to the 13,000 families in line to lose their benefits Oct. 1.
"This is just the beginning," says Jacobs. "This is going to be a conveyor belt of people falling off the cliff as they hit their eligibility limit."
Asked what she sees as the eventual outcome to all this, Taylor pantomimes blowing up a balloon. "Sooner or later," she says, "you give it one breath too many and the thing just explodes."