MICHELE OBERHOLTZER BECAME AWARE of the foreclosure system's shortcomings when she took a job with Loveland surveying properties for the 2014 auction.
She and others were tasked with taking photos of the homes that were up for foreclosure in order to get data points on the condition of a house and whether it was occupied; Oberholtzer was confronted with the issue that many people, like Cherry, did not even know their home was in danger of repossession.
As she'd pedal around town snapping flicks, she brought along a short list of numbers, provided by Loveland, that she could give to families if they happened to come out and ask what she was doing. She quickly realized, however, how inadequate this system was.
"Even though my job was not to interact with people it was inevitable," Oberholtzer, a petite 30-year-old with the calm voice of elementary school teacher, explains.
In many ways she felt like a guy sitting next to you in a doctor's waiting room who has to repeat that you have cancer. There were so many questions but she had so few answers. More frustrating than not knowing them, she says, was the fact that she didn't feel like she could easily find them if she wanted.
"I have a college education and Internet access," Oberholtzer says, "and I was still finding it difficult to get answers."
When she discovered that one of the properties on her list to survey was U-SNAP-BAC, a nonprofit that provides homeowner and buyer counseling classes with the intent of stopping foreclosures, she knew the issues of the city were bigger than just individual homes. "The safety net is under attack," she remembers thinking as she biked home that day.
Shortly after that realization she created the Tricycle Collective, an organization that canvasses neighborhoods spreading awareness about foreclosures and raising funds to help families win their homes back. Last year, when she conceived of the idea, she started a crowdfunding campaign and raised enough to give 11 families $500 each. Nine of the eleven won their homes.
This year she had bigger ambitions: Raise $20,000 to help 31 families and be more proactive in the neighborhoods to make sure families, even those she couldn't donate to, knew their options.
This second step was particularly important this year, since in January Gov. Rick Snyder signed into law a bill that prohibits individuals with a foreclosed property or delinquent taxes from bidding in the auction. While the law was designed with the idea of stopping slumlords or property flippers like Kastanes from participating, it mostly affects the everyday people like Robertson. The United Community Housing Coalition, which offers services as a proxy bidder, has become invaluable in light of this law. It's where Oberholtzer's introductory to foreclosure options starts.
On a muggy day in September she and two other volunteers were canvassing on Promenade, near Robinson's former "House of Horrors." It's a block parallel to East Outer Drive, but Oberholtzer had no intention of going there. She had lost homes in Virginia Park last year and knew that certain streets and neighborhoods had cache that promised to drive up the bidding price. East Outer Drive was one of them.
"It's not a good use of time, and it's fucking depressing," Oberholtzer says from her office in Detroit's Green Garage. The other volunteers, Garrett and Arquesha, kept pushing to check it out. "People live here too!" they kept saying.
Oberholtzer knew but she was trying to be practical. She was constantly racked with anxiety about the sheer volume of families facing foreclosure. There were too many houses and too many people for the Tricycle Collective to attempt to reach them all. Erring against her pragmatism, she relented and made her way to East Outer Drive. After a few blocks they landed at a house that her Loveland map said was foreclosed. She could hear the yelps and giggles of kids playing in a backyard and spotted bunch of bikes and tricycles in the driveway.
It was Robertson's house.
Kye'Ren spotted the trio first.
"Mom, someone showed up to talk to you about the house," he told Robertson, who had just gotten home from her job as a barista at Biggby Coffee in Grosse Pointe.
Her heart stopped. She had already started saving money to take to the Housing Coalition for a bid, but did this mean people were actually starting to scope the house out? Was this a potential buyer?
"My instinct was like, 'Somebody want to look into my house.' I need to tell the kids to come in the house, we're going to close the doors and not come outside and talk to anyone," she says.
Oberholtzer approached the door and started giving her spiel, explaining that the house was slated for the auction and what Robertson could do about it. Robertson realized this was an ally.
"Shakiya [Robertson] is one of the only people in all canvassing that already knew about the foreclosure and the auction," Oberholtzer says. "In that way we weren't bringing that much info, it was more of a support network for her."
Oberholtzer was moved by Robertson's story and determination to get her home back. She committed $1,000.
---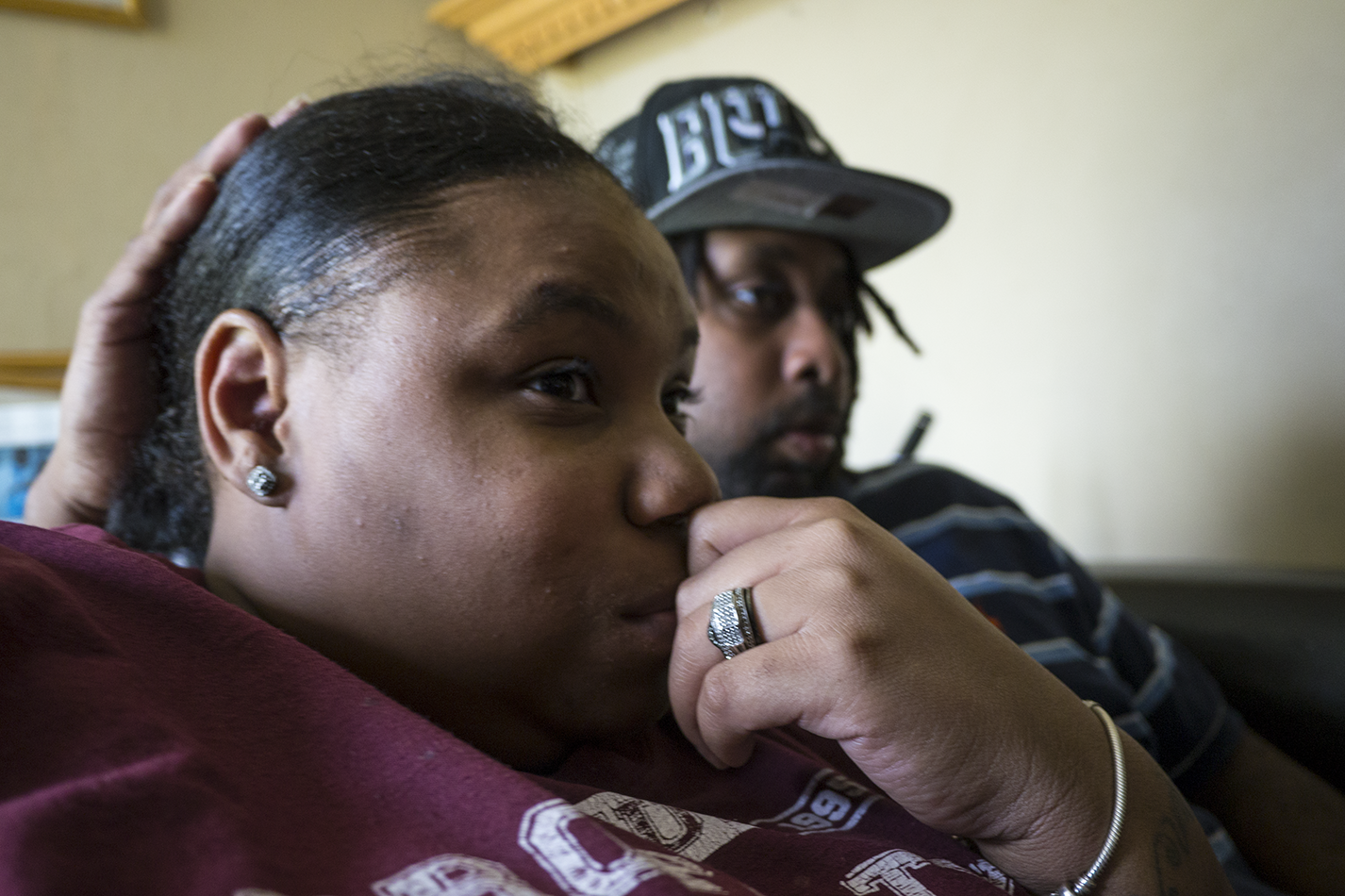 IN THE DAYS LEADING UP to the auction, Robertson vacillated between trying to keep her cool and exploding in intense freak-outs. In addition to the stress of the auction there were the near-constant calls from Towne Mortgage. She was falling behind on her payments, they said.
When she found out the house was in the auction, she was advised by the Housing Coalition to stop paying them. Despite the house being in the possession of Wayne County, Towne Mortgage kept haranguing her for money.
In a July 2 letter, one month after the house had been foreclosed, they wrote her to say payments for June and July were due and she owed $619.50 because of late penalties. In mid-August she received another letter saying her balance had jumped to $1,268. By September the notes had become sterner: "An action to foreclose your mortgage is now being seriously considered. The drastic action may be necessary due to your serious delinquency."
The irony of course was the house was already up for the taking in round 1 of the 2015 Wayne County tax auction. What gives Robertson chills is the fact that others likely didn't know their house was up for auction and probably continued paying Towne Mortgage, when they would have been better off saving the money to either bid or to navigate the uncertainty ahead.
Robertson felt that future uncertainty with immense clarity as the man in the maroon sedan pulled away. Oberholtzer had arrived right before the intense encounter and suggested everyone hang out outside so the house would appear conspicuously occupied. The boys hopped around on a couch that Robertson had already put outside for bulk pick up — she snuck back into the house. She prayed that the $3,435 she and Warren had saved, plus the $1,000 donation from Tricycle, would be enough to notch the top bid. That cash sat with the Housing Coalition, who would be doing the bidding.
At 3:29 p.m., a minute before the auction was supposed to end, the bidding had jumped to $4,200. Then another bidder raised the price and the auction was extended by five minutes.
About an hour and a half earlier, a prominent Detroit personality had gotten in touch with Oberholtzer and told her they were willing to front the cash for families. "Do what you need to do," the person had said.
Oberholtzer had made plans with the Housing Coalition that if the bid went up to $5,000 she, using the bank account of this anonymous donor, would intervene.
The auction had been extended another five minutes. Robertson's house was now priced above $5,000.
While Oberholtzer had already gone over the plan with Robertson — this anonymous person would go as high as Robertson wanted and then, through a land contract, Robertson would have a year to pay the person back and get the deed. No interest, no scams, just the luxury of having cash to front the purchase — the mother of three was in a daze.
Clutching Oberholtzer's hand, Robertson was silent as she watched her type in the figure $8,000. This would be the max bid.
Cartoons played from the TV screen as Kyi'Lie sat across the room eating a Hot Pocket and drinking from a pink and green sippy cup.
It was oddly calm. They waited.
Finally, at 3:45 p.m., Oberholtzer softly announced, "It's closed. You got it."
"Thank you, Jesus!" Robertson erupted, throwing her hands up into the air as tears streamed down her cheeks. "I was so afraid." Rocking back and forth, Robertson leaned down and hugged the chair behind Oberholtzer.
Kyi'Lie came over to check on her mom.
"She's happy, it's OK," explained Oberholtzer.
"I promised you I had nowhere to go," Robertson choked out.
She didn't have to worry about that anymore. She had purchased her house back for $6,100.
---
TODAY, WHEN YOU DRIVE by Robertson's house, it is decked out with Thanksgiving decorations. "There is always something to be thankful for," reads a prominent placard on the front door. The anxiety-filled nightmare is over, and she and Warren can go back to investing in their future. This week they're able to pick up the more than $4,000 they dropped off at the United Community Housing Coalition and transfer the funds to the anonymous donor. After years of the East Outer Drive house falling victim to predatory scams, the deed is finally in the hands of someone Robertson knows she can trust. No games. And only a small payoff left before the deed is in her hands.
The same could not be said for everyone else. Of the 31 families that Oberholtzer donated to, 13 lost their homes. Of the 8,000 occupied homes in this year's auction over 5,000 were purchased by private buyers; whether or not they were bought by their current occupants, as was Robertson's case, is unclear, but unfortunately unlikely.
The somewhat randomness of it all — if Cherry hadn't lost her home, would Robertson have paid so close attention to the 411 foreclosure sign? If Oberholtzer hadn't been pushed to walk down East Outer Drive would Robertson have had enough? If the anonymous donor hadn't contacted Oberholtzer less than two hours before bidding was to end, would the man in the maroon sedan, or someone like him, won? — makes it difficult to pinpoint how auction results go so differently for various families.
What is indisputable, win or lose, is the mental strain that thousands of Detroiters lived with for those months of uncertainty.
"I would never wish this on anyone," Robertson said between tears in one of our first meetings in early October, when she still had little clarity or clue of what would happen to her home. "I don't have enemies but even if I did I wouldn't wish this on them. Nobody should have to go through this."
There is some hope that change may be on its way. In September, longtime Wayne County Treasurer Raymond Wojtowicz announced plans to retire. The news came a month after Wayne County's chief deputy treasurer, David Szymanski, announced plans to part ways. These departures give hope that a re-evaluation of the city's stress-inducing and destructive foreclosure system may come soon.
In the interim, however, the cycle keeps going. Robertson may be in her home but a slew of new foreclosures are already heading down the pipeline according to Loveland, which estimates another 60,000 homes are expected to be foreclosed in 2016. The yellow bags are being stapled to doors as you read this. Next year's auction is being readied. Shacks and castles hang in the balance. And families will get little help or advice beyond what the man in the maroon sedan offered: "Good luck."