2007 WAS A GOOD YEAR
for James Odell Barnes. While the subprime mortgage crisis was devastating — families lost their homes, millions lost their jobs, housing prices fell dramatically, as did the stock market — Barnes, known as the Foreclosure King, felt none of this. In fact, he thrived. Purchasing foreclosed homes in bulk that the banks were all too happy to basically give away, Barnes would flip them — often sight unseen — to low-income individuals with inadequate credit ratings who couldn't get proper loans. He left the work for the families moving in — "Poor people have a lot of ingenuity," he
told
the
Wall Street Journal
— and charged high interest rates of about 12 percent.
He made millions — and his colleagues didn't do so bad either.
George Kastanes, his wife Teresa, and their son Alex worked closely with Barnes in South Carolina, where they all lived. In 2007 they decided to strike out on their own and capitalize on the foreclosure catastrophe in a city that was hit particularly hard: Detroit.
Sprawl and high levels of job loss had magnified the mortgage meltdown in Michigan and particularly in the Motor City. More than 100,000 properties across the state were foreclosed that year — an 85 percent increase from 2005 — and 5 percent of Detroit's homes were repossessed. The city was crowned the foreclosure fiefdom with the highest rate in the nation.
With this as the backdrop, Kastanes approached Abner McWhorter, a local businessman, about partnering for Paramount Limited, a company that would buy foreclosed properties from the banks and sell them similar to Barnes. In June 2007 McWhorter, upon the urging of Kastanes, approached the Detroit Police and Fire Retirement System to see if they wanted to invest in their lucrative plan.
While the pension fund declined the offer, in January 2008 — with a thumbs up from Jeffrey Beasley, the former pension trustee and Kwame Kilpatrick frat brother who was sentenced this year to 11 years in prison for questionable pension investments — they agreed to lend Paramount $10 million to buy and rehab 1,400 foreclosed homes in metro Detroit. The pension expected 16 percent interest each year in return. "The way it was presented was to revitalize residential areas in Detroit," police and fire pension fund chairman Sean Neary told The Detroit News in 2012 when everything fell apart.
As the article goes on to explain: "Instead of maintaining, rehabilitating, and marketing the homes, Paramount and others are accused of grossly mismanaging the real-estate portfolio, failing to maintain the properties or pay property taxes, according to the pension fund," later adding, "Paramount was not profitable and was repaying the loan with the pension fund's own money — a classic Ponzi scheme."
In May 2011, when it appeared $5 million had just vanished, the pension fund sued Paramount for more than $15 million. A year later a judge put a warrant out for the principal actors' arrests. Kastanes was detained in a Florida airport — he and his wife had fled to St. Kitt after declaring bankruptcy. Teresa, who remained abroad, eventually surrendered in November. McWhorter committed suicide.
The story was crazy and engrossing but what was missing from most news coverage — MT got it — was what would become of people like Robertson, who were paying Paramount $295 a month with the understanding that they would one day own their home. The attention was so focused on the pension fund that some aspiring homeowners, such as Robertson, were never even informed of Paramount's illegal activities. She had no idea about the Ponzi scheme, no idea the man she signed the contract with was in jail, or that the company was accused of grossly mismanaging properties, let alone not paying property taxes.
While justice was being served for one scammed party — it was coming, still, at the expense of another.
Looking at the chain of titles for the East Outer Drive house, one begins to fully comprehend how predatory behavior begets predatory behavior. The mortgage foreclosures and the tax foreclosures are just a few links apart in a chain weighted down by parasites. In many ways the house was doomed far before Kastanes and Robertson ever struck a deal.
In December 2007, the East Outer Drive home was foreclosed. Five months later CitiMortgage Inc. sold the house for $1 to Bryce Peters Financial Corp. in Nevada, which was owned by fellow Barnes minion Blaine Murphy. (In 2013 Murphy pleaded guilty to several charges of fraud after being indicted for illegally flipping homes in Cleveland.)
According to documents, Kastanes provided to Robertson when she signed the 15-year land-lease totaling more than $50,000, Bryce Peters granted the property to Kastanes in a quit claim deed in December 2008 for $1.
The quit claim deed, however, was not notarized and, according to the Wayne County Treasurer, Bryce Peters was still the legal owner of the house. (This raises questions about the legality of Kastanes' contract with Robertson.)
A 2013 study from Harvard University's Joint Center for Housing Studies looking at the path of mortgages foreclosed homes in Cleveland, a city with a similar foreclosure rate to Detroit, found that making titles untransferable was a common practice among some of the more egregious, often out of state, lenders who purchased homes from banks.
Even after the scams of Paramount came to light, nobody took the time to analyze the validity of each contract — Kastanes shredded many of his documents.
Robertson didn't know about any of this. In 2013, she received a phone call from a customer service rep at Towne Mortgage in Sterling Heights informing her that they would be handling the property hence forward and that her payment would not increase. To Robertson, this was another trustworthy company whose sole purpose was making her a homeowner — in reality they were the receiver in charge of recovering funds for the pensioners.
For more than two years Robertson and Warren continued to make payments to Towne Mortgage. $295 a month, every month. And continued making improvements to the home they'd one day own.
"In my head I am like, 'This isn't even for me,'" Robertson says. "When we get older, me and Warren, we can go. We can move into an apartment; we don't need much space. But it's for the children. Say for instance Kyi'Lie moves out, she gets her own house, Ky'Shaun moves out and he gets his own house, but Ky'Ren never moves out and never gets his own place. This will be his place. He doesn't have to find anywhere to go because he already has a place. Regardless of the child, they will always have a place because this the place we are building for them."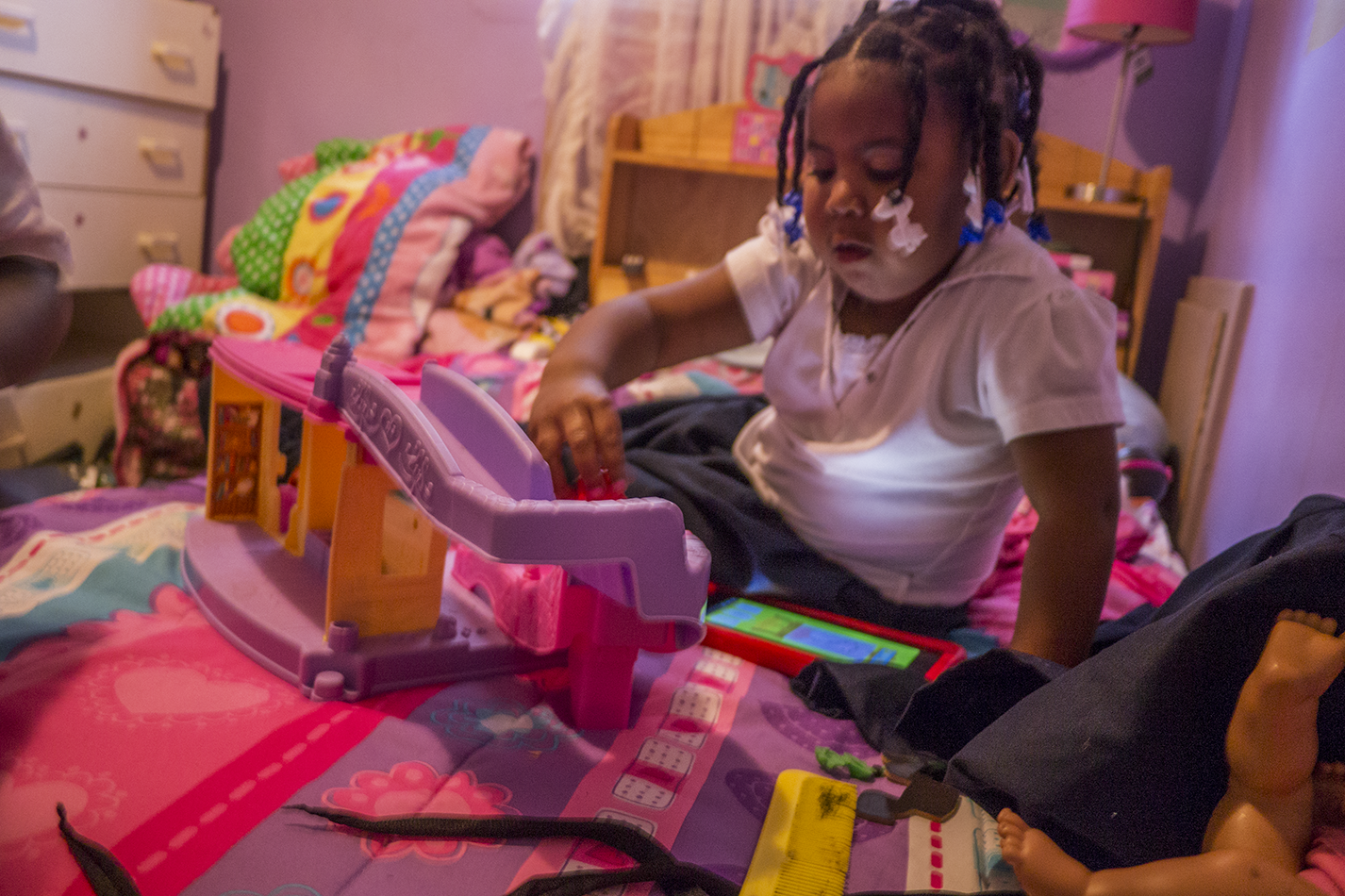 ---
IN MAY, A FEW WEEKS AFTER Kyi'Lie's fourth birthday, Robertson received a postcard in the mail. "Call 4-1-1 to save your property from foreclosure," it read.
She stuffed it in her purse, like she did with most junk mail, but couldn't stop thinking about the words emblazoned across the top "foreclosure". The next morning she called the number. The woman who answered told her she had to go downtown to 400 Monroe Ave., short for the Wayne County Treasurer, for more information.
It was there that Robertson finally learned the truth about Kastanes and Paramount and the Ponzi scheme and the fraud. It was there she finally learned that everything she hadn't known had directly affected her.
According to the treasurer's office, Bryce Peters Financial Corp., the listed owner of the property and therefore taxpayer, owed more than $30,000. Taxes were due from 2014 all the way back through 2008, before Robertson even signed the lease. The tax bills had been mailed to an address in Nevada — the same address Bryce Peters listed on the May 2008 contract with CitiMortgage.
Neither Paramount nor Towne Mortgage had been paying property taxes as the original contract had stated.
She asked what she could do. The lady behind the desk said she could pay $6,000 to stay off the auction list.
She asked if she could make payment arrangements. It was too late for that.
She explained her land-lease agreement. She was sent to the fraud department.
She explained her story again there. She was turned away.
"We only deal with landlord-tenant cases, not mortgage fraud," the woman in the fraud department told her.
She went home.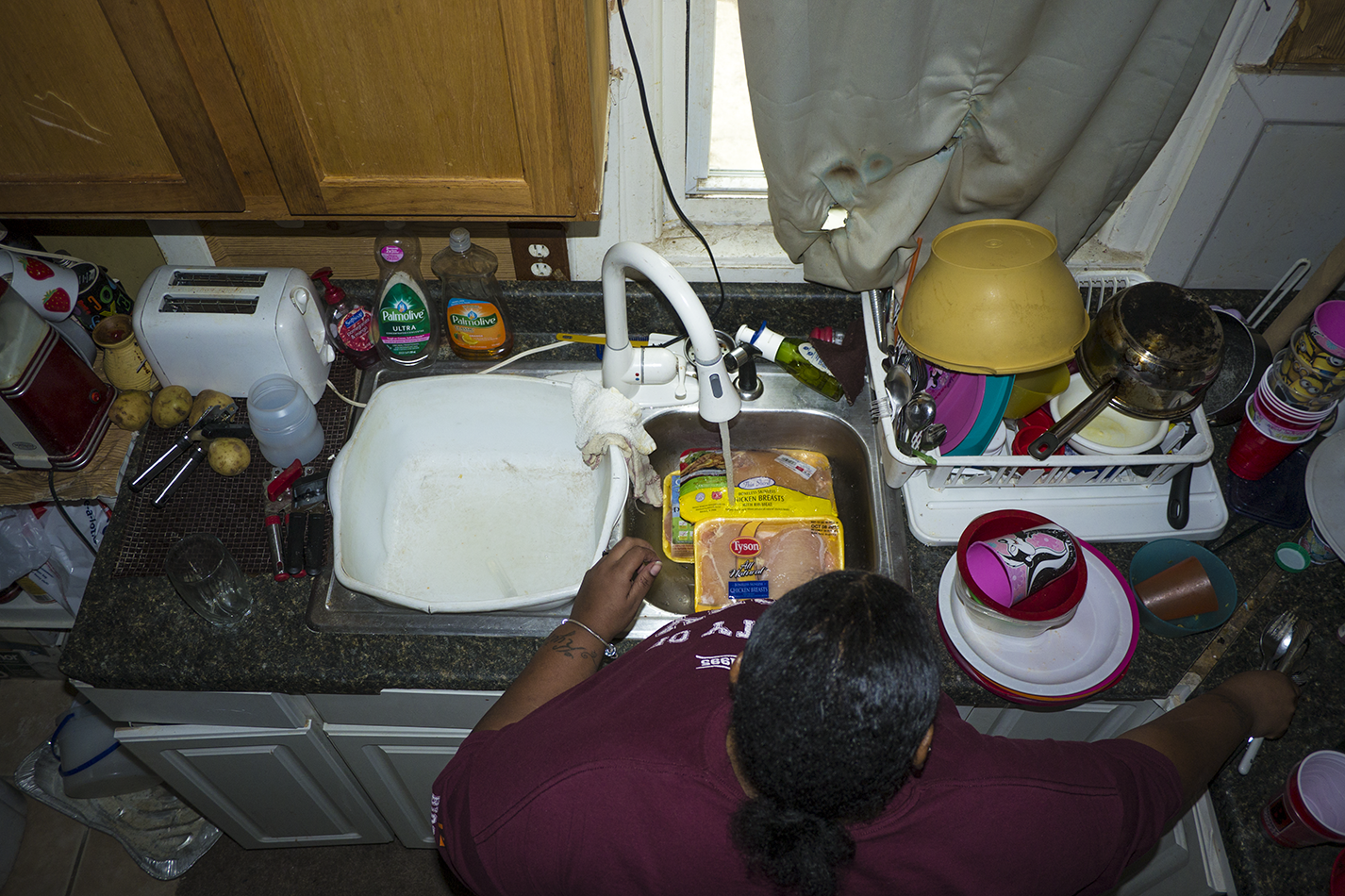 ---
A SORT OF DEPRESSION SET IN shortly after the Monroe visit. In the same way Robertson had made a mental catalog of her past homes, she began thinking hard about East Outer Drive's legacy. There was the excitement of bringing Kyi'Lie home from the hospital and hugging her tightly in the pink room they had decorated for her. There was the one-year anniversary party in August 2013 that Robertson and Warren threw in their backyard with about 50 of their closest friends and family in attendance. There was the sadness and final goodbye at her grandmother's memorial service — also in the backyard. There were countless memories of the kids and the little moments that marked their growth — the first this, the first that.
She had similar memories of her mother's house on Kilbourne, the one Rhonda Cherry had so lovingly renovated. And she had to look no further than that home to realize how fast it can all go away.
Back in 2013, Cherry's house was sold at the Wayne County auction without her even knowing it was in danger. While she says she was paying property taxes, there had been a dispute over ownership — a woman signed the house over the Cherry when it was still blighted but then tried to reclaim it after it had been fixed up — which complicated where the bills were going.
After 10 years of living in the home, Cherry found out the house had been foreclosed and ultimately purchased when the new buyer, a Detroit police officer, showed up on her porch that fall and asked her what she thought was fair rent. Cherry had no intention of renting the house she felt she owned, so she left and moved into Robertson's basement.
Today, weeds have sprouted up where flowerbeds used to blossom at 12625 Kilbourne.
The grass is taller than knee-high and the yard is nothing more than a collection of random garbage and litter, a flip flop here, a striped shirt there.
Looking through the window you can see the house is completely gutted. Walls have been knocked down and plaster crumbs dot the ruby red carpet.
"This is grandma's old house," Kyi'Lie whispered to her cousin Janiyah one sunny afternoon in October when Robertson stopped by to check it out. As Kye'Ren led Robertson and the girls to the backyard to see what had become of the garage that his grandma once cleverly decorated with a cherry painting, Robertson pointed out things that had changed. But before she could cover the full list, Kyi'Lie interrupted her with a blunt and astute observation.
"Someone broke her house," Kyi'Lie said. "Someone broke her house."
Once a point of pride in the neighborhood, Cherry's home today is what Loveland, the Detroit Blight Task Force, and Dan Gilbert would all agree is blight. More than a year since she moved out, the house is empty and stripped.
That's not surprising to those who study this sort of thing. Like the cycle of predatory actors milking the properties, the properties themselves have a cycle.
According to a 2015 report by Loveland, almost 1 in 6 of the occupied homes in the 2014 tax auction is now vacant. Of those empty homes, 180 are considered new demolition candidates. In layman's terms: Homes that were once occupied by people like Cherry are now not only empty but considered dangerous eyesores.
More remarkably, getting rid of those newly blighted structures would cost the city an estimated $2 million. Ironically enough, according to Jerry Paffendorf the CEO of Loveland, this is same amount Wayne County spends producing and distributing the yellow foreclosure bags each year — a notification technique that has been criticized for not ensuring individuals, as was the case with Cherry, fully understand their next steps once a house is up for foreclosure.
---