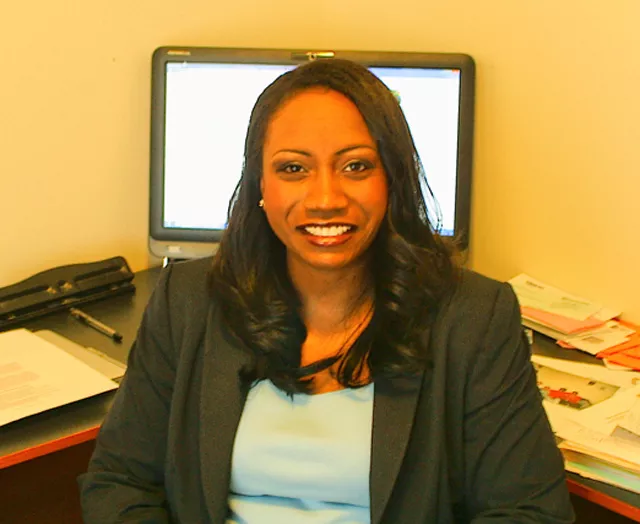 She beat the odds. Now she wants to help Detroit high school kids facing the same sorts of challenges do the same.
Growing up poor in Los Angeles, Natasha Baker was surrounded by trouble, as she tells it. When she was just 12, one of her brothers was murdered. Another brother is a recovering crack addict. Her sister, a high school dropout, has four children with four different fathers.
"I just hated being poor growing up," Baker says. "I didn't want to end up like everyone else in my environment. ... So I became obsessive about never missing school, doing every homework assignment."
Her diligence paid off. She graduated from California State University at Long Beach, but instead of finding work in some upscale school district, she returned to the sort of hardscrabble areas she grew up in.
"I feel like God has put me through so much because now it's my turn to bring other kids through," Baker says, explaining her career path.
Right after college, she began teaching English at Compton's Centennial High School in southern California. "Sometimes there were 35 kids on the roster, and only five to 10 in the classroom," Baker recalls. During her two years of teaching there, one of her students was raped on campus, another was shot and killed, she says.
In 2008, after receiving her master's degree from Howard University, Baker worked for two years in post-Katrina New Orleans, first as a middle school principal and then as the chief academic officer for FirstLine Schools where she oversaw four charters. All the while she was refining plans for an innovative school she wanted to create, and looking for the right opportunity to launch it.
What she wants to open is a public boarding school.
And she has chosen Detroit, in part because the needs here are so great, as the place where she's trying to turn that vision into a reality. Detroit College Preparatory Academy (DCPA) would be the first of its kind in Michigan, and only the second in the nation.
A $110,000 planning grant from the Michigan Department of Education — which doled out a total of 26 such grants in 2010 — has allowed Baker to lay the groundwork. An application for charter authorization from Lake Superior State University has been submitted, and a decision should be reached within the next month.
It is a critical phase for the project, which has to overcome the difficulties of a catch-22 situation.
Without a charter authorization in hand, Baker is having little luck in gaining attention from the philanthropists and grant providers whose support is crucial if something as expensive as a public boarding school is going to be financially feasible. Conversely, charter authorizers are reluctant to green-light a school that lacks secure funding.
"Coming to authorizers without resources for a project of this magnitude works against us," Baker admits. "But Geoffrey Canada's organization [Harlem Children's Zone] and SEED both started out with nothing. No one thought Geoffrey Canada could create what he has, and yet he did."
Harlem Children's Zone is an organization of educational support and research for impoverished families in Harlem. Its charismatic founder and CEO, Geoffrey Canada, has been featured in numerous national media stories. As an inner-city charter boarding school, SEED in Washington, D.C., is the sole precedent and basis for DCPA's model. Both began as modest projects in the 1990s and their profiles have grown considerably since.
There's no doubt that the school Baker envisions would be an expensive proposition. At SEED, for example, the per-pupil annual cost is about $35,000, according to a New York Times report. Baker says there are feasible ways to reduce that cost, though she didn't refute the estimates.
That compares to $7,580 per pupil Detroit charter schools receive from the state. Her school would have to raise funds for the difference.
On top of all that, there is the cost of the school itself. For a location, Baker is targeting Southwest Detroit Hospital, abandoned since 1991. On the plus side, the facility is large enough to house and educate the 400 students DCPA would have (100 per each high school grade level). On the downside are the undeniably high renovation costs of turning an abandoned hospital into a school with dormitories, where students would receive three meals a day and be watched over by resident advisers.
But Baker believes feeding and housing students at a boarding school is worth the additional expense.
The success of SEED offers evidence of what can be accomplished in that type of setting.
When it opened in 1998, it was the first public boarding school in the country. Since, it has been featured on 60 Minutes and the documentary Waiting for Superman, and received a $100,000 grant from Oprah Winfrey's Angel Network. President Obama signed the National Service Act there in April 2009, calling the school "a true success story."
According to SEED's website, 91 percent of its students graduate high school, and 96 percent of those graduates were accepted to a four-year college or university.
"It's an expensive model to operate," says Erin Dillon, a senior policy analyst at the Washington, D.C.-based think tank Education Sector. Which is why there aren't more SEED-style schools around the country. "SEED has done a good job of raising money, and D.C. is generous with its financial support. But you can't run a full-time boarding school on just public funding."
The boarding concept is critical to the plan for DCAP, says Baker.
With few exceptions, students would be on campus 24 hours a day during the school week. The intent is to limit distractions and negative influences. Along with providing what the school's promotional material describes as "a safe and healthy experience in group living," the school also guarantees that students will have their basic needs met — something that might not otherwise be happening.
"I believe in Maslow's hierarchy of needs," says Baker, referring to the theories of the late psychologist and university professor Abraham Maslow. "You can't focus on self-actualization if you don't know where your next meal is coming from." In accordance with that hierarchy, students' basic needs will be attended to so that their main concern is learning.
Other models have also been used to help Baker create the vision for DCPA. One of them is Cranbrook, a private college prep boarding school located in Bloomfield Hills.
"I was impressed by their students and by their results. And I don't see why we can't create something of that caliber for our kids," Baker says.
To meet those high expectations, Baker intends DCPA to provide a rigorous learning environment. School days would be long, beginning with a wake-up call at 6 a.m. and continuing to a study period lasting until 10 p.m. Something will be planned for the students at every juncture of the day.
"If you're going to get a kid in the ninth grade who is typically two or three years behind," Baker explains, "you're going to need an extended school day, an extended school year, and you're going to have to keep them there on Saturdays if they're in a literacy program and need the extra instruction."
The school's planned curriculum is filled with strict requirements: Shakespeare, physics, Mandarin (or Arabic), and a senior thesis, to name a few.
Students would be expected to sign contracts stipulating proper behavior toward their peers and certain prohibitions in the dormitory.
Teachers would have a tough standard to meet as well. They would be subject to yearly analysis of their efficacy, and strongly encouraged to live on campus.
Baker's hope is that these high standards will translate into one of the school's academic goals — a 100 percent college acceptance rate for its graduates.
No one expects accomplishing all this will be easy.
Though mostly optimistic about the boarding concept, Dillon, for one, had reservations concerning the city of Detroit. "It's difficult to start a school in Detroit in that you have fewer community resources and a history of poor academics, not to mention political challenges." But Detroit has something other cities don't. "At the same time, there is a unique opportunity to start something fresh."
Baker is well aware of the challenges she faces in Detroit.
"I've done a lot of research on inner-city education, and Detroit has always been on the top of lists of problems with boys of color," she says. "Higher death rates, higher illiteracy rates."
That kind of grim reality has never deterred Baker, for whom the city's degree of need was an attraction.
"I always thought, at some point, I was going to end up in Detroit."