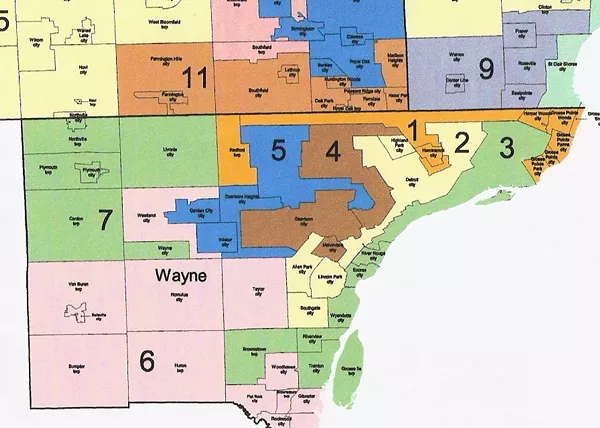 Once
again
, Democrats in Michigan's State House and Senate races received more votes than Republicans, but the GOP will control both chambers of the Legislature by a sizable margin.
The 2018 midterms mark the third-straight election in which the state's Democratic House candidates have received more votes or nearly the same number of votes as Republicans, but the GOP has held onto power.
A Nov. 7
Metro Times
tally of unofficial Michigan Secretary of State and Wayne County Clerk's Office vote totals found State House Dem candidates received a total of 2,092,164 votes in the 2018 midterm. Republicans received 1,917,150 votes — an advantage of about 175,000 for Democratic candidates.
Still, Republicans will hold a 58-52 majority in the State House during the next term.
In the State Senate, our preliminary count found Democrats received 2,062,494 votes while Republicans received 1,945,209 — an advantage of about 117,300 for Dems. Still, the GOP will hold a 22-16 majority next term.
The same scenario keeps playing out
because Republicans in 2010 gerrymandered the state's legislative and Congressional districts
in their favor, making it difficult for Dems to win power, even when they collectively receive more votes.
While that's frustrating for Democrats, Michigan Republicans' days of legal election theft are likely coming to a close — voters on Tuesday night
approved by a wide margin
a proposal that will establish an independent redistricting commission to draw legislative and Congressional districts.
If the commission works as planned, the party receiving more votes will likely control the Legislature and send more reps to Congress.
Though Republicans gerrymandered Michigan, Democrats are guilty of doing so in other states, and there's at least some bi-partisan consensus that redistricting reform is needed.
"We wanted to make sure that there's a fair, impartial, transparent process for Michiganders, and that's what people overwhelmingly decided they want last night," said Elizabeth Battiste, a spokesperson for Voters Not Politicians.
In 2016, Republicans in the State House received only about 3,000 more total votes than Democrats, but maintained a lopsided 63-47 advantage.
Republican candidates also only edged Dems in the 2016 Congressional races, but sent four more representatives to Washington.
In 2014, Michigan voters cast 30,000 more ballots for Democrats than Republicans in the State House races, but Republicans won a 63-47 advantage. The same scenario played out in the Congressional races in 2014. Democratic candidates received 50,000 more votes that year, but Republicans sent nine representatives to Washington, D.C. while Dems sent five.
"We've seen that over the past couple election cycles, Republican gerrymandering has had a huge effect on who's in charge," says Lonnie Scott, director of
Progress Michigan
. "Even when voters place confidence in the other party — in this case Democrats — they don't take control because districts are so badly gerrymandered."
He says the independent redistricting commission will likely lead to more competitive districts, higher caliber candidates, and the state will see "the will of the people being followed, and the party with the most votes in charge."
Stay on top of Detroit news and views. Sign up for our weekly issue newsletter delivered each Wednesday.