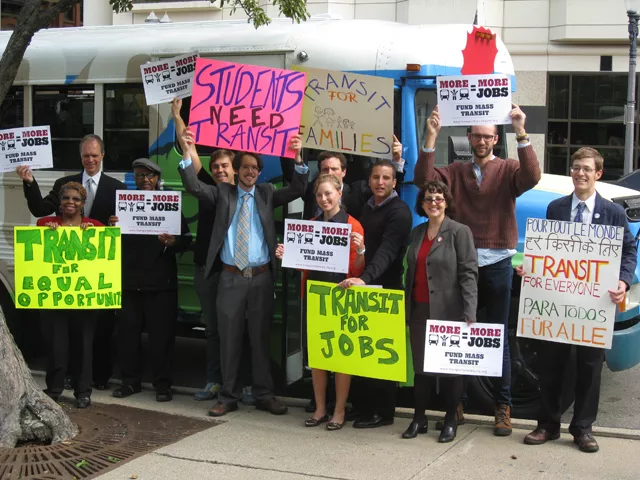 As the sun was rising last Thursday, a small group of transit activists piled into a converted school bus at Northland Mall and headed off to Lansing, hoping that 24 will turn out to be their lucky number.
Among those on board was Detroit resident Cindy Reese, 64, who recalled a conversation she had with her grandson a few years back. The boy was about 18 at the time, and Reese, who is African-American, was telling him how he had the same opportunities as anyone else.
He disagreed, pointing out how the lack of good public transit made it difficult getting to school or work.
She had to concede the point.
As she testified before the House Commission on Transportation, Reese told the story again, pointing out for legislators just how long the people of southeast Michigan have been waiting for a comprehensive public transit system to be established.
Her children struggled along without one, she said, and now her grandchildren are doing the same. Soon, she said, it will be her great-grandchildren. And, before long, when she's unable to drive anymore, she's the one who will be stuck.
"Things will have come full circle," she told the committee.
After agitating for better public transit off and on for the past 30 years, she said, it was beginning to seem that she might not live long enough to see it become a reality.
But Thursday's hearing gave her hope.
"It lifted me up today to here so many people in support," said Reese, testifying at the end of a hearing that lasted more than two hours. State, county and local officials, as well as representatives of the business community and fellow activists all voiced strong support for a proposal to establish a regional transportation authority.
No one spoke in opposition to the plan.
Since the early 1970s, legislation to create a Regional Transportation Authority for the metro Detroit area has been introduced in Lansing, and 23 times that legislation has gone nowhere.
Now, a 24th attempt is under way, and many involved say things are different this time around. Leaders from across the region have lined up to support a regional authority that will coordinate existing transit services and create a "rolling rapid transit system" utilizing specialized buses using dedicated lanes along Woodward (connecting Detroit and Pontiac) and Gratiot (Detroit to Mt. Clemens), as well as linking both Detroit and Ann Arbor with each other and the Detroit Metropolitan Wayne County Airport. There would also be a route connecting Troy and Mount Clemens.
"Rather than dissolve existing public transit agencies, this legislation creates an authority empowered to coordinate and rationalize transit service and receive state and federal funds. This last point is essential because the federal government has made it clear that creation of a regional transit authority is a prerequisite for large-scale federal investments in mass transit in southeast Michigan," testified state Rep. Jim Townsend (D-Royal Oak) who introduced the bill after similar legislation stalled in the state Senate.
What's different this time around?
The answer to that question was on display at Thursday's hearing, when representatives from Macomb, Oakland, Washtenaw and Macomb counties sat shoulder to shoulder as Detroit's Chief Operating Officer, Chris Brown, squeezed in alongside.
All said they fully support creation of an RTA, though there might yet be some wrangling over how the authority is governed. As it is now, the proposed legislation calls for a 10-member board with Macomb, Oakland and Washtenaw each getting two members. The Wayne County executive would appoint two members as well — one of whom must be from Detroit. In addition, the mayor of Detroit would appoint one member, as would the governor.
In addition to the support voiced by county leaders and the city of Detroit, Gov. Rick Snyder is also fully on board.
In fact, the breadth of support for the plan, especially in a region that can be as polarized as southeast Michigan, is stunning.
"Look around the room and listen today," Bill Rustem, Snyder's director of strategy, told the committee. "Listen to who's talking. It's the business community. It's local executives and elected leadership in southeast Michigan. It's people. It's labor. It's everybody. It's all the major interests who understand this is critical to rebuilding Michigan. We gotta do this."
So why has the legislation been bottled up in both the state House and Senate all year?
Because Republican leadership has kept the legislation from coming up for a vote.
Why?
Supporters are hard-pressed to find any legitimate reason to be against the plan. The best answer they can supply points to the influence of the Tea Party on the state GOP. For the far right, it seems, anything involving the expenditure of public funds for the public good is something to be opposed.
A letter to The Detroit News about the issue essentially sums up the thinking of those who think funding a regional public transit system is a bad idea:
"We pay for Cobo, the DIA in a fixed election, the zoo, next Belle Isle through the state. WE don't want to pay any more for Detroit's failures. Let it go bankrupt, you bunch of do-gooders. Or write a check and let us off the hook. Can you so-called LEADERS spell FAILURE? The best transit systems only get 50 percent back from fares. Do you run your businesses that way?"
Such thinking, if you can call it that, fails to grasp the fact that there's good reason every other major metropolitan area of the country subsidizes a coordinated regional transit system: It provides a tremendous boost to local economies, making everyone better off whether they use the system or not.
As Townsend testified: "The decisions we make, the strategies we follow, the money we spend on transportation, have a profound influence on the shape of our communities, our quality of life, and our ability to compete in the global economy of the 21st century. ... The lack of adequate, efficient transit service is as much a suburban issue as it is an urban concern. Southeast Michigan, like every other Michigan metro, is a regional pool of talent, jobs and tax base, and it is high time that we started connecting our communities and giving our people attractive, reliable choices for how to get around."
As for the radically misplaced notion that this is something that can be placed in the hands of the private sector, we'd like to point out that the bus carrying activists to Lansing last week belongs to the Detroit Bus Company, which was founded by 25-year-old entrepreneur Andy Didorosi. While his company fills a niche, Didorosi (who was recently featured in a Metro Times cover story about the trend of younger people driving less) is the first to point out that the private sector simply cannot provide the kind of coordinated, regional system metro Detroit so desperately needs.
Mike Sedlak, who chairs the executive committee of the Southeast Michigan Council of Governments (SEMCOG), pointed out to the committee that, although the Detroit area is the 12th largest metro region in the United States, it is rated 109th in terms of transit service.
"Reliable, functional transit means growth and opportunity," he said.
By some estimates, every $1 invested in transit produces $4 to $8 in private-sector development.
Joining Didorosi on the bus ride last week were older activists like Reese, a suburban businessman, a representative of the nonprofit Michigan Suburbs Alliance, and a few twentysomething organizers from the faith-based group MOSES (an acronym for Metropolitan Organizing Strategy Enabling Strength). MOSES is involved in the issue of transportation because its member congregations have said loud and clear that it's an issue that has a huge impact on the people they serve.
Also on the bus was Megan Owens, executive director of the nonprofit advocacy group Transportation Riders United. Like the others aboard, she's hopeful the RTA legislation will make it past the obstructionists controlling the Legislature and land on Snyder's desk.
Getting it there, though, is going to take pressure, both from the top down and the bottom up. Business leaders, politicians and grassroots activists need to exert all the influence they can to help the GOP leadership in the House and Senate see the light.
What's daunting is that she describes this as the "easy" part. If and when the RTA is created, it will be up to voters in four counties to approve funding it.
For now, though, the focus is on the Legislature, which doesn't appear to have the same sense of urgency those on the bus have. Transportation Committee Chair Paul Oppsomer said another hearing will be necessary to more closely examine the "technical" aspects of the proposal.
So, for now, the focus remains on taking that first crucial step.
The price of not doing that is simply too high.
"I represent a district where you can walk down the street and are as likely to hear conservative viewpoints being expressed as liberal," concluded Rep. Townsend of Royal Oak. "But there is one thing every parent or grandparent I talk to can agree on: You should not have to hit the highway to see your kids. The people of southeast Michigan are sick of exporting their college-educated kids to thriving metro regions in other sates that have nothing southeast Michigan can't offer except one thing: mass transit.
"After 40 years and 23 attempts, with your input and help we will be able to tell our grandchildren that 24 was the charm; that we finally came together around a vision for a regional transit system that eliminates waste and duplication and provides an attractive environment for knowledge workers and entrepreneurs. And if we do that there's a much better chance that you won't have to leave town to tell your grandchildren that story."
Cindy Reese is definitely on board with that thinking.