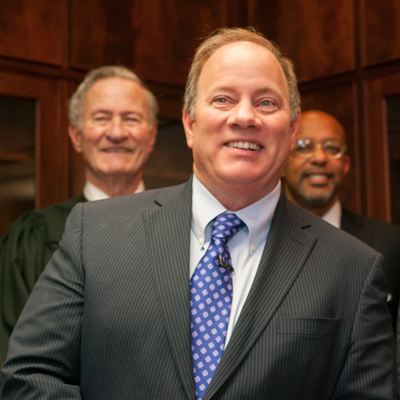 One thing that was obvious from Mayor Mike Duggan's first State of the City Address last week is that Duggan is no silver-tongued devil. Now there are some folks who may consider him a devil nonetheless, but he isn't pulling people along with his great oratory.
We had an orator in Kwame Kilpatrick, silver-tongued devil that he was to us.
Duggan's oratory was functional, serviceable and pretty much to the point. He introduced his "team" to Detroiters, set his agenda and tried to calm a few nerves.
He used storytelling to illustrate a point about getting more buses on the street when he talked about a guy taking a two-hour bus ride to his job in Redford. And the closest he came to a bit of poetry in his prose was the proclamation that "change is starting, change is real, and Detroit is not nearly as far away from turning around as most people think."
Duggan knew that was his power line; he said it twice. And he had his moments, mostly when he made self-deprecating remarks such as "I hope I get this reception a year from now" after the opening applause. Duggan communicated his sense that the proof is in the pudding and that, after a year in office, people will have real evidence of where he is leading the city.
Just seven weeks into his tenure, it hardly seemed like the time to make a State of the City speech, but the timing was mandated by something other than his choice. And he is enjoying a double honeymoon — one the usual post-election bliss, the other comes from a sense that he is not really running the show with emergency manager Kevyn Orr in charge.
The mayor took that on too. He said that almost every day someone asks him, "Aren't you discouraged? You're the mayor of city that's in bankruptcy, you don't have control of your own destiny, and of course you're not really the mayor; the emergency manager is in charge, right?"
He said he made the difficult decision to work with Orr and prepare for a smooth transition this fall rather than criticizing the EM for the next nine months.
Whether you like his decisions or not, Duggan at least seems straightforward about what he is up to. Maybe his honesty pledge is sincere. We'll see what happens when the virtual crapola hits the fan. It's going to happen at some point.
For the moment it's the winter of love in Detroit's government. Duggan praised the City Council, referring to President Brenda Jones as his "partner," and referring to the entire council as his colleagues. He pretty much sucked up to everybody. He said that we can at least agree that Orr has a difficult job. He talked about honoring the pensions of the "men and women who gave their careers to this city." He spread the love to the Obama administration, and said that he was going to Washington the next day for Obama's rollout of the My Brother's Keeper initiative. He praised Police Chief James Craig. He thanked Roger Penske and friends for donating police and emergency medical vehicles to the city (without mentioning the problems that have cropped up with them). He praised the police, firefighters, snowplow operators and garbage truck operators (soon to not be city employees). And the UAW's Jimmy Settles got strokes among others.
Many of these entities have different agendas and don't always agree, but Duggan says they have chosen to "put aside our differences and sat down and tried to work professionally." That's a start. If anything, this speech gave the sense that we're going to work this out without histrionics. Actually that was the most encouraging aspect to me. Duggan seems to be acting as a facilitator trying to get good people into the right places. There was no 800-pound gorilla prowling the room, although I have no doubt there is an iron fist inside that velvet glove. You don't get where Duggan is without having to twist a few arms.
He covered a lot of ground, but notably didn't get much into crime, except as tangential to the discussion of blight. Maybe that's because the police remain one of Orr's responsibilities. He also didn't get into regionalism. Maybe that's because Oakland County Executive Brooks Patterson has pretty much turned his back on that in recent statements. And he didn't have much to say about the bankruptcy. Duggan pretty much kept his platitudes within the boundaries of the city, except to speak in support of HB 4593 in the state legislature. That bill seeks to tighten rules on scrap yards that buy metal in an effort to stop thieves from stealing catalytic converters from cars, and air conditioners and copper wire from homes.
There weren't any grandiose ideas, inspirational images or laying down of the law. There was no claim to be on a mission from God. Instead Duggan talked about some concrete goals and gave himself deadlines. He promised to have public lighting on in more than 50 percent of neighborhoods by the end of this year, and 100 percent by the end of next year. The city will have 150 parks open and well-maintained this summer and another 50 taken care of by churches and community organizations. Duggan plans to start working on the D-insurance project this summer.
These are small steps. But if Duggan can articulate those goals and achieve them, he can point out to citizens and potential business interests that he's getting things done.
Duggan seems to know who he is, where he is and what time it is. He knows much of the big stuff runs through Orr's office these next several months, but is setting up systems that may be running smoothly by the time Orr gets out of here. He's not a revolutionary who is going to upset the capitalist system we function within, but if he can come up with solutions to our most immediate problems over the next few years, I'll take that.
Change has started. This whole thing about Detroit turning around quickly is a whole different matter. Orr said something similar a few weeks back. I have been of the opinion that it's going to take 10 years of hard work just to get this city pointed in the right direction, let alone making everything work. I'd love to be wrong about that.
Meanwhile this is the guy Detroiters voted for. So let's get it on.
Déjà vu: One of the constants in Detroit city operations seems to be Charlie Beckham. Beckham has worked for every city administration since Coleman Young's except for Dennis Archer's. In 2001, I thought Beckham was the best candidate for mayor, but I knew he was unelectable because of his conviction for rigging a sludge-hauling contract and bribery in the 1980s. He served two years in federal prison, although there are folks around here who believe he took the hit for Young. Beckham is Duggan's director for the newly formed Department of Neighborhoods. Beckham is either an extremely competent guy or he knows where Jimmy Hoffa is buried. I'm vouching for the former.