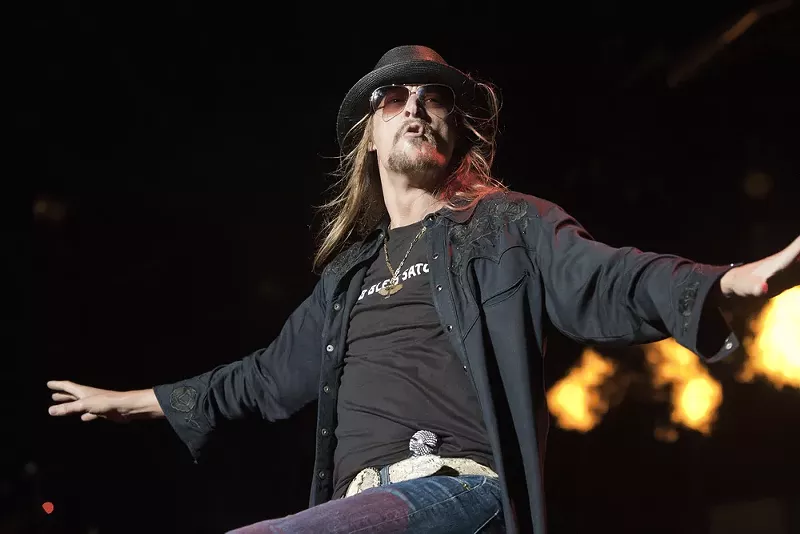 Olympia Entertainment has released a statement in defense of their choice to have metro Detroit native Kid Rock be the first performer to christen the stadium.
Pressure to Olympia Entertainment to say something mounted when protests were planned outside of the arena before Kid Rock's first of six shows on Tuesday, Sept. 12.
Olympia Entertainment told
MLive
, "We continue to offer a diverse mix of the world's best entertainers in our Detroit venues, including artists ranging from Paul McCartney to Jay-Z, Janet Jackson to Shania Twain, Big Sean to Andrea Bocelli and so many more. The politics, choices and personal views of these artists are as varied as the types of music enjoyed by our fans.
"Kid Rock has been a consistent supported of Detroit, and the marketplace has responded accordingly to his appearances. Performing artists' viewpoints in no way represent an endorsement of those viewpoints by Olympia Entertainment."
Kid Rock, who was born in Romeo, has a long history of supporting and performing with the Confederate Flag. He recently said "fuck Colin Kaepernick" at a show in Iowa last month, which prompted the protest.
"We will not stand by silently as the Confederate regalia supporting embarrassment to Detroit known as Kid Rock performs the inaugural concert at Little Caesars Arena downtown," protest organizers said.
Criticism has also come from a guest column in
Bridge Magazine
from writer Camille Johnson who said, "At best, the selection is naively tone-deaf. At worst, it's an affront to people of color who feel left out of improvements in their own city."
And even more came from the
Detroit Free Press
over the weekend, when Stephen Henderson wrote a column called "Kid Rock at LCA a middle finger to Detroiters."
It's worth noting that Kid Rock's presence at Little Caesars Arena goes beyond the opening string of concerts,
as he will also have his own restaurant
at the arena, called "Kid Rock's Made In Detroit restaurant."