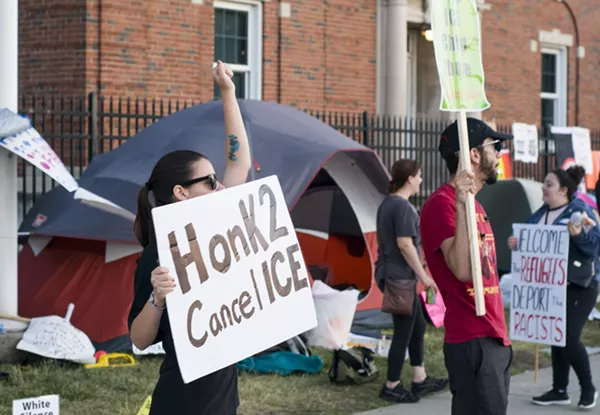 More than a dozen protesters have camped outside of an Immigration and Customs Enforcement office in Detroit with the hope of shutting it down.
The organizers have been gathered outside the federal building at Jefferson Avenue and Mount Elliot Street since Saturday. They said they planned to stay for a week.
"We want to physically, through mass action, shut down ICE operations," says Kate Stenvig, an organizer with By Any Means Necessary. "We are enforcing Detroit as a sanctuary city."
The organizations involved are calling for a shutdown of the nation's detention centers, immediate reunification of children with their families, asylum for all immigrant parents detained trying to enter the United States, and the
abolition of ICE
.
The protest is one of several "Occupy ICE" demonstrations that have popped up around the country in the wake of a
successful Portland action
that forced ICE to temporarily shut down its office there. As of Saturday, Occupy protests were also being held in New York, L.A., and Washington state.
"This is the biggest crisis, this is a crime against humanity," says Stenvig.
Other groups involved include the Metro-Detroit Political Action Network and Great Lakes AntiFa.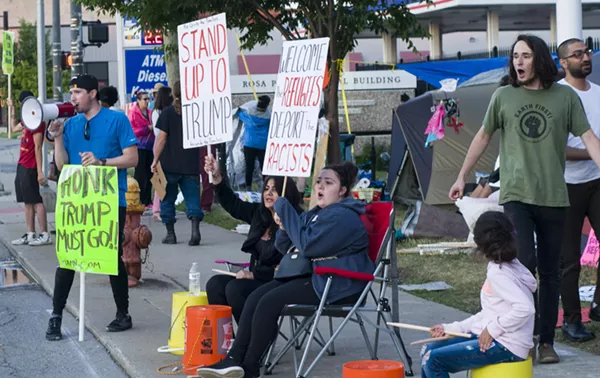 Stenvig says the protesters plan to stay at the site until Saturday, when "Keep Families Together" demonstrations will be held throughout the country. Detroit's will be held at
Clark Park
and begins at 1 p.m.
Stay on top of Detroit news and views. Sign up for our weekly issue newsletter delivered each Wednesday.