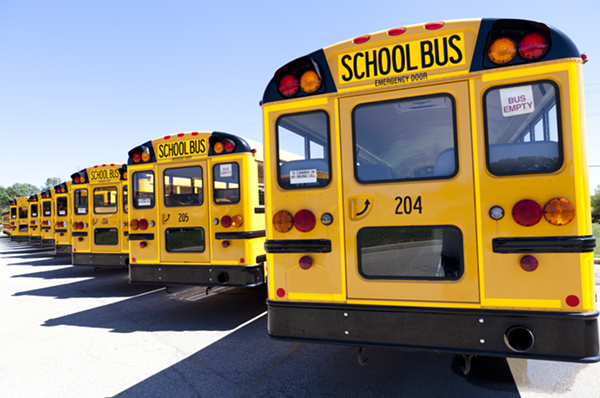 The GOP lame duck
power grab
continued Thursday evening as Republicans in the state House passed legislation designed to strip power from incoming Democrats on the Michigan State Board of Education.
The board now holds a 4-4 partisan split, but in January Democrats will have a 6-2 majority.
The
bills
— passed by a 56-53 margin with all Dems and several Republicans voting against them — would create a parallel commission called the Education Accountability Policy Commission that would be stacked with appointees from outgoing Gov. Rick Snyder and GOP Senate and House leadership. It wouldn't be accountable to the State Board of Education, incoming Gov. Gretchen Whitmer, or the State Department of Education.
The new legislation would allow districts to apply to become "innovative districts" that are exempt from most state education rules and would answer to the new commission.
The changes would also have a big impact on how the state's schools are managed. Republicans typically attempt to close down schools in low-income and "underperforming" districts, then open the door for more charter schools. Democrats generally understand that many schools in low-income areas are underfunded and attempt to provide more money and resources.
Bridge magazine
reports that a member of the State Board of Education has said they will sue if the board is approved. There may be a case: The Michigan Constitution states that the elected State Board of Education is responsible for "general supervision over all public education."
The Michigan Education Union, which represents many of the state's teachers, questioned the GOP's motives.
"Interestingly, just as Democrats are set to take control of the SBE, Republican legislators have hatched this plan to create this shadow SBE, taking powers from the existing SBE—similar to their raw power grab with other legislation reducing powers of the incoming Democratic governor, attorney general and secretary of state," said MEA spokesperson David Crim.
The bills will next head to the state Senate. Michigan Republicans are also working to
strip power from the incoming Democratic attorney general
and
secretary of state
.
The situation is especially galling for Democrats because the state House Dems won the popular vote in the state House in 2014 and 2018, and only lost by 3,000 votes in 2016. But the GOP in 2010 gerrymandered the state's legislative districts, so it currently holds a 63-47 majority. Were the districts not rigged in Republicans' favor, then the party wouldn't be able to pass legislation and strip power from incoming Democrats during lame duck.
Democratic Gov.-elect Gretchen Whitmer takes office on Jan. 1. She'll break Republicans' hold on both legislative chambers and the governor's mansion, and would likely veto any attempt to take authority from incoming Dems.
Stay on top of Detroit news and views. Sign up for our weekly issue newsletter delivered each Wednesday.