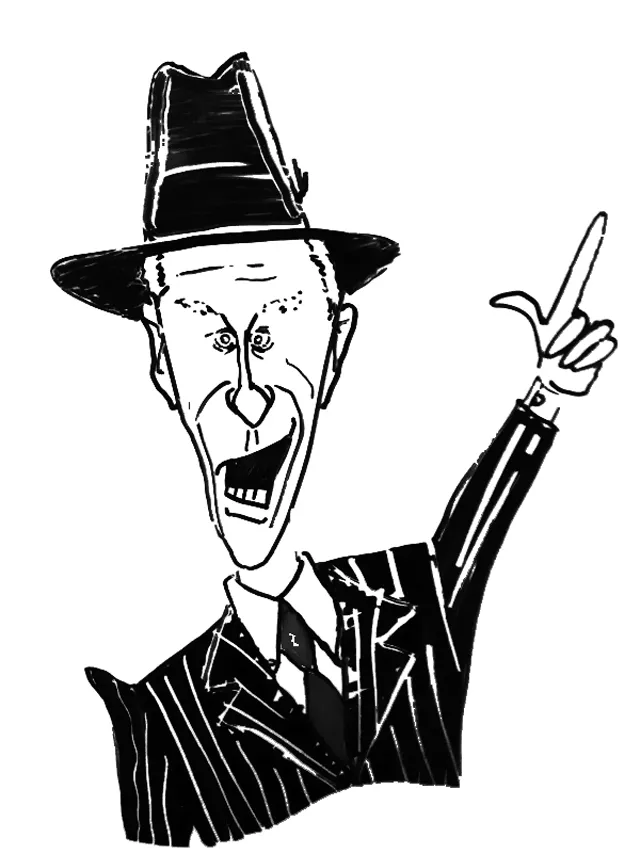 Chrysler announcing an $850 million investment in its Sterling Heights plants is certainly major news, as is the addition of a second shift creating 900 jobs. But numbers induce a sort of stupor when an audience hears them. Numbers need a metaphorical context. Which brings us to Sterling Heights Mayor Richard Notte, maestro of metaphor.
Last week Notte brought down the house at Chrysler's Sterling Heights Assembly Plant by saying this about the plant staying open: "It's almost better than sex!" — to much cheering and laughter.
And this about new jobs and reinvestment:
"Today is the foreplay! The foreplay before the exciting things that are gonna happen to this plant!" — to louder cheers and laughter.
The bone-dry plant tour and dignitaries' podium parade became — if only for a few minutes — a standup routine starring Notte. Following the plant manager, Chrysler CEO Sergio Marchionne, and Gov. Jennifer Granholm, Notte slayed 1,000 workers and the press corps with a seemingly off-the-cuff speech that defied every convention of your standard hyperchoreographed press event. He stole the show so effortlessly it makes a seasoned journalist wonder why he isn't a household name beyond his municipality.
As someone who makes his living telling stories about people, I love characters like Notte. The world needs more of them. They are — and I mean this as a high compliment — flies in the ointment, wild cards, wrenches that monkey up the works. As they used to say in the newspaper game, they make for good copy.
"I got as much as much oil in my veins as youse have," Notte told the workers, sounding like a Hollywood tough guy (a comparison further enhanced by a Sinatra hat and a pinstriped suit with a red tie; if Notte had broken into "Luck Be a Lady" the crowd would have lost it).
Marchionne rolled his eyes and turned away in mock-despair as Notte said that he'd once been an autoworker ... at Ford. If Notte was worried about offending the sweatered savior of Chrysler, it didn't show; he steamrolled ahead. "Plant closures [are] more traumatic, worse, than even divorce ... and a lot of you folks can relate to that," Notte deadpanned with a pause. "And if ya can't relate to that, fuhgeddaboutit."
Notte has joined the Characters Hall of Fame in my head alongside Ernie from Ernie's Market in Oak Park ("Yeah, baby!"), Super Positive Dennis ("How ya doin' this fine day!") from the Farmington Hills Home Depot, and Rudy DeSantis, a real-life Seinfeldian Kramer best known from his time on Detroit radio talk show Deminski & Doyle. All of these people have a life force that draws others in.
Or rubs them the wrong way. At least one Sterling Heights resident, age 72, assured me quite a few people "up here" don't care for hizzoner's blue humor, citing an incident in which Notte allegedly prescribed Viagra for a drooping microphone at a council meeting.
Whether Notte's remarks are offensive is a matter of your sensibilities. My take is that in a world filled with humdrum, characters keep us from falling asleep. When the plant manager was making introductions at the Chrysler ceremony, I was flummoxed as to why Notte received the biggest cheer. By the end of his remarks, I could see why.
"You folks have been through hell — for the past two years you've been through hell!" Notte yelled above a roar. "But I'll tell ya one thing: These Italians'll treat you better than the former owners!"
Notte, who is Italian, then commended Sergio Marchionne's parents for doing such a fine job! The crowd ate it up.
It would be pointless to say we should all strive to be characters. It's an innate quality some are born with. What we should do is try to appreciate what they bring to the table — even if we don't agree with them.
Or as Notte might say, if a plant not closing is almost better than sex, and adding a second shift is like foreplay in anticipation of better days, who knows what fun we'll have when Detroit gets back on top?
Jason Carr is an anchor and reporter for FOX 2 News. Send comments to [email protected].