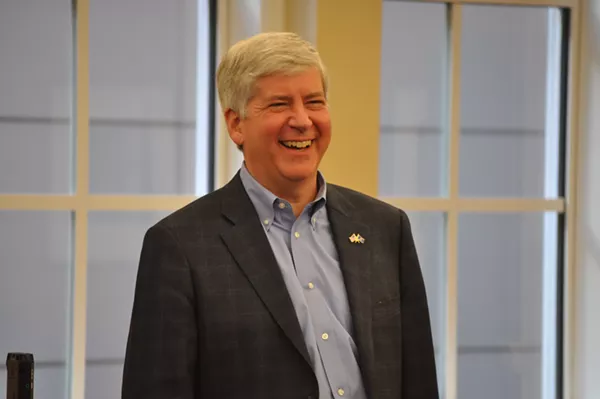 The reporters at
Crain's Detroit Business
do good work. Unfortunately, it is undermined pretty much every time
Crain's
head honcho Keith Crain gets near a keyboard — whether he is
continuing his jihad against bike lanes
or, in his latest column, toothlessly defending the legacy of outgoing Gov. Rick Snyder.
In that column, the presumptuously titled
"We will miss Snyder when he is gone,"
Crain asserts — without evidence — that "the state of Michigan has been better for having Rick Snyder in the governor's office."
Oh? How so? We suppose at this point Crain could have reached for the low-hanging fruit — Snyder's reputation as being "one tough nerd," his "relentless positive action," his refusal to endorse the presidency of Donald Trump, or
his calls for civility
once Trumpism infiltrated his party. But Crain doesn't go there.
There's also this — that under Snyder's appointed emergency manager Kevyn Orr, Detroit entered and emerged from bankruptcy, and in the years since has watched its national reputation change from Murder City to comeback city. But Crain doesn't go there either, perhaps because
the GOP was never going to be rewarded for Detroit's revival
, anyway.
The majority of Michiganders voted
to
repeal the emergency manager law in a 2012 referendum. Snyder and Republicans rammed a new version of the law through anyway, negating the will of the people by attaching it to a spending bill to make it referendum-proof.
We didn't want emergency managers. Under that same emergency manager law, the disastrous decision was made to switch Flint's water supply, which resulted in much of the city getting poisoned with lead.
"Sadly, too many people will remember only the problem in Flint that will color his eight years in office," Crain acknowledges. "But we should also remember all he has accomplished."
Well, that certainly is an interesting way of spelling "a bunch of black people
were
poisoned by the Republican-led government!"
"Ironically, Snyder will be leaving office with the same sort of controversy as always," Crain writes, appearing to use the word "ironic" in more of the Alanis Morrisette "it's like rain on your wedding day" sense of the word.
"Whatever he decides, it will not make everyone happy, but he will act as he has always acted during the last eight years, according to his conscience," he says. "We, the citizens of Michigan, have been well served by that focus."
Conscience, eh? We already know damn well what Snyder is going to do. By the time Crain's column was published on Sunday, Snyder
had already gutted laws
that would have raised the minimum wage to $12 per hour by 2022 and require employers to provide 72 hours of paid sick time. Like with the emergency manager law, Snyder and his merry band of Republicans once again negated the will of Michigan voters.
This year, citizen-led groups gathered signatures to put the proposals for an increased minimum wage and paid sick time on the Nov. 6 ballot. But Republicans didn't want people to show up at the polls to vote on them, so
instead
they passed their own version of the laws, which kept the proposals off the November ballot. Then, through some slick legal maneuvering, the Republicans made it so the laws didn't go into effect until March — precisely so they could gut them during the lame-duck session, as we're seeing now. Nevermind that the move
may violate the state's constitution
.
"Republicans are trying to pull a fast one and leave our executive branch somewhat weaker than before," Crain writes. "We'll see how our governor reacts in his last few days in office."
That's an interesting way of spelling "an undemocratic, possibly illegal power grab," Keith!
And that's just how we'll remember Snyder.
Stay on top of Detroit news and views.
Sign up
for our weekly issue newsletter delivered each Wednesday.