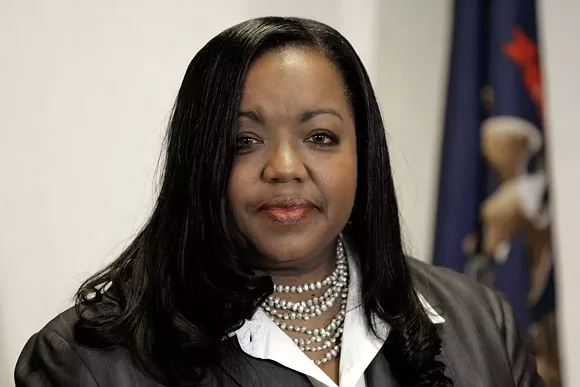 Kym Worthy
and
Robert Ficano
never had the most congenial relationship; Worthy, the Wayne County prosecutor, always thought Ficano, the county's former chief executive, could've paid more attention to addressing some pressing issues in his jurisdiction.
One of those issues, for example, was the discovery of over 11,000 untested rape kits in the city of Detroit, an unbelievable number in its scope. For years, Worthy has made it her prerogative to ensure every last kit is eventually tested, and, if the victims oblige, the perpetrators prosecuted.
Well, last week, Worthy didn't hold back during a press conference to unveil a $10 million fundraising campaign called
Enough SAID
, which will help fund future investigations and prosecutions from the untested kits.
In a nutshell: She told reporters that Ficano, after the kits were discovered in 2009, told her to ease up on trying to test every kit.
"The previous management told me I should not be wasting my time on these rape kit prosecutions," she says. "So that would give you an idea: It was a low priority."
Under Ficano's watch, Wayne County's financial stability has weakened to the point some speculators have wondered aloud whether Gov.
Rick Snyder
will appoint an emergency manager to oversee its operations. But, even in tumultuous conditions, it's hard to find a reason why Ficano would ever write Worthy's initiative off as a low priority — especially when you consider the following:
Thanks to an initial pool of funds, the county was able to test 2,000 of the roughly 11,000 kits. From that sample, Worthy's team identified 188 serial rapists. The prosecutor's office has obtained 15 convictions so far. There's persuasive precedence here too: In Cleveland, a
Plain Dealer
investigation series revealed 4,300 untested rape kits. Reforms have cleared that backlog and more than 200 indictments have been made on cases dating back to the 1990s.
In Detroit, however, prosecutors remain far from having enough resources to tackle the remaining investigations; currently, 8,000 additional kits are being tested, of which about 1,000 will soon await investigations by Worthy's team.
The problem? Worthy's office only has two investigators to look into the kits. By comparison, Cleveland has 35 investigators, according to Worthy.
So it was indeed promising last week to see now-Wayne County Executive
Warren Evans
at the podium beside Worthy.
As Worthy put it, she's "very encouraged" by Evans' stated priorities to make Wayne County a safer place. "I think it runs through its DNA," she says.