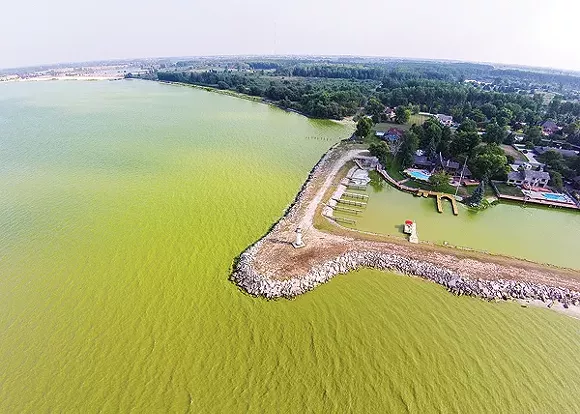 Our tendency here at the Hits is to avoid road rage at all costs, but our head started to spin and we almost veered off the road while tuned in to WDET-FM 101.9 for a replay of MiWeek on a recent Friday. For the uninitiated, the local PBS news-analysis show features
Christy McDonald
, Detroit Free Press Editorial Page Editor
Stephen Henderson
, and
Nolan Finley
, editorial page editor at The Detroit News.
At some point in the show, the conversation turned to that freak rainstorm metro Detroit experienced last month, which, many would say, can be definitively attributed to climate change. Apparently, that's a touchy subject to breach with the conservative Finley. As we can recall, he repeatedly blurted something along the lines of, "It's weather!"
At one point, in response to Henderson's assessment that we're undoubtedly experiencing more frequent extreme weather events,
Finley responded,
"The studies don't bear that out, Steve."
Right.
Whether or not Finley believes the planet's climate is changing due to human influence, the truth is there's reason to be quite alarmed. That was evident
in a recent Metro Times cover story
on harmful Lake Erie algae, which have grown in recent years, in part, thanks to climate change. The toxic algae tainted Toledo's water supply, forcing a half-million residents to keep their taps off for a weekend. Stew on that for a moment.
It's been a constant trend of the right for years to deny climate change, with most vocal critics of the suggestion that we may be the source of the problem, saying, for instance, any solution could cost too much. The evidence that something needs to be done, however, is abundant; reports have indicated even President Barack Obama will pursue an agreement to curb the impact of climate change —
without the approval of the United States Congress.
So, yeah, about that "weather" problem Finley mentioned. Last week,
The New York Times
got its paws
on a copy of a United Nations report on climate change,
set to be released in the coming weeks. The conclusion? According to the
Times
, a draft of the report says greenhouse gas emissions raise the risk of "severe, pervasive and irreversible impacts" in the coming years.
"Global warming is already cutting grain production by several percentage points," the
Times
writes of the report's conclusions, which also say, "Higher seas, devastating heat waves, torrential rain and other climate extremes are also being felt around the world as a result of human-produced emissions … The world may already be nearing a temperature at which the loss of the vast ice sheet covering Greenland would become inevitable."
Need any confirmation of the point the report's author, the United Nations' Intergovernmental Panel on Climate Change, wanted to make? The Associated Press says
the report "used the word risk 351 times in just 127 pages."
And though Western countries have taken steps to reduce emissions, those changes are being offset by developing countries, some of which are emitting more, the
Times
notes. And though it's "still technically possible to limit global warming to an internationally agreed upper bound of 3.6 degrees Fahrenheit, or 2 degrees Celsius, above the preindustrial level," the report said "… continued political delays for another decade or two will make that unachievable without severe economic disruption," according to the
Times
.
Recall that, in the last month, residents who connect to Toledo's water supply couldn't drink contaminated water for three days, the shores of Lake Erie were blanketed by a sea of pea-green toxic-green algae, and metro Detroit residents lost their vehicles and personal goods after torrential downpours flooded local highways. To guys like Finley, that's just weather doing it's damn thing.
But the Times says the report found the earth has warmed by about 1.5 degrees Fahrenheit compared to levels found prior to the Industrial Revolution; continued growth could "conceivably lead to a global warming exceeding 8 degrees Fahrenheit."
The report says levels that high would "almost certainly have catastrophic effects, including a mass extinction of plants and animals, huge shortfalls in food production, extreme coastal flooding and many other problems," according to the
Times
.
Yeah. It's just weather. That's something to chew on the next time Finley offers his two cents on climate change.