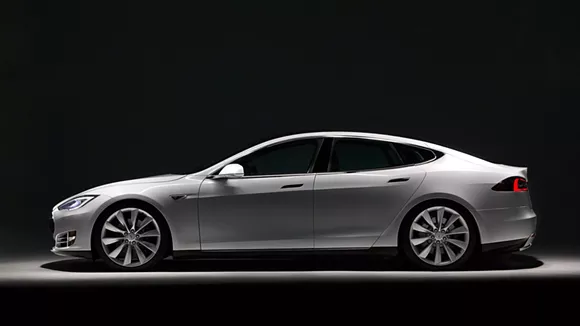 We're not exactly auto buffs at News Hits HQ — but the backlash against the so-called Anti-Tesla bill in Michigan last week caught our attention.
The brouhaha started when Republican Gov.
Rick Snyder
signed a bill that effectively banned Tesla Motors from selling its electric cars in Michigan through its direct-sales model. Tesla, you see, doesn't use the typical auto dealership; typically,
the Detroit Free Press notes
, the company sells its vehicles at galleries in upscale malls. The company says the traditional model just doesn't work for its brand.
Snyder's office reacted to the flap by saying direct sales of automobiles to customers was already banned in the state, characterizing the law as a mere classification.
"Language in the bill states plainly that a manufacturer can only sell new vehicles to consumers through its own network of franchised dealers," Snyder says in a statement. "HB 5606 deletes the word 'its' from a sentence in existing law."
Tesla, however, says that single word effectively boxed them out of getting some action in Michigan.
"By striking a single, but critical, word from MCLA 445.1574(14)(1)(i), the law governing franchise relations in Michigan, the dealers seek to force Tesla, a company that has never had a franchise dealership, into a body of law solely intended to govern the relationship between a manufacturer and its associated dealers,"
the company wrote in a blog post
before the bill was signed. "In so doing, they create an effective prohibition against Tesla opening a store in Michigan."
Snyder, in his statement, countered, saying: "This change would merely allow manufacturers who do not have their own franchised dealers to sell through another manufacturer's network of franchised dealers. They will be required, just as they are now, to sell through a franchised dealer, and not directly to consumers. HB 5606 does nothing to change this fact. At most, it clarifies the existing requirement in Michigan law."
Regardless of the disagreement, one University of Michigan professor
explained to MLive
that the law could make Michigan's the "most restrictive law in the country on Tesla."
Expectedly, observers
pointed out the irony
of a supposed free-market disciple weighing in on a bill that so obviously picks a winner and loser. That got us wondering: How much do the Big 3 automakers and auto dealerships support Snyder's re-election efforts?
Turns out: It's nothing to sniff at. Individuals tied to the automotive industry have donated at least $275,000 Snyder during both of his runs for office, according to campaign finance records — the majority of which came from employees and representatives of Big 3 automakers and local auto dealerships.
In the current election cycle, Snyder has received at least $176,160 from more than 100 individuals tied to the automotive industry, according to the most recent data available from the nonpartisan National Institute on Money in Politics.
Of course, General Motors, whose CEO
Mary Barra
contributed $1,000 to Snyder's campaign this election cycle, came out in support of the bill before it was signed into law, saying it "will help ensure that all automotive manufacturers follow the same rules to operate in the State of Michigan; therefore, we encourage Governor Snyder to sign it."
A Snyder spokesperson said she couldn't comment on the contributions as it's a campaign-related item. The idea that donations from those in the auto industry played a role in Snyder's decision to sign the bill, however, is "flat-out ridiculous and offensive."
"[T]he Governor's track record for decisions and actions is clear and plainly demonstrates that politics do NOT influence his policy decisions," spokesperson
Sara Wurfel
says in an email to the Hits. "Period."
Wurfel said there were two main points that led to the governor's determination to approve the bill:
A veto from Snyder would not have changed circumstances surrounding automotive sales. "The practice already isn't allowed under current Michigan law," Wurfel says. "This was the subject of much legal review and analysis."

And, the bill passed on an "extraordinarily bipartisan basis," she says.
"Further, the Governor has encouraged a robust legislative review and conversation on this existing law and business model and determine if changes warranted to best serve customers," she says.
Yes, the bill was approved almost unanimously by the state House and Senate before it was presented to Snyder earlier this month. But some things transpired at the eleventh hour: As it was originally written, the bill would "prevent franchised dealers from gouging customers with random fees,"
Jalopnik notes
, "but when the bill arrived in the Senate on October 1, text was added to prevent companies — well, Tesla — from selling directly to customers in the state."
As the
Detroit Free Press
notes
: Snyder, "who has boasted of making Michigan more hospitable for entrepreneurs, brings Michigan into a growing number of states that have raised obstacles to the California-based electric car company."
Daniel Crane
, a law professor at the University of Michigan, didn't hold back about the bill's passage: he told the
Freep
the bill was "an embarrassment for the state of Michigan and democracy."
"When no one was looking, the car dealers slipped language into the bill that would strengthen their case against Tesla," Crane told the newspaper. "They went to the governor's office and told his staff they needed this change in order to avoid the result in Massachusetts, where the Supreme Court ruled against them and in favor of Tesla."
Crane also says Snyder's assertion that the anti-Tesla bill didn't change existing law was completely bogus.
"Does the law change anything or not?" Crane told the
Freep
. "If it doesn't, why did the car dealers want the changes?"
The National Institute on Money in Politics doesn't purposely skew the data it spews out; the outlet culls its figures from electronic or paper records filed with "agencies which candidates must file campaign finance reports." In Michigan, that would be the Secretary of State's office. As the data shows, Snyder received at least $100,148 from the automotive industry in 2010, according to the institute. That means, since first running for office, his campaign has received at least $276,308 from individuals tied to automakers and dealerships.
And that number could be higher because individuals who contribute under $100 don't have to report their occupation or employer, according to
Rich Robinson
, of the Michigan Campaign Finance Network.
For what it's worth, we thought we'd have a good time and take Wurfel's word that the near unanimous bipartisan support for the bill played a role in guiding Snyder's decision.
So we figured we'd check out just how much the auto industry has been tossing in the direction of state officials: Wouldn't you know it, but records from this election cycle alone show the Michigan Auto Dealers Association has contributed $188,000 to Michigan political candidates.
The most recent filing of the association from July on the Michigan Secretary of State website show the association has given $10,000 to the Senate Republican Campaign Committee, as well as $4,000 to the House Republican Campaign Committee. Another $6,200 went to State Sen.
Wayne Schmidt
(R-Traverse City), $2,000 went to state Rep.
David Knezek
(D-Dearborn Heights), $2,000 went to state Rep.
Frank Foster
(R-Petoskey), and $3,000 more went to state Sen.
Virgil Smith
(D-Detroit).
It warms our hearts to know the auto dealers have friends on both sides of the aisle.