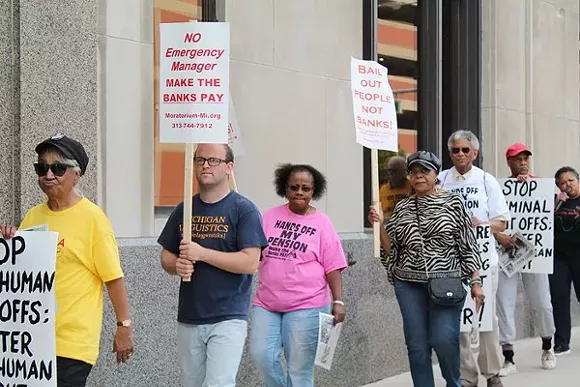 For months, the City of Detroit's efforts to shut-off water service to delinquent customers with $150 in past-due fees has drawn international attention.
Alongside that, a facet of the city's proposed restructuring plan to exit bankruptcy includes a deal to regionalize the Detroit Water & Sewerage Department (DWSD). To many, this has been cast in a positive light, a new day for Detroit to address a system sorely in need of infrastructure repairs.
But a report released last month by two advocacy groups — United Kingdom-based Public Services International Research Unit, which studies the privatization and restructuring of public services, and Boston-based nonprofit Corporate Accountability International, a group whose stated goal is to prevent corporate abuse — offers a cautionary tale on such restructuring moves.
Titled, "Troubled Waters: Misleading industry PR and the case for public water," the report offers insight into the new method private companies have pursued to obtain control of a public utility. Case in point, says Jesse Bragg, media director of Corporate Accountability International: Veolia Water.
Veolia has realized it can't market "whole system privatization in the U.S.," Bragg says, "So, instead, they've regrouped and brought these more nuanced approaches."
In Baltimore, for instance, Veolia recently submitted a letter of interest to the city to offer consulting on its water department. Veolia, Bragg says, wanted to offer pleasantly, yet misleadingly named "peer performance solutions." If the company follows a trend it has set overseas, in order to go about this new method to obtain control of public utilities, Veolia would immerse itself into the department, and eventually take on more management and oversight. It follows a pattern of what Veolia has done across the world, Bragg says.
"We know from observing how they operate in other parts of the world … it's their foot-in-the-door tactic," he says.
The reason this should concern Detroiters, Bragg says, is DWSD earlier this year offered a contract to Veolia to streamline services and "look for savings," as the Freep put it. Veolia's "optimization plan" stems from a 2012 study that recommended DWSD slash its staff by 81 percent, the Freep notes.
It's unclear what, if anything, came of the two-month study. DWSD did not respond to the Hits' request for a copy of Veolia's report at press time. Whether Veolia takes on more significant consulting roles as the regional authority takes on a more active role should be something to look for, says Bragg.
"It's their new attempt to get in the door and increase management and oversight over time," he says.
And when it successfully does, Bragg says they've seen "astronomical" rate hikes in some cities and "certainly abroad some cut corners on quality; [and there are] broken promises on infrastructure improvements."
He adds: "This report should serve as a cautionary tale to cities like Detroit and others that are trying to make big decisions on who their water systems are managed [by] … There's no room for a profit mandate when we're talking about something like water."
Update (2:20 p.m., Dec. 10, 2014): This story has been updated.