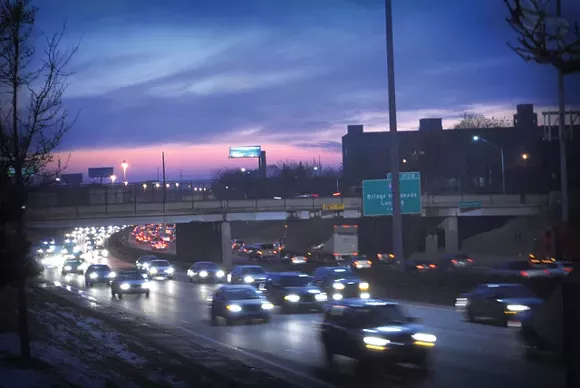 Last week, motorists and media outlets across metro Detroit breathed an exaggerated sigh of relief as the Michigan Department of Transportation (MDOT) announced a seven-mile stretch of I-96 in Livonia and Redford Township would re-open weeks ahead of schedule.
On Monday, broadcast reporters conducted live reports at 5 a.m. to show that, I-96 — which closed in April for the $170 million project — was, in fact, open. The
Detroit Press Press
cried out in a headline, "Yay! I-96 is back in the traffic business."
Hallelujah, praise the lord of the free-flowing highway.
The timing of the re-opening couldn't have been better: It coincided with
the release of a report
from the Washington D.C.-based United States Public Interest Research Group (U.S. PIRG) that labeled MDOT's biggest pet project, a proposed $1.5 billion restructuring and widening of I-94 in Detroit, a total "boondoggle."
The report calls into question the decision-making of 11 massive highway projects across the nation, with costs expected to exceed $13 billion in total. As the report highlights, these massive highway infrastructure projects comes at a time U.S. driving trends have dramatically changed. For example, since 2005, the total number of miles Americans drive has dropped 7 percent, the report says.
Even so, our state and federal government continues to spend billions on highway projects "based on outdated and obsolete assumptions," says Phineas Baxandall, U.S. PIRG senior analyst and co-author of the report, in a statement.
"The time has come to shift our resources to invest in 21st century priorities, like fixing our roads and bridges and providing more Americans with a wider range of transportation choices," Baxandall says. Of course, in metro Detroit, an expansive menu of transportation options is basically non-existent. Those riding the region's deficient bus systems likely require a time-consuming transfer or two to get to their destination of choice.
In Detroit's case, the U.S. PIRG report says the I-94 project, which would widen a seven-mile stretch of the highway one-lane in each direction between Conner Avenue and I-96, "might even make Detroit's economic recovery more difficult by further separating two neighborhoods that have been leading the city's nascent revitalization" — Midtown and New Center.
It's not that News Hits likes to boast, but it's worth mentioning that many of the points highlighted in the U.S. PIRG's report on the I-94 project were covered in
an exhaustive cover story
this rag published back in January 2013.
Megan Owens, executive director of Transportation Riders United, points out in a statement that a sliver of the I-94 project's costs — only 3 percent — would cover the funds needed to build a proposed commuter rail line between Detroit and Ann Arbor, "providing a real alternative to I-94."
Perhaps metro Detroiters will understand real transit alternatives exist when the region stops gleefully cheering the re-opening of a highway.
GILBERT'S ROAD FIX
Speaking of road infrastructure and construction, it turns out Dan Gilbert, billionaire founder and CEO of Quicken Loans, and his Greektown Casino will invest $1.25 million to widen the I-375 southbound Lafayette Street on-ramp. MDOT green-lighted the project last week.
The one-lane exit will be expanded to three lanes, and construction is expected to last 10 weeks, a press release from Rock Gaming LLC, Gilbert's casino subsidiary, notes. The release says the ramp will remain open, with intermittent temporary closures during off-peak hours.
Hopefully MDOT takes note of the fact that, in spending an enormous amount of resources to widen I-94, it's likely there will be less money for smaller initiatives, such as this.