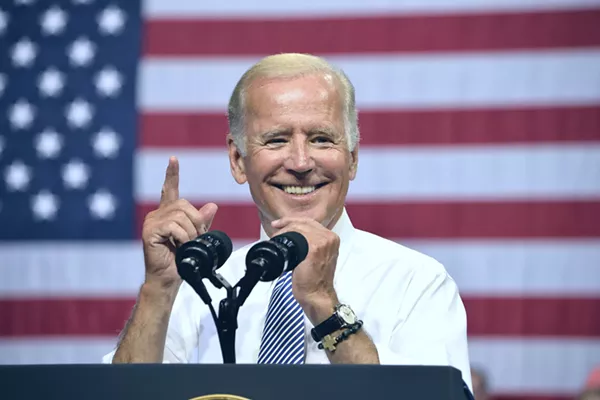 Centrist Democrat Joe Biden campaigned in October for Republican Rep. Fred Upton just ahead of the midterms.
Biden, who is considering a 2020 run for the presidency, did so at a time when Democrats were desperate to take control of the House and gain some power to stop Trump.
The New York Times
reports that Biden was paid $200,000 to speak at a rally in Benton Harbor, and he and the GOP were successful as Upton edged Democrat Matt Longjohn by four points.
From the
Times
:
Mr. Biden stunned Democrats and elated Republicans by praising Mr. Upton while the lawmaker looked on from the audience. Alluding to Mr. Upton's support for a landmark medical-research law, Mr. Biden called him a champion in the fight against cancer — and "one of the finest guys I've ever worked with."

Mr. Biden's remarks, coming amid a wide-ranging discourse on American politics, quickly appeared in Republican advertising. The local Democratic Party pleaded with Mr. Biden to repair what it saw as a damaging error, to no avail. On Nov. 6, Mr. Upton defeated his Democratic challenger by four and a half percentage points.

As Mr. Biden considers a bid for the presidency in 2020, the episode underscores his potential vulnerabilities in a fight for the Democratic nomination and raises questions about his judgment as a party leader. Mr. Biden has attempted to strike a balance since leaving office, presenting himself as a unifying statesman who could unseat President Trump while also working to amass a modest fortune of several million dollars.

But Mr. Biden's appearance in Michigan plainly set his lucrative personal activities at odds with what some Democrats saw as his duty to the party, linking him with a civic group seen as tilting to the right and undermining Democrats' effort to defeat Mr. Upton, a powerful lawmaker who in 2017 helped craft a bill to repeal the Affordable Care Act.

Republicans, of course, ran with Biden's praise.
Mr. Upton alluded to Mr. Biden's praise in a debate with Mr. Longjohn the next day, and his campaign sent out a mailer stressing Mr. Upton's bipartisan streak, including Mr. Biden's description of him as "the reason we're going to beat cancer."

A business-backed Republican group, Defending Main Street, ran digital ads on Facebook showing a grinning Mr. Biden and the crucial quote — "Fred Upton is one of the finest guys I've ever worked with" — above a mock version of the former vice president's signature.

Longjohn's campaign tried to get in touch with
Biden,
but received no reply. With Dems like this, who needs Republicans?
It's also worth noting that many of Biden's centrist supporters criticize progressive Bernie Sanders — who is also likely to run in 2020 — because he isn't a registered Democrat. However, Sanders spent the weeks ahead of the midterms
campaigning for Democrats
. He didn't campaign for any Republicans.
Stay on top of Detroit news and views. Sign up for our weekly issue newsletter delivered each Wednesday.