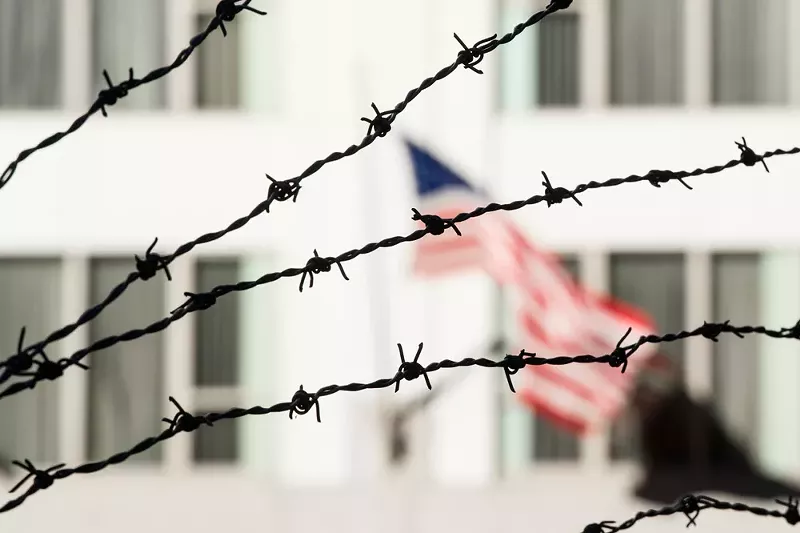 A new study published by the grassroots organization
Force Detroit
found that Detroit violence is "forced and structural."
The study by Force Detroit (Faithfully Organizing Resources for Community Empowerment) compiled previous research data and conducted a survey of Detroit residents to bolster the hypothesis that there is a correlation between poverty and violence.
The survey of 610 Detroit residents asked questions regarding concerns for safety and potential causes for violence within the city. The randomly selected respondents reflect the larger city and statistical data to represent the population of Detroit. Of respondents, 66.8 percent identified as African American, 14.7 percent as Caucasian, 1.8 percent as Hispanic, 1.1 percent as Asian or Pacific Islander, and 0.7 percent reported as Middle Eastern. In regard to education, 42.6 percent of respondents had received no more than a high school diploma or GED, while 44 percent had a level of education that included an associate degree or above.
The survey asked respondents to select three categories which are the greatest source of violence within the city of Detroit. According to the data acquired, survey respondents cited difficulty with communication/conflict resolution, poverty, and drug and alcohol abuse as the top three causes, regardless of the race or gender of the respondent.
When taking into consideration the race, gender, and age of respondents, however, the data began to reflect a different outlook on the source of violence within Detroit.
Caucasian respondents largely selected poverty as the number one source of violence, followed by domestic disputes, and the inability to work through conflict resolution. African Americans and Hispanic respondents, on the other hand, ranked difficulty with communication/conflict resolution significantly higher than any other cause.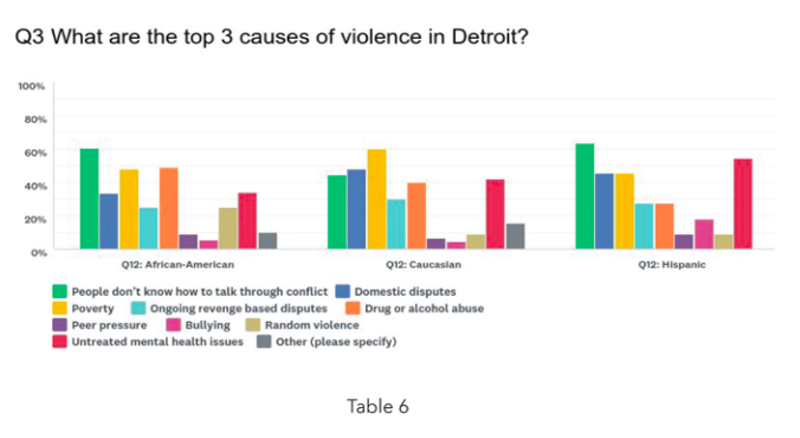 The survey conducted by Force Detroit is used to illustrate a greater disparity in Detroit in the midst of the city's comeback. Despite the city seeing heavy corporate investment in downtown Detroit, the study suggests that economic disparity between downtown Detroit and its outlying neighborhoods creates a culture of scarcity, which in turn, influences violence and crime in the city.
The study cites data from the U.S. Bureau of Labor and Statistics which reports that the average annual expenditure (including housing costs, transportation, food, healthcare, personal insurance, etc.) in the city of Detroit is $57,000 per year per household. Between the years of 2012-2016, however, the median household income for Detroit residents was $26,249. This data suggests that more households live with less than half the average income necessary to live modestly in Detroit.
For impoverished populations lacking education and skills, this means that fewer individuals are choosing to participate in the formal economy.
The study asserts that the "lack of quality education and job readiness, lack of access to liveable wage jobs and the resulting criminalization that arises from people with limited job opportunities and limited skillsets attempting to meet their basic needs" is inherent to the forced and structural cycle of violence in Detroit.
To read
the full study
and to learn more about Force Detroit, you can head to
forcedetroit.org
.
Stay on top of Detroit news and views. Sign up for our weekly issue newsletter delivered each Wednesday.