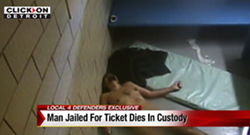 A
new investigation
from
BuzzFeed News
on the death of David Stojcevski — the Roseville man who
died from drug withdrawal
in Macomb County Jail this summer — suggests that the judge violated the law by imprisoning him without first determining whether he had enough money to pay his fines.
According to the report, Stojcevski's hearing for an unpaid traffic ticket lasted all of three minutes, in which Judge Joseph Boedeker gave the options of paying his $772 fine or spending 30 days in jail. Transcripts indicate Boedeker didn't ask Stojcevski about his ability to pay the tickets — despite unanimous Supreme Court rulings that bar locking somebody up because they can't afford a fine.
According to
Buzzfeed News
:
The Supreme Court has issued two unanimous rulings that bar jailing people simply because they cannot pay their fines. In Michigan, courts have come to the same conclusion. "It is well established that a sentence that exposes an offender to incarceration unless he pays restitution or some other fine violates the Equal Protection Clauses of the federal and state constitutions because it results in unequal punishments for offenders," the Michigan Court of Appeals said in a 1999 ruling.

Reached by phone Thursday, Judge Boedeker told BuzzFeed News that his judgment was lawful. By missing two court dates, he explained, Stojcevski had willfully decided not to pay, which meant he could be sent to jail. Boedeker added in an email that Stojcevski "didn't really have an excuse."

But Boedeker's order was explicit: If Stojcevski paid, he could walk free. In a similar case, defendant Ryan Rockett was jailed for unpaid traffic tickets — and he had also missed a court date. On appeal, a Michigan court ruled that Rockett had been locked up illegally because the original judge never assessed his ability to pay. In vacating his sentence, Judge Mary Chrzanowski ruled that there cannot be one outcome for a person with money and another for a person who is poor: "This practice is unconstitutional," she wrote.
Stojcevski's death gained national attention when
video surveillance
of his final hours was released, showing him twitching and hallucinating, apparently ignored by guards.
According to
Buzzfeed News
, more than a week into Stojcevski's sentence, Judge Boedeker amended his court order to allow Stojcevski to do community service instead of stay in jail. By then Stojcevski was already hallucinating from drug withdrawal.