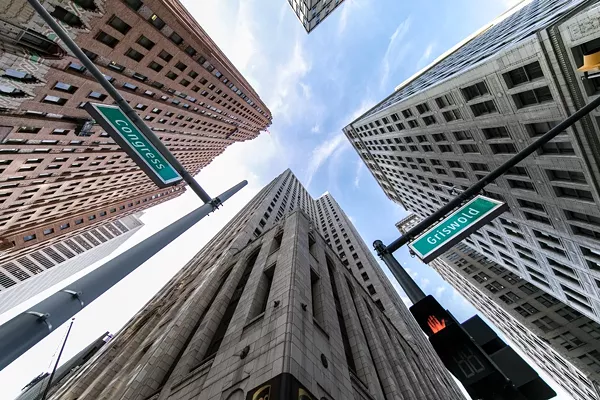 Across the country, downtowns have transformed dramatically since the 2008 economic downturn, and Detroit could very well be a poster child for the phenomenon. After Dan Gilbert relocated the headquarters of Quicken Loans in 2010, the city's downtown core has transformed in ways that render parts of the city unrecognizable to what they were a decade ago. When the city hosted the Super Bowl in 2006, empty storefronts had to be filled with art installations to make it look like downtown wasn't a total ghost town. Now, "Gilbertville" bustles with workers, shoppers, and tourists.
These changes have brought significant changes to the price of homes, which real estate data website PropertyShark analyzed in a recent report. The company analyzed the largest cities in the U.S. to look at the differences between their downtown median sale prices and the median sale prices in the rest of the city. What they found for Detroit was staggering.
While the rest of the city's median sale price has hovered around $30k for the past decade, its downtown median price has shot up to $229,250 — "maybe the most spectacular contrast between a city's median and its downtown's," the authors write.
They add:
While in 2008 the downtown median was $117,500 higher than Detroit at large, the following years that difference dropped to as low as $6,000 with as few as 19 sales closed per year. Although MoTown continues to struggle economically and with an ever-shrinking population, closing 2018 with an unbelievable city median sale price of $37,000, revitalization efforts in Downtown Detroit brought its median to $229,250. As such, this is one of the most noticeable differences between a city and its downtown area.
You can read the full report
here
.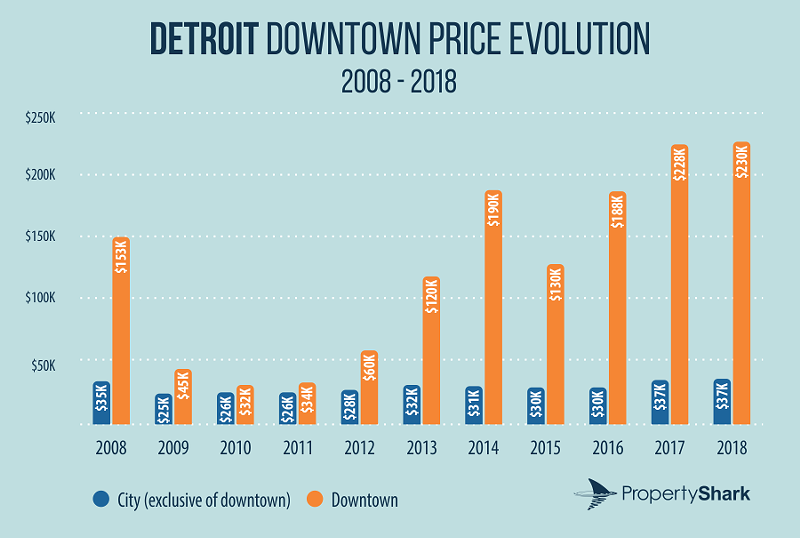 Stay on top of Detroit news and views. Sign up for our weekly issue newsletter delivered each Wednesday.