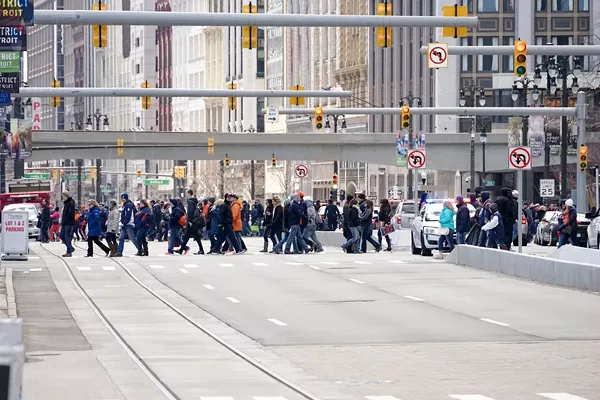 Michigan is the only Midwestern state to be ranked in the top 20 most dangerous states for walking, according to a new report.
In the annual
Dangerous by Design
report by Smart Growth America, an advocacy group that researches urban planning and development, Michigan is ranked the 19th most dangerous state for pedestrians. The ranking is based on an annual average of 1.42 pedestrian fatalities per 100,000 people. The total number of pedestrian fatalities between 2008-2017 in Michigan was 1409.
Michigan is joined by several Sun Belt states, including Georgia, Mississippi, Louisiana, Arkansas, and Alabama, as well as coastal states such as California, Maryland, and Delaware. Florida is ranked number one on the list.
Out of the 20 metropolitan areas with the highest pedestrian fatalities, the Detroit-Warren-Dearborn metro area is ranked number 18. Between the years 2008-2017, as many as 767 pedestrians were killed in the metro Detroit area. The metro Detroit area was the only metro area from Michigan in the top 20.
Since 2008, the number of pedestrian deaths has increased by 35 percent, while the number of miles walked by pedestrians has increased by less than one percent. Meanwhile, the number of vehicle miles traveled has only increased by approximately eight percent.
The increase of pedestrian deaths appears to be linked in part to an increase in the number of SUVs on the road. According to an investigation by the
Detroit Free Press
, the number of SUVs involved in striking and killing pedestrians has increased by 69 percent compared to other vehicles between 2009-2016. Other analyses of the same data show as high as an 81 percent increase.
The increase in pedestrian deaths may also be attributed to roads that are designed to accommodate cars that move at high speeds rather than pedestrian safety. Smart Growth for America, the advocacy group that compiled the data, suggests allocating federal dollars to state departments of transportation and metropolitan planning organizations to design roads that take pedestrian safety into consideration.
Angela Zielinski is an editorial intern at Metro Times.

Stay on top of Detroit news and views. Sign up for our weekly issue newsletter delivered each Wednesday.