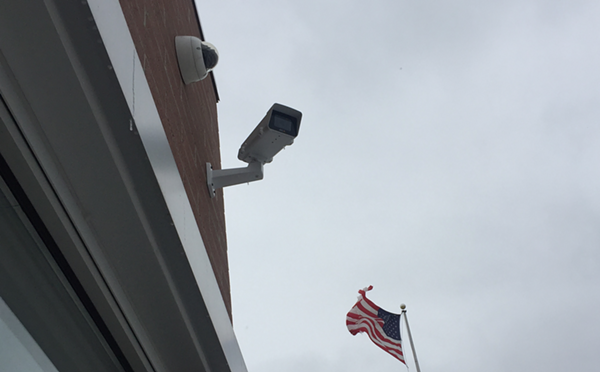 As Detroit continues to tout its Project Green Light real-time surveillance program, with plans to eventually propose a mandate that would require thousands of businesses to buy into the program, New Orleans appears to have ceded to privacy advocates and dropped plans to impose a similar requirement.
Early this year, Detroit drew criticism from business owners and the American Civil Liberties Union of Michigan when Mayor Mike Duggan and Councilmember Andre Spivey said they intended to eventually move forward on an ordinance that would require businesses open past 10 p.m. to buy into Project Green Light. The surveillance program requires businesses to pay about $5,000 for cameras and lights, plus additional monthly fees for cloud storage and high-speed internet. The camera footage is then streamed before police and civilian monitors in real time, with the idea that it will help drive down crime. The city says the more than 100 businesses that bought into the program in 2016 saw an 11 percent year-over decrease in crime, on average, though the decline came as the city as a whole also saw a modest reduction in crime.
Additional benefits to Green Light partners include weekly police visits and the treatment of any criminal incident as a "priority 1" emergency, meaning average response times of 14 minutes. In a city that has seen a huge reduction in the number of officers on the streets, some business owners view their enrollment in the program as a
way to pay for adequate policing
.
In New Orleans, the government shoulders the cost of the cameras, with businesses also able to connect their private surveillance cameras to the city's Real-Time Crime Monitoring Center. The center opened in November. Shortly after, the city planned to make businesses that sell alcohol put up surveillance cameras that connect to the system. But after backlash from businesses and civil liberties advocates, the New Orleans City Council dropped the proposal at the request of Mayor Mitch Landrieu.
According to
bestofneworleans.com
, the proposed mandate drew criticism from the Office of the Independent Police Monitor, the Music and Culture Coalition of New Orleans, and the ACLU of Louisiana, among others. The outlet reports that community groups, bar and restaurant owners, and residents feared "a camera network unduly attracts prolonged law enforcement exposure and disproportionately puts vulnerable and lower-income neighborhoods under the lens of Big Brother." A Louisiana immigrant advocacy organization, the Congress of Day Laborers, also reportedly rallied against the proposal over fears the surveillance data could be shared with federal immigration enforcement.
Most importantly, however, is the fact that it's not even clear these real-time camera monitoring systems actually reduce crime. (In January, the Detroit Police Department was unable to produce a single example in which the two-year-old technology was able to stop a crime in progress.)
In a recent report looking at New Orleans' program,
CityLab
reported:
Cities spend millions of dollars every year to install and update surveillance tech, yet there's limited evidence about whether these extensive networks achieve their stated goals. In a letter to the city council, New Orleans' independent police monitor noted that studies of other cities' surveillance systems have found no significant reduction in crime. Even the most favorable reports "could not conclusively prove that the presence of surveillance cameras always deters crime," the letter said. London, the second-most-surveilled city in the world, has seen virtually no change in its crime rate since its cameras were installed in the 1980s.
Civil liberties advocates in Detroit have
questioned
whether the reported 11 percent drop in crime at Green Light locations is directly attributable to the surveillance video, noting that additional police visits and light fixtures likely skew the data.
A proposal to require late-night businesses in Detroit to purchase surveillance cameras will not come until at least next January, officials have said.