The Children's Center of Wayne County has more than 35 open positions that they are looking to fill as soon as possible, so they will be hosting a job fair tomorrow from 9 a.m. - 3 p.m.
The Children's Center is the place to be if you are interested in helping children in a non profit environment. The areas they are hoping to fulfill positions are: clinical, teaching, support coordinator, behavior technician, and many more.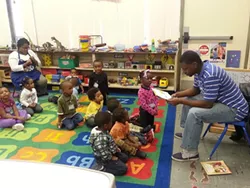 The skills and requirements to fulfill these positions vary, but there will be plenty of information at the job fair and each position is described on their website.
They ask everyone to follow their core values of being devoted, dedicated and willing, to have passion, to be committed and accountable, and to treat everyone with respect, courtesy, and patience.
If these guidelines sound like your personality you should check out the job fair to receive the opportunity to help shape the future by helping the children that create it.