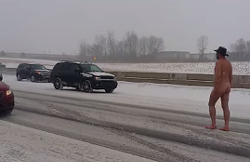 The man who shot to internet stardom this week
after he was filmed strolling down
I-75 near Auburn Hills in a snowstorm wearing only — and we mean
only
— a cowboy hat has been identified.
The Detroit Free Press
reports that police have identified the Naked Cowboy as a 53-year-old West Bloomfield man who may have suffered from a mental delirium episode when he ditched his Chevy just before noon on Sunday, and disrobed on the interstate.
Auburn Hills Police Chief
Doreen Olko said
in an online post that incidents like this aren't all that unusual, except that they aren't typically on a freeway. In the middle of the day. During a snowstorm.
While it hasn't been concluded what, exactly, the man was experiencing, responding officers did recognize he was delusional and were able to persuade him to safely enter a patrol car before taking him to a nearby fire station to meet an ambulance.
The Freep says the man isn't likely to face criminal charges for the incident.