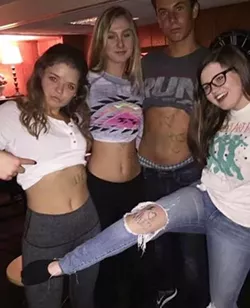 A local branch of the NAACP has agreed to work with Grosse Pointe Public Schools following news that students posted photos with racial slurs to social media.
The district, which is
77.3 percent white
, learned on Sunday afternoon about a photo circulating the Internet that showed two female and one male student flashing their stomachs, which had the "N-word" scrawled across them. The three students were suspended for five days, as were three other students — one who had a pro-marijuana message running down her leg in the photo, and two others who, according to
The Detroit News
, were "threatening other classmates involving the incident" not to snitch.
The NAACP is stepping in to help.
"This is truly a teaching moment," David Smydra, interim vice president of the Grosse Pointe-Harper Woods NAACP, said at a Wednesday news conference. "This is truly an opportunity for the students and parents who attend this wonderful school to learn from this incident in a way that will change lives for the positive for years and years to come."
The school suspensions are the latest racially-charged incident in the Pointes, which have a long history of tension with neighboring Detroit.
As
Motor City Muckraker
has been pretty good at
documenting
, Grosse Pointe Park has found several ways to build, more or less, a wall to keep Detroiters (black people?) out.
This partnership with the NAACP may be good for more than just the city's youngsters.