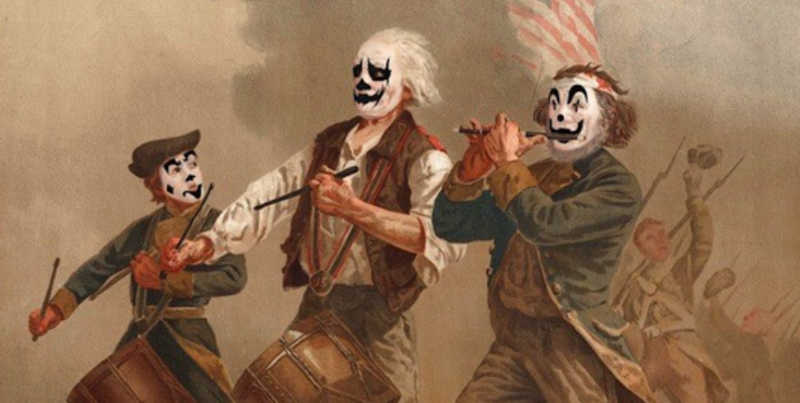 OK, you had
your say, now it's our turn. The
Metro Times
staff put our heads together and came up with our picks for our own awards — some of them winners, some of them losers.
Best Agency to Re-evaluate
Michigan's Department of Environmental Quality
Once upon a time, the Department of Natural Resources watched over the extraction of the state's riches. Gov. Engler separated out the DEQ to "balance" environmental protection with corporate exploitation. Gov. Granholm reversed that decision, and one of Gov. Snyder's first acts was to separate DEQ out again, giving it a guiding principle to be "partners in economic development." The agency was disgraced for its involvement in the
Flint water crisis
, after which
top officials resigned
. Since then, we've seen the DEQ has been on the verge of approving several more permits, including
Nestlé's plans to pump more water out of Michigan
and U.S. Ecology's plans
to dramatically expand a toxic waste facility in Detroit
.
— Michael Jackman
Best Marketed Neighborhood That Doesn't Exist
The District Detroit
Are you young, interested in city life, walkability, and a dynamic neighborhood that doesn't sleep? Well, have we got a marketing campaign for you! The District Detroit showcases a set of five neighborhoods, all of them walkable, livable, mixed-use, and world-class. The only thing is that
they don't really exist yet
. In fact, a recent promotional video spot seems to function on the belief that if you pack enough contemporary beats and millennial whoop into the soundtrack, nobody will notice that you're using stock footage that doesn't even show Detroit. If only we had a "Balls of Solid Steel Marketing Award," we'd rush it right to whoever came up with this campaign.
— Michael Jackman
Best New Magazine
Riverwise
At the end of 2014, when we lost
The Michigan Citizen
, it was a sad day for Detroit journalism. Bear in mind, we at
MT
didn't always see eye-to-eye with the paper's reporting over the years, but if you wanted to lay your finger on the pulse of Michigan's progressive black intelligentsia, you could do much, much worse than peruse an issue of the
Citizen
. That's why the appearance
of the first issue of Riverwise
is cause for celebration: Not only does it publish with the imprimatur of the Boggs Center, the majority of writers are African-American: The lead article is by regular
MT
columnist Larry Gabriel, and there are pieces by former
Citizen
writer Eric Campbell and Adrienne Maree Brown, editor of the recently published
Octavia's Brood
. Sorry,
TBD
, but we think today's Detroiters deserve political analysis and news — rather than just a slumming version of
Hour Detroit
magazine.
— Michael Jackman
Best Illustration that the Region's Transit Thinking is Trapped in the Past
The $3 billion expansion of I-75 and I-94
Thanks to SEMCOG and MDOT, the region is embarking on a $3 billion, 30-year plan to expand I-75 and I-94. The construction project will require rerouted interchanges, continuous service drives, demolished buildings, and additional lanes, all in the hopes of helping speed traffic through the inner city. But as critics have pointed out, widening a freeway isn't an effective way to reduce congestion. In the end, motorists change their living, working, and driving patterns to occupy the new roadway, with the result being that the road is soon just as clogged as it ever was. This is common knowledge in the highway planning business, and yet "easing congestion" is a refrain MDOT officials keep returning to. Such promises, however, get laughed at elsewhere: The Washington D.C.-based United States Public Interest Research Group has labeled MDOT's I-94 widening project a
"boondoggle,"
and said the project "might even make Detroit's economic recovery more difficult." But, hey, if you can get from Grosse Pointe to Livonia faster, who cares, right?
— Michael Jackman
Best Political Demonstration Yet to Come
Juggalo March on Washington
Man, this is going to be great! If you think the situation in Washington, D.C. is surreal today, wait until September. We believe tens of thousands of Juggalos will take over the nation's capital
in protest of the FBI's designation of their fans as a "gang."
That struggle against the FBI's designation is also driving a court case, but the "family" is taking it to the streets as well, hoping to show that no gang has this much motherfucking clown love. May the Juggalos convince the feds that their hearts are as pure as clown white, and may the Lincoln Memorial Reflecting Pool turn crimson with Redpop. Whoop-whoop!
— Michael Jackman
Best Evidence the Neighborhoods Are Still Suffering
"It's safe to come, we've got lattes"
For the last few years, it seems the international media appetite for Detroit's "rebirth" narrative has been bottomless. Correspondents have eagerly airdropped into select Detroit neighborhoods only to be impressed by the showy restaurants, upscale bars, and high-end shops. But the pain in the neighborhoods is just growing more acute, and it's all laid out by academic researchers in a study released just last year. The study, given the name
"It's safe to come, we've got lattes,"
explains how the modest improvements in the Midtown area "do nothing to address the city's core problem: disinvestment and abandonment propelled by corporate decisions framed and aided by government policies, from housing and free trade, with an overlay of stubbornly persistent racism."
— Michael Jackman
Best Example That L. Brooks Patterson is Losing His Mind
Introducing James Simpson at the Oakland County Business Roundtable
In the past, keynote speakers at the annual meeting of the Oakland County Business Roundtable had been, well... business people. They had things to say that mattered to the local business community. Leave it to old Brooksie to mix things up by inviting a speaker the Southern Poverty Law Center calls an
"extremist blogger"
who believes that immigrants are conspiring with Communists to "erase America." The decision was regarded as so strange that Fifth Third Bank pulled its sponsorship of the event after sponsoring it for more than six years. The bank's marketing director, Jack Riley, said the luncheon had "typically featured business leaders that in some way were contributing to the overall community of Oakland County," adding that "it's unusual that they'd have a politically motivated speaker."
— Michael Jackman
Best Hope That Detroit Can Keep 'Motor City' Nickname
The Big Three
For a while, it seemed like Detroit's Motor City moniker could be destined to fade into the rearview mirror. Not long ago, the Big Three were asking for federal bailouts, and in recent years Silicon Valley was the leader in autonomous car research. Though Michigan was slow to join other states in permitting driverless cars, a package of bills signed by Gov. Rick Snyder late last year
gave the state some of the nation's most expansive laws
. And according to
a recent study by Navigant Research
, the Big Three have now surpassed tech giants like Uber and Google in the autonomous technology department.
— Lee DeVito
Best 'Seinfeld'-esque Get-Rich-Quick Scheme
Trucking out-of-state returnable bottles
In March, a 70-year-old Flint man
pled guilty
to returning more than $10,000 worth of non-returnable bottles and cans from Indiana to Michigan for our state's 10-cent-per-can deposit. The man got away with the plot from 2012 to 2015, before an informant alerted the Michigan State Police. As was swiftly pointed out in the media, this was basically identical to a scheme cooked up by Kramer and Newman on
Seinfeld
. Still, we stand in awe.
— Lee DeVito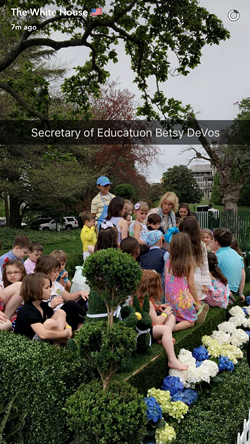 Best Unintentionally Chilling Internet Art
"Secretary of Educatuon"
The day after Easter, the presumed overpaid millennial who runs the official White House Snapchat took a photo of Secretary of Education Betsy DeVos surrounded by children. The only problem was said presumed overpaid millennial misspelled DeVos' title as the
"Secretary of Educatuon"
in the caption. Not really a big deal in and of itself — hey, who among us hasn't made a typo — but knowing the
infamously disastrous education policies
DeVos is poised to unleash upon the children of America, the image is now a work of art.
— Lee DeVito
Best Tone-Deaf Instagram Handle by a Killer Cop
FatalForce
FatalForce came to our attention when sources in the know revealed him as the Detroit cop who killed 19-year-old Raynard Burton this winter. One of those sources linked us to the officer's Facebook profile page, and what we found was something we thought could only exist in a satirical film or
The Onion
article. Alas, this is Detroit, and it was a reality: an image of an unsmiling, well-oiled, sculpted gentleman standing before weightlifting equipment, the words "fatalforce" written above the image in bold black.
Further digging
revealed this was only the tip of the iceberg. The officer had not only recently killed somebody, but had killed a pigeon with his department-issued Glock right around the time he started on the force in the mid-'90s. In between those, there were a couple other near-killings, both of which became the subject of excessive-use-of-force lawsuits against the department. Because the larger story of how the hell this cop has been able to remain with the Detroit Police Department sort of eclipsed the brilliant Instagram handle, we figured we'd give it a nod here. FatalForce is still on the force today, but has removed himself from Facebook and Instagram.
— Violet Ikonomova
Best News Organization That Leases Space From Dan Gilbert
WXYZ 7 Action News
While some may harp on
Metro Times
for operating in Ferndale, it is a blessing not to have to seek real estate in downtown Detroit, where Gilbert has become the city's corporate overlord, now owning at least 70 properties. Other news organizations have opted to nestle themselves right in Gilbert's pocket, among them the
Free Press
,
Detroit News
, and WXYZ-TV. While we very much admire the work of the
Freep
and
News
, we have selected Channel 7 for the high honor of best news organization in a Gilbert building, because we simply can't resist the idea of a glass-enclosed news studio. When it comes to glitz or good reporting, glitz wins out every time.
— Violet Ikonomova
Best Analogy for Trump Claiming Responsibility for Auto Jobs
A Hot-N-Ready
President Donald Trump's presidency has been punctuated by a repeated pattern — every time one of the Big Three announces U.S. investments, he takes to Twitter to apparently take credit for the move. The problem is, it is routinely revealed that these deals can be traced back to previous negotiations with unions, long before Trump took office. In response to this, the Michigan Democratic Party chair Brandon Dillon
puts it this way
: "Donald Trump taking credit for Ford's latest investment in Michigan is like a kid telling his friends he made dinner when his dad picked up a Hot-N-Ready from Little Caesars," he says. "The fact that someone who's supposed to be the president of the United States has no accomplishments of his own, and feels the need to take credit for someone else's, is a joke."
— Lee DeVito
Best Place to Practice Yoga in the Last Place You'd Expect to Find a Yoga Studio
359° Yoga; 3162 Biddle Ave. #200, Wyandotte; 734-309-7060; 359yoga.com
If the Midwest is five years behind the trend-setting coasts, then the downriver city of Wyandotte is 15. The town itself is quaint and quite adorable, but not exactly … progressive. For example, the city's first full fledged yoga studio opened in late 2016, ushering in an era of true sophistication for the blue collar town. Now, I'm not being mean, I'm just poking a little fun — I live there after all. The studio, which sits atop the city's beloved Stroh's ice cream shop, is owned by longtime yogi Jennifer Perry and the vibe inside is welcoming. It doesn't hurt that the place tends to smell like those delicious waffle cones being prepared just a floor below.
— Alysa Offman
Best Down-And-Out Suburb to Become an Artist Enclave
River Rouge
In early 2017, the Russell Industrial Center informed its artist occupants that due to abysmal conditions and code violations,
everyone was getting the boot
. With so many artists displaced from their studios, the neighboring city of River Rouge wanted to do something. So, they invited all those displaced artists along with all artists around metro Detroit to move there,
promising to offer help with financing and other incentives for relocation
. Of course, the city, which has suffered greatly from the recession as well as the closure of a bridge that connected the city to Detroit, has something to gain from all this too — residents. The city was once home to 20,000, but now has less than 7,000 residents. Well kept home are available for under $50,000 and maybe commercial buildings are available for bargain prices as well.
— Alysa Offman
Best Way to Bar Hop in Detroit
Detroit Rolling Pub; detroitrollingpub.com
Formerly known as Detroit Cycle Pub, this pedal-powered pub is truly the best way to get around town if you're hoping to stop at a bunch of different bars, but also drink while you're on the way there. Owned and operated by a husband-and-wife team, the moving pub has become extremely popular in a city that's not really known for tourism. This year, the company will be adding to its offerings, starting a Detroit Cycle Boat, which will cruise down through St. Clair Shores starting in May.
— Alysa Offman