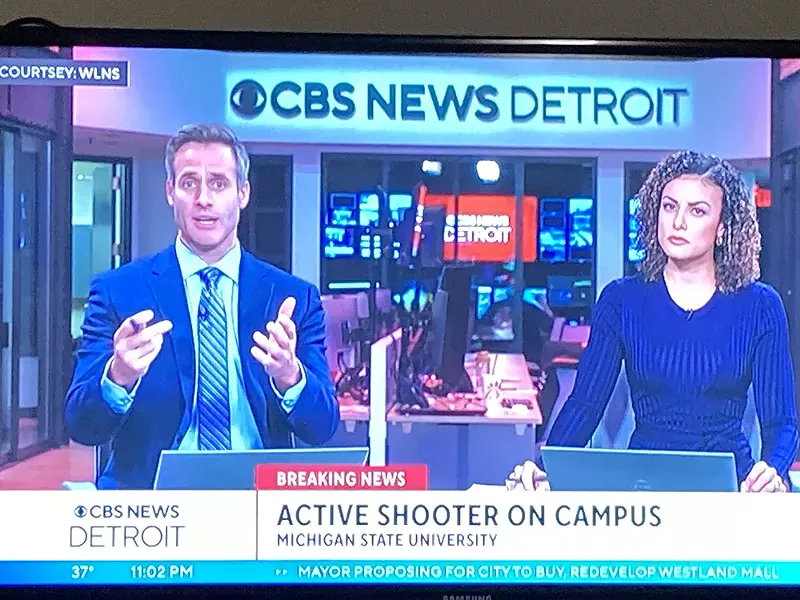 Some day — perhaps soon — metro Detroit television viewers may enjoy innovative journalism on Channel 62, known primarily now as CBS News Detroit and, technically, as WWJ-TV.
Its fresh approach to local TV reportage — from an ambitious, new operation launched in late January — may eventually provide fast, fair, and feisty competition for Channels 2, 4 and 7, which have reported news for decades.
But the gun massacre at Michigan State University last week showed that CBS News Detroit is not yet ready for prime time — which is 11 p.m. for a local newscast.
They got clobbered by the competition on this, the first major breaking news story on their freshman watch. And much of the damage was self-inflicted.
After Channel 4 (WDIV) went live on air first with the story, it was followed quickly — but less thoroughly — by Channels 7 (WXYZ) and 2 (WJBK), both with fewer personnel on scene. All three were on air live before 10 p.m. for a gun rampage that began at 8:18 p.m.
But where was CBS News Detroit? Its Channel 62 showed NCIS: Hawai'i, and all its commercials, from 10 p.m. to 11 p.m.
What about the streaming online option that CBS News Detroit touts as the hot, new direction in immediate local TV news?
That internet stream showed a canned newscast, apparently pre-recorded, mentioning nothing about the mass shooting that left three students dead and five hospitalized.
At 10:25 p.m. on the streaming service, a female voice broke in to say something about the shooting and "multiple crews of our own on the way."
Then they went back to the canned newscast, which appeared to be simulcast on Channel 50, which CBS calls its "sister station." For the rest of the 10 p.m. hour, neither CBS News Detroit nor Channel 50, nor the CBS streaming service covered the gun massacre.
You might think things would have improved at 11 p.m.
But then it got worse. Much worse.
After anchors Kris Laudien and Shaina Humphries briefly summarized developments, they introduced reporter Luke Laster in East Lansing for the 11 p.m. news conference with police and other authorities.
Laster started with a dead microphone, corrected quickly. He appeared rattled and said, pointlessly, that "Everything will be streaming on CBS News Detroit.com. We will have those updates for you here."
Looking behind him to see the podium and lectern area filling up, Laster then blurted "And we are beginning, folks, we're going to send it back to you."
This startled anchor Laudien. He wanted to show the news conference. That made sense. His first few words were silent because his microphone, too, was dead. When it came on, Laudien said, "OK, we are going to take that press conference."
He raised his right hand, with a pen, as if trying to alert the control room.
"If we can get that back," he said, "we want to hear what the MSU police are saying."
Laudien remained composed, but then raised both palms upward as if pleading or in prayer or giving his producer the internationally recognized sign for "W.T.F.?"
After five long, silent seconds, somebody threw a switch to go back to the news conference.
When that ended, at 11:15 p.m., reporter Laster in East Lansing decided to check his microphone.
"Check-check-check-check-check-check," he said. Problem was, he was live on the air and so was Humphries, trying to talk through a smooth transition from the studio.
With a deer-in-the-headlights composure, Laster mumbled through two minutes of recaps and sentence fragments he read from notes. At this point, comprehensible commercials became an inappropriate but welcome change.
And CBS News Detroit was loaded with them, even during a newscast about a gun massacre. In the first 24 minutes of the newscast, CBS News Detroit showed seven minutes of ads, the only local news station to do so in this time frame.
In addition, CBS News Detroit found time for a weather report, something no other local station did in this period. At least the weather guy knew what he was talking about and his microphone worked.
After the ads, at 11:24 p.m., anchor Laudien announced that "authorities are just getting ready to release a photo of that suspect. And as soon as we have it, we will share it with you."
One problem here: The picture had already been released. It appeared on Channels 2, 4, and 7. But — instead of catching up with the photo — CBS News Detroit then threw it to East Lansing and reporter Terrell Bailey.
Bailey was hard to hear not because his microphone was dead but because he was holding it below the camera frame.
He contributed a tedious two-minute conversation with a podcaster named "Clay," who started spouting his defense of the Second Amendment and his opinion of the human race.
"The way the world seems to have gone is completely sideways and haywire," the podcaster said.
Yes, well.
Cops say local TV really can help when a mass murderer is on the run because TV pictures might lead to an arrest. Minutes really matter. (Indeed, MSU police later credited the media for generating the tip that led them to the suspect.) But, during these crucial minutes, CBS News Detroit showed, instead, this podcaster guy talking about haywire.
By 11:29 p.m., this interview mercifully ended. The anchors quickly tossed it again to Laster. Again, his microphone was dead, but quickly fixed. At 11:30 p.m., the CBS News Detroit screen showed the two photos of the suspect.
Overall, the CBS News Detroit performance on this story graded a D-minus, and that's generous. This is not to say that this new news operation will fail forever. The boss remains optimistic.
He is Brian Watson, vice-president and general manager of CBS News Detroit. And he chose not to find fault with how his new team handled its first major challenge in its twelfth day on the air.
"Considering that we were in our third week of being an operating newscast organization, I was pretty proud of our coverage," Watson tells me.
He stressed that his new crew reported no inaccuracies and worked within its limitations.
"We stayed, we played, within ourselves," he says. "We stuck to the facts. We didn't try to push anything to be more than who we are or report more than we knew at the time. I think we did pretty good."
But he implied that Monday's effort left room for improvement.
"And I think Tuesday was better than Monday," Watson said, "and Wednesday we were better than Tuesday."
Watson said CBS News Detroit will differentiate itself from the local competition. "We're more concerned with how the news of the day affects people than reporting just on the news of today," he says. "We're all about giving voice to those that are often left unheard."
Cops say local TV really can help when a mass murderer is on the run because TV pictures might lead to an arrest. Minutes really matter.

tweet this
With online streaming blending with scheduled news shows and consumers looking for information on demand, CBS News Detroit may be on the cutting edge of broadcast journalism.
"Viewing habits, consumption rates, when and where and how and on-what people consume their entertainment, news, and information, is moving faster than it ever has," Watson says.
On air, his team has some appealing faces, imaginative graphics, and clever slogans like, "On your block, around the clock." When a newscast cuts to a local story in the field, a graphic shows a drone's-eye view of the region that swoops down directly to the locale.
After these reports, CBS News Detroit sometimes shows a still photo of the reporter and a map of the primary county to which he or she is assigned. Particularly compelling in this format is Gino Vicci, a street reporter who looks like the police detective you don't want to deceive during interrogation.
In the studio, they have a busy set that blends into the newsroom, with casually-dressed workers walking around behind the anchor desk, available for questions on live camera.
"We are very proud of our working newsroom," Watson says. "You can kind of see the news being reported on in real time in its authentic and raw self, right?"
He's right about that. And there's a lot to like about this new effort. And they deserve another chance. But, first and foremost, they must cover the news.
Coming soon: Metro Times Daily newsletter. We'll send you a handful of interesting Detroit stories every morning. Subscribe now to not miss a thing.

Follow us: Google News | NewsBreak | Reddit | Instagram | Facebook | Twitter