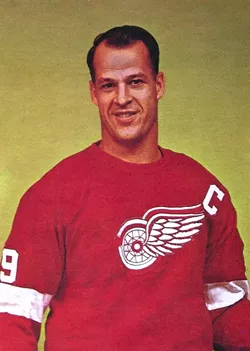 Long-time NHL and Detroit Red Wings legend Gordon "Gordie" Howe has died at the age of 88.
Howe died at 7:58 a.m. Friday morning while staying at his son Murray's house in Toledo, Ohio.
Howe previously suffered a stroke in October 2014, though stem cell treatment appeared to help promote what was then considered a miracle recovery.
Heralded as one of the greatest hockey players in the game, Howe played 26 seasons in the NHL (25 with the Detroit Red Wings, one with the Hartford Whalers), and six seasons in the World Hockey Association. He totaled 1,767 career NHL games, with 801 goals, 1,049 assists and 1,850 points. (WHA: 419 GP, 174 G, 334 A, 508 Pts).
Gordie Howe's name became synonymous with hockey in Detroit soon after his arrival in 1946. Part of the "Production Line" with the Red Wings, Howe combined forces with fellow legends Sid Abel and Ted Lindsay, becoming three of the highest scoring players to ever play the game. In the 1949-1950 season, they finished first-second-third in league scoring.
Howe was also the only player in the game to play professionally in five consecutive decades (1940s – 1980s), a feat that will likely never be repeated due to the physical requirements of the game today.
He's a four-time Stanley Cup winner, six-time Art Ross winner, six-time Hart winner, was top five in scoring for 20 consecutive seasons, Lester B. Patrick Award winner, Lionel Conacher Award winner, and Hall of Fame member.
Former Red Wings captain Steve Yzerman shared his fond memories with Detroit Free Press writer Helene St. James in 2014:
"I was walking in the hallway outside the locker room at Joe Louis Arena," Yzerman said Wednesday. "He introduced himself to me and I was kind of in awe. I was 18 years old. He was very nice and very humble and down to earth. You're talking, at the time, to the best player ever to play.

"It was a neat thing, at that time, for me."

The next summer, Yzerman and Howe were at a charity event in Halifax, Nova Scotia, when Yzerman realized he'd under-packed.

"I'd forgotten my shin pads, and he let me wear his," Yzerman said. "Then he left before I could give them back, so I carried them around for quite a while.

"That's Gordie Howe — very humble, very down to earth. Just a really nice person."

It's an irony lost on no one who saw Howe play that he was the polar opposite off the ice — his elbows leveled many an opponent, but his personality enchanted.

"He's admired and respected by everyone in the hockey world," Yzerman said. "The players he played with, against; fans of every organization. He was a unique player. One, to play that long, and two, to be the combination of skill and power and grit. He was the ultimate player in that role, probably the best power forward every to play, before that term came up."
This article is published in a partnership between
Metro Times
and
DetroitSportsNation.com
.