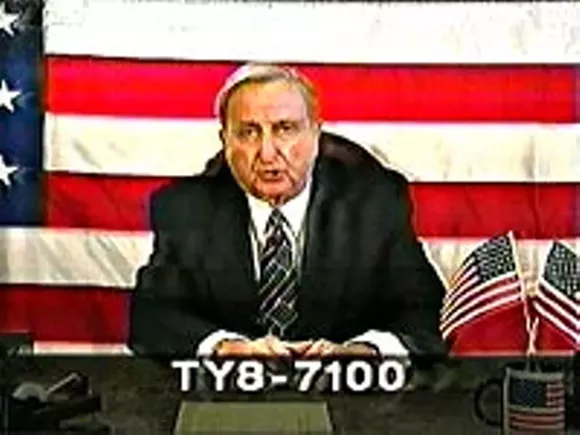 Local media have reported
that Maurice Lezell, known to metro Detroit TV viewers as "Mr. Belvedere," has died at the age of 95.
Chances are that you're somewhere north of 40 years old if you remember the TV spots, in which Lezell's eyes bored straight into the camera as he promised, "We do good work." (The stress fell on every monosyllabic word, sort of like "Raid kills bugs dead.") His spots appeared so often on local television that the business' number (rendered in the old-fashioned style: TYLER 8-7100) was drilled into Detroit's collective consciousness. (A feat perhaps only rivaled by Charles Kent Reaver's D-I-A-M-O-N-D.)
These days, you can tickle that ironic funny bone by watching the spots, which involve amateurish production standards, pre-MTV pacing, and a spokesperson with no shortage of "regular guy" appeal.
At least part of that appeal came courtesy his lieutenant, Marianne DiGrande. She started working for Belvedere in 1970, and says she helped him create the TV persona that buoyed his profile. As Ann Mullen wrote in a
Metro Times
story 15 years ago, DiGrande
helped the master pitchman achieve camp-hero status in Detroit during the 1970s with his no-frills television ads. In a suit and tie, Lezell sat behind a desk coaxing TV viewers to dial Tyler-8-7100 for their home-improvement needs. ... Each ad concluded, and still does, with Lezell asserting, "We do good work!" That proclamation became his most popular pitch, with the public sporting kitschy T-shirts bearing Lezell's mug and slogan. The ads made Mr. Belvedere a local celebrity. Fans asked him for autographs. He inspired lookalike contests.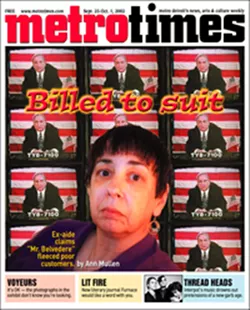 Unfortunately, at the center of
that 2002 story
was a lawsuit by DiGrande alleging that "she discovered that the sales staff was gouging customers, specifically elderly African-Americans in Detroit, by charging them five to 10 times more than they should have." DiGrande claimed to have complained to Lezell, but he wouldn't listen.
After
MT
's cover story on the case,
Lezell asked an Oakland County Circuit Court judge to order DiGrande to not talk to the press
. The gag order was denied.