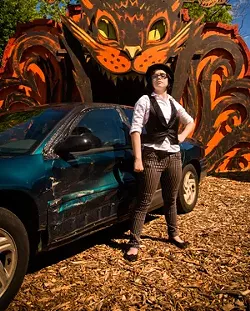 Petite and charming 18-year-old dynamo and Pennsylvania Amish country transplant Kate "Hayley Jane" Nickerson doesn't seem at all like she's from Detroit. Yet she definitely belongs here. Not many other cities can let you delve into so many forms of expression on a shoestring budget.
The multitalented, renaissance-fair loving Nickerson is an actress-costumer-fire breather-makeup artist-burlesque dancer-singer who performs her Amanda Palmer-inspired music as Hayley Jane. Think this generation's Ani DiFranco, if Ani was more cabaret.
"I moved to Detroit for a boy, but we broke up a week before I moved here. Yet when I stepped off the plane I almost immediately got absorbed into the Detroit art community."
Specifically, she fell into the orbit of the Theatre Bizarre performance collective. Quickly she became involved in their amazing production of Wonderland at the Russell Industrial Center last April. She performed in the play and designed all the costumes between fire breathing and burlesque stints and working on songs for her second album.
Just this month she moved into the Theatre Bizarre compound-wonderland just south of the state fair grounds in Detroit, which is really the perfect spot for Hayley to realize her art hybrid. It's not the perfect spot for her to drive her car into for a photo shoot though.
You can drive a car into Theatre Bizarre, but it is a little tight. And Hayley's driving skills at the moment are inversely proportional to her mammoth performance skills. Her somewhat battered 1994 Dodge Intrepid that she christened "Tabitha" is bashed in on the driver-side door, requiring Kate to enter through the passenger door. "C'mon! I've only had my license since October," Hayley says.
"I think the real reason she got in an accident so quickly is because she was owned by a good Christian girl before me and I think she's rebelling against my heathen ways." Whatever the reason, it's not something a little duct tape won't fix.
Hayley Jane will be performing at Comerica Cityfest at 4 p.m. on Sunday, July 5, on the Park Stage. If we're lucky she might perform Britney Spears' "Give Me More" on ukulele! You can find out more about her at hayleyjane.com.