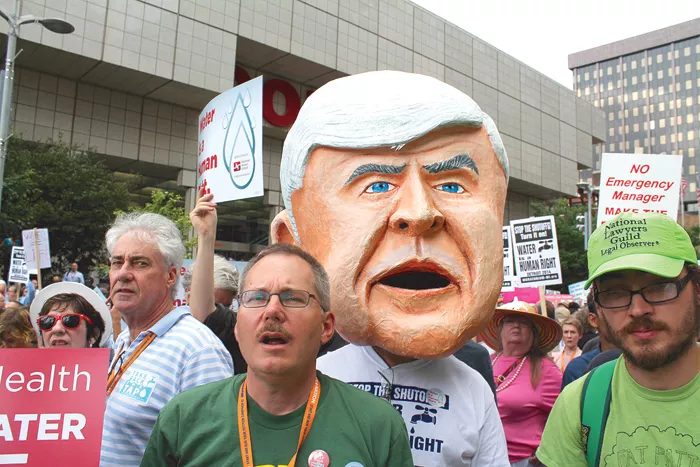 Netroots Nation
Whether or not you attended the ninth annual Netroots Nation convention at Cobo Hall last weekend, you may have heard about downtown's large demonstration against Detroit's water shutoffs.
More than 1,000 people took to the streets to protest against the city's ongoing shutoff initiative, while a number of civil rights organizations formally called for a moratorium on the practice. (By Monday, the Detroit Water & Sewerage Department actually announced a plan to halt shutoffs for 15 days, though officials held their tongue and declined to concede it was due to the continually increasing pressure from vocal opponents and even the judge overseeing Detroit's historic bankruptcy.)
But besides the protest, a lot was happening inside Cobo, where Detroit was the focus of a number of panel discussions and keynote speakers.
Considering we're a group who's thrilled by sexy topics like municipal finance, we listened to a panel talk about the role of Wall Street lending practices.Wallace Turbeville, a senior fellow at the Demos Institute, explained what he thought was one the leading factors of Detroit's tumble into bankruptcy.
"The city was absolutely crushed by the Great Recession and it was affected more and more intensely than any other large city in the United States by a lot," Turbeville said, bleakly. That, in part, was compounded by a disastrous financial deal concocted by then-Mayor Kwame Kilpatrick in 2005 to shore up the city's pension funds.
The $1.4 billion loan the city received was tied to what are called "interest rate swaps," essentially bets on which way interest rates are going to move. If rates plummeted, which they did when the economy crashed in 2008, the city would owe the banks, big-time. The deal eventually started to cost the city $4.2 million a month, until earlier this year, when Detroit officials settled with the banks involved in the deal, paying $85 million to end the swaps.
Enough wonky lingo. Basically, as many, including Turbeville, have said, Detroit's financial crisis was caused by the disastrous swaps deal, the housing market collapse, and cuts to revenue sharing from the state.
For how dry and complex municipal finance can be, it certainly was heartening to see a diverse crowd of all ages attending the panel.
Later in the day, Greg Leroy, executive director of Washington, D.C.-based policy research center Good Jobs First, launched into a presentation about corporate welfare and tax loopholes that companies like to capitalize on.
Leroy stated what seemingly should've been obvious: The subsidies provided to companies have an adverse impact to the entire community at-large. That's because the so-called "megadeals" Leroy focused on take away dollars that could be used for basic services, he explained.
"The tax base for public services that really do matter for economic development … suffers," he said.
News Hits listened attentively, staying as focused as anyone in the room can on a presentation about corporate welfare and tax loopholes. Leroy's presentation, filled with reams of data, made it easily accessible to the layperson.
But there are still issues that persist, he explained. "There's a real dearth of outcome data to get at some of the issues you would logically go to," he said.
Trial by Fire
It was only two months ago when a score of locals joined at the First Unitarian Church at 2860 Woodward Ave., after a fire burned the establishment down, to deliver a final service by candlelight. The occasion included the reading of a speech from the church's first service in November of 1980.
Soon after, the church's owner, Salim Kermenko, got an expedited city wrecking permit, and demolished the remains of the ravaged structure. Except there was one issue: He left a giant pile of debris on the site. For weeks, a backhoe and the building's remains have just sat there. The city of Detroit took Kermenko to court, saying the site "warrants emergency action."
We couldn't reach Kermenko, but News Hits wanted to know what had come of the case. So we trekked up to Wayne County's Third Circuit Court, where a hearing was scheduled last week on the matter. Turns out Chief Judge Robert Columbo Jr. had already determined the debris was a nuisance and ordered Kermenko to clean the site up.
"The subject property … is declared a public nuisance, a blight and common law nuisance per se; and an unreasonable interference with a common right enjoyed by the general public by significantly threatening the public's health, safety, peace, comfort and convenience," Columbo's order read.
Columbo ordered Kermenko to backfill the property with "clean soil and [remove] ALL debris and [have] a flat grade surface at the … property by July 31." Kermenko would also have to reimburse the city $500 by last Friday, though it was unclear at press time if the transaction occurred.
M-1 Rail to Break Ground
It has taken more than sevenyears to come to fruition but, on July 28, the organizers are going to break ground on a 3.3-mile streetcar line along Woodward Avenue between downtown, Midtown and New Center.
And with that, will come a gargantuan amount of detours and orange barrels. If all goes according to plan, the project should wrap up in 24 to 27 months, by late 2016. Matt Cullen, M-1 Rail president & CEO, and COOPaul Childs told reporters last week that enough safeguards are in place to ensure the timeline is attainable, barring some catastrophic winter with months of sub-zero temperatures.
The first phase of construction will last about four months, they said. For downtown commuters, that means added travel time, as all of Woodward between Larned Avenue and Adams Street will be closed to traffic, but — but! — major cross streets will remain open. Construction will typically happen 7 a.m. to 7 p.m., Monday through Friday, with no action happening on major holidays. Cyclists will be able to roll on anywhere besides the construction work areas, and pedestrian access will be maintained at all times.
Bus riders who travel Woodward are being advised that the Detroit Department of Transportation (DDOT) and the Suburban Mobility Authority for Regional Transportation (SMART) will continue operating during construction, just at different stops. Call DDOT ahead of time at 888-336-8287, or SMART at 866-962-5515.
And, in case you were wondering: Detroit's beloved overhead monorail, the People Mover, will be unaffected by the M-1 Rail constructed. The People Mover lives!
Get Out the Vote
Detroit City Clerk Janice M. Winfreyis seeking to educate citizens on their voting rights, and dispel a common myth: that convicted felons have been stripped of their right to vote. While many states do deny convicted felons of the right to vote, Michigan does not. Here in Michigan, the only time felons are prohibited from voting is while they are serving their time. Those awaiting trial or arraignment have the right to vote under Michigan law, and may do so by absentee ballot. Those who are on probation or parole also have the right to vote. News Hits fully enjoys, and supports, the right to vote. We encourage all our readers to get informed on the issues and register to vote by Oct. 6, for the Nov. 4 general election.
On Sunday, the front-paGE, above-the-fold headline of the Detroit Free Press must've jumped out at readers: "Hockey, Housing and a Whole Lot More." Olympia Development of Michigan, an arm of Detroit Red Wings owner Ilitch Holdings Inc., had made a grand announcement: It had a vision for the city's downtown entertainment district. There were renderings to prove it.
That's not to say what the Ilitch organization conceptualized for the massive 45-block entertainment district wasn't impressive. It was. Besides the $450 million arena, equipped with 20,000 seats for hockey fans, Olympia said it would invest "tens of millions of dollars" in public infrastructure improvements, including lighting, sidewalks, green spaces, and streets. It planned to invest $200 million in new, mixed-use development to occur concurrently with the construction of the arena. The company planned to construct residential units, which would help fulfill the growing demand for housing downtown. If Olympia follows through on the investment, it would net them a $62 million tax credit from the Detroit Downtown Development Authority (DDA), the entity that will own the arena and lease it to the Red Wings' owner for as long as 95 years, according to city records.
Besides the Freep's story on the plan, Crain's Detroit Business followed with an equally impressive spread. The reports on the arena district concept were, more or less, eagerly optimistic — and rightfully so: For years, Detroiters sat on the sidelines awaiting the Ilitches' move to develop a vast amount of property surrounding their Fox Theatre. This was the payoff: If implemented, the Ilitches' plan would bring new shops, restaurants, bars, and stores. (Without delving further into specifics, a website launched Sunday, DistrictDetroit.com, offers an outline of what to expect if everything falls into place.)
By evening, the local TV news stations injected their palpable sense of optimism about what was entirely a concept into the air. One reporter asked viewers to "imagine" the blighted, empty space of the Cass Corridor behind her being transformed into a vibrant entertainment district.
What was missing, it seemed, was an additional dose of realism. That is, unless you read Stephen Henderson, editorial page editor of the Freep, and his Sunday column.
"In addition, there is some reckoning that needs to be done of the family's long-tenured ownership of many properties in this area," Henderson wrote. "They held on to property while the neighborhood deteriorated — arguing, convincingly, that the time and economic conditions weren't right for development — but now promise to move forward with what they own. Promises have been made before, some kept (think Fox Theatre) and some not realized (think Detroit's Wrigleyville)."
What Henderson seemed to be saying was this: Yeah, this is outstanding, but let's pull back on the reins a bit and figure out what needs to be done to make it a reality. Because, haven't we been here before? The Ilitches themselves have proposed a number of such visions that went nowhere, as Metro Times previously reported.