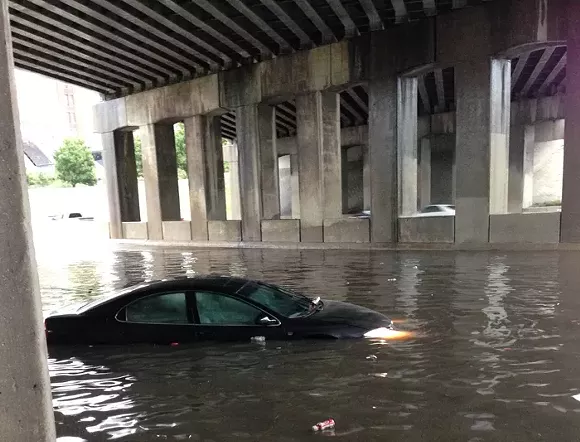 Detroit got hit with even more rain on Tuesday, and while
not as bad as the Aug. 11 floods
, it was still pretty bad if you happened to be in the wrong place at the wrong time.
We were wrapping up an interview in Hamtramck, a town that
we knew was prone to flooding
. Making a getaway to the highway was a bad idea as flooding brought traffic to a crawl. We tried to devise an alternate route, driving slowly through the pools under the overpasses in Detroit so as not to stall out our engine, but we decided not to risk it after a truck's wake nearly swallowed our whole car.
After parking in a safe spot nearby, we ventured down to the underpass at I-94 and I-75 to survey the flooding, and saw this stranded car with its headlights still on. Not wanting to meet the same fate, we decided to head back back to Hamtramck to just wait the storm out. We had a scheduled phone interview coming up and a dying cell phone battery, but fortunately the Rock 'n' Roll Liquor Store saved the day (they
really do have everything there
).