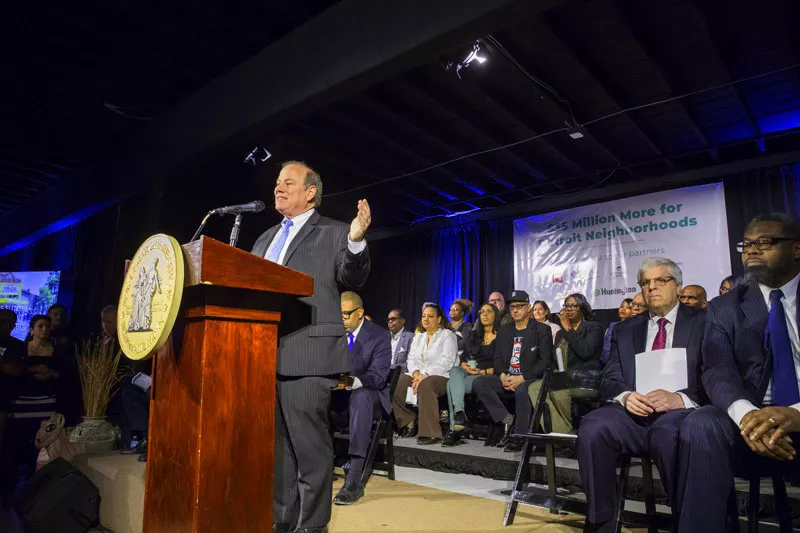 On Monday, Mayor Mike Duggan announced ten Detroit neighborhoods would receive millions of dollars in investment from seven companies — the largest corporate donation to neighborhood development in the city's history.
The companies — American Axle Manufacturing, Blue Cross Blue Shield of Michigan, Chemical Bank, Fifth Third Bank, Flagstar Bank, Huntington Bank, Penske Corporation — will each invest $5 million to the city's Strategic Neighborhood Fund. According to Duggan, an additional $70 million in investment is expected, bringing the total to more than $100 million.
The seven neighborhoods are Grand River Northwest, Jefferson Chalmers, Russell Woods/Nardin Park, Campau/Banglatown, Warrendale/Cody-Rouge, Gratiot/7 Mile, and East Warren/Cadieux. Duggan said the money will be invested in rehabbing homes, storefronts, and vacant buildings, as well parks and streetscapes.
"Today, we are seeing a major shift within the corporate community toward investment to our neighborhoods, and residents can expect real, physical changes coming in the next few years," Duggan said in a release. "With the help of our partners and this record-breaking commitment, we are taking the strategy that worked in Midtown and scaling it citywide to bring more development to neighborhoods across our city."
"This is what the people of Detroit have been waiting for," he said. "'When does the development start to spread to my neighborhood?'"
Of course, there are way more than just seven neighborhoods in Detroit, but the money is a start. According to Duggan, leaders from each of the seven neighborhoods will meet with the companies to offer input on how the money will be spent. Duggan also said the communities could decide to partner with an individual company as a "sponsor."
The giveaway follows Michigan's tendency in recent of relying on corporate money to solve government problems. Earlier this year, the likes of
Quicken Loans
and
Elon Musk
donated money to install water filtration systems in public schools in Detroit and Flint after tests showed elevated lead levels. It also follows Detroit's post-bankruptcy "Grand Bargain," where 12 foundations pledged more than $300 million to bail out the Detroit Institute of Arts and the city's pensions. Even Domino's Pizza has started filling potholes in our state's crumbling roads,
branding them with the company's spray-painted logo
.
Why the reliance on private funding? In a study,
"Governing without Government: Nonprofit Governance in Detroit and Flint,"
researchers from Michigan State University and Grand Valley State University found that Michigan's policies "sharply limit local governments' and school districts' ability to pay for infrastructure, personnel and other basic functions, creating a strong incentive for local officials to seek private funding."
In
The Washington Post
, researchers summarized their findings:
Michigan policy strictly limits local governments' revenue options by reducing the amount of state revenue shared with local governments and maintaining high public employee costs through pension and health-care obligations. Moreover, Michigan cities have faced the consequences of economic decline, including deindustrialization, population loss and sharp reductions in property values.
The state's policies have led to a higher rate of financial emergencies:
As a result, 18 Michigan jurisdictions — 11 cities, five school districts, one county and one village — have had state-designated financial emergencies since 1990. While economic devastation has challenged other Rust Belt states, Michigan has a high concentration of financial emergencies. Law professor Michelle Wilde Anderson identified 28 cities with more than 15,000 residents that entered bankruptcy or state receivership during the Great Recession from 2008 to 2013. Of these, six were in Michigan. Neighboring Ohio had only three, and Indiana and Illinois had one apiece. Only Pennsylvania had more than Michigan, with eight. But state receivership in Pennsylvania is widely lauded by local governments, since it expands their power to tax.
The austerity brought by emergency management means cities like Detroit and Flint have to get money from elsewhere:
As our research shows, the combination of fiscal and economic pressures with emergency management governance in Flint and Detroit meant severe cuts in local government spending. For instance, from 2003 to 2016, Detroit lost about 29 percent of its residents and cut more than half of its city government workforce. Flint lost 22 percent of its population between 2000 and 2016 — and city government reduced its workforce by 56 percent. A 2015 Government Accountability Office report on municipalities in fiscal crisis links fewer government employees with the loss of federal revenue streams for housing, Head Start and other functions. Without the managers who can seek that funding or oversee its use, the report states, Detroit does not "have the capacity to improve its capacity." To compensate, nonprofit groups in both cities have expanded services, including for water-crisis recovery in Flint and activities ranging from infrastructure to neighborhood development to social services in Detroit.
The authors caution about getting too comfortable with this arrangement, however:
Private donations can fill gaps, but they cannot replace more reliable streams of funding for essential public services such as clean drinking water, fire and police protection, and public education. Donors might gain stature and gratitude for these contributions, but cities receive only a short-term reprieve from long-term challenges.
Then again, perhaps it's the least these companies can do. Michigan is one of the top states for corporate welfare. According to the right-leaning
Mackinac Center for Public Policy
, Michigan lawmakers have authorized the state to spend $16 billion on corporate subsidies since 2001.
Stay on top of Detroit news and views. Sign up for our weekly issue newsletter delivered each Wednesday.