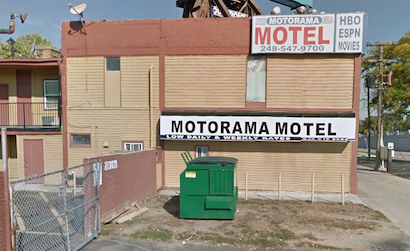 Last last year, we
shared the work of local reporter Crystal Proxmire
, who went through most of 2015's police reports concerning the Motorama Motel.
The numbers for 2015 were still coming in, but police furnished 79 reports for the first 327 days of the year. Without casting any moral judgment on the hotel, we can say that police certainly spend a fair amount of time responding to calls there. According to the police investigation reports, some of the outcomes are serious. On April 20, 2015 a man bought heroin from someone staying at the Motorama, and ended up dying on a front lawn on Fielding Street. On Nov. 11, 2015, a man was found dead in Room 110 of unknown causes.
We bring all this up because we've learned that
Ferndale City Council is going to put the business' license to a vote on Monday
. Based on inspection reports and and 281 calls for service since 2013, police are recommending the motel's license not be approved.
Want to join the meeting and sound off on the issue?
It will take place at 7 p.m. in Council Chambers at 300 E. Nine Mile Rd., Ferndale
.