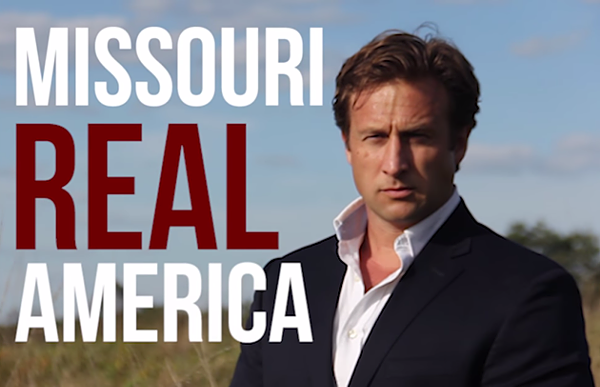 Courtland Sykes is an enigma. The outspoken political newcomer is running for Missouri's Senate seat, hoping to catch some of the tidal wave of populism that Donald Trump rode all the way to the White House. He's got an endorsement from former Trump strategist Steve Bannon, and says point-blank in his
campaign video
, "if you like President Trump, then you and I see eye to eye."
Yet little is known about the man. The campaign has caused our sister paper, the Saint Louis
Riverfront Times
, to wonder
"Seriously, is this Courtland Sykes guy for real?"
At least one political analyst has given a Sykes' run a
.1 percent chance of being a performance art stunt
.
In Michigan, we had our own run-in with a Trump-inspired Senate run as performance art. (Remember
the Kid Rock thing?
We wish we didn't!) However, Sykes has another connection to Michigan — and one that has us scratching our heads.
This week, Sykes' name was in the news after he shared his views of women's rights
on Facebook
. (Choice cuts: "I want to come home to a home cooked dinner at six every night" and "I want daughters to have their own intelligence, their own dignity, their own workspace and their own degrees ... I don't want them [to] grow up into career obsessed banshees.") By Thursday, numerous articles circulated
glomming onto his views on feminism
, but some also referenced a profile in the
St. Louis Post-Dispatch
which cited an FAQ document Sykes sent to the paper in which he "praises
Breitbart News
, derides 'Big Media,' belittles the Muslim faith and, in a jab at the nation's education system, says Detroit 'is crawling with uneducated people who can't read a breakfast menu.'"
*Record scratch. Freeze frame.* Wait, what?
We reached out to the
St. Louis Post-Dispatch
for the complete document for the full context. The reporter declined to share the entire document, but did agree to share the Detroit quote in full. It was:
"More than half of Detroit's adults are functional illiterates — the town is crawling with uneducated people who can't read a breakfast menu."
Hmm. Sure, Detroit's education system
has its challenges
, but... since when did reading breakfast menus become a benchmark of literacy? It's a strange quote to say the least.
We emailed Sykes' campaign for clarity. We did not receive comment by Friday morning.