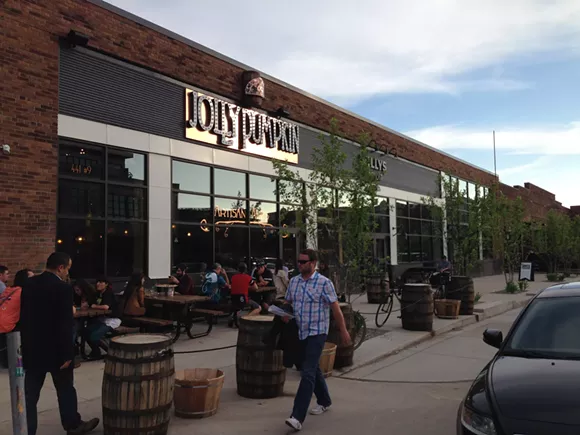 Warding off future strip malls must be a pressing issue given the headlines of recent stories about Midtown's quest to make the "hot neighborhood" more walkable.
In reports from both
The Detroit News
and the
Detroit Free Press
, the main reason highlighted for the push from Midtown Detroit Inc., the non-profit behind much of the new development in the area, to change zoning regulations is to encourage more walkability by discouraging the building of strip malls.
"Strip malls are totally against urban forms of creating density and it doesn't promote walkability," said Susan Mosey, executive director of Midtown Detroit Inc.
Ok. Well, true, sort of. Technically, you
can walk
to strip malls (this writer does all the time to do laundry, eat donuts, buy shit from the Dollar Tree, etc.), but we get it, taller is better when it comes to creating critical mass and obviously having large parcels of land devoted to parking cars doesn't exactly scream "HEY, WALK PLACES!"
But you know what also deters people from walking places? Fear. And you know what's super scary? Domestic abuse shelters, pool halls, tattoo parlors, and soup kitchens. These things would also be excluded from being built in the area under the new zoning regulations, but let's not talk about what that means, right? Let's bury that beneath talk about how bad strip malls are for future development.
This new zoning would only apply to future development — meaning no places that fall into these categories would HAVE to move — but come on. Midtown Inc. has been
pushing for these regulations for over a year
, and according to reports, the Detroit City Council could vote on it as soon as this month.
Mosey also stated, "We would have a lot more parking decks" if the new zoning is adopted, because unlike parking lots, parking decks totally scream "HEY! WALK PLACES!"
Whatever you say, Midtown.