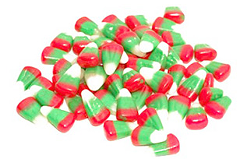 We're in the thick of the holiday feeding frenzy, and Michiganders' exemplary tastes are in the spotlight once again.
As standard candies get wrapped or dyed red and green for Christmas-time consumption (think Hershey's Kisses and M&Ms), the people in our great state are passing them up in favor of... reindeer corn. Yes, that Christmas-colored offshoot of Halloween's most repulsive offering, candy corn.
The information comes to us from online candy wholesaler, Candystore.com, which says it surveyed more than 50,000 customers to determine
reindeer corn
is the preferred candy in Michigan around the holidays. It's also the treat of choice in states like Utah and Alabama.
In the lead up to Halloween, Candystore.com found that, based on 10 years of sales data, the most frequently purchased candy in Michigan was traditional candy corn. At the time, we speculated (and hoped) that the results were a budget thing. Candy corn was among Candystore.com's cheapest offerings – with 30 pound bags going for just $101, while other cheap treats like Dum Dums and Sweet Tarts cost $30-$50 more.
But when it's a survey as opposed to sales data... what excuse do Michiganders really have? Candy corn, and all of its offshoots, are gross. And that is, apparently, not only our opinion, but a widely-held belief.
The candy wholesaler (which, by the way, is killing it in the PR department) went as far as conducting a follow-up survey that looked at the
most hated holiday candies.
What it found was that reindeer corn is the second-most disliked treat, right behind Christmas tree nougat (no doubt though, that shit is even grosser).
Here were some of the comments the company compiled on Michigan's favorite holiday-time candy:
"Last year, my in-laws busted out Christmas candy corns. Do we have to do candy corn for every holiday now?"
"The green and red candy corns. Who are they fooling? It's the same nasty stuff."
"The filthy Christmas colored candy corns. Ick."
"The answer for worst candy is always candy corn. Seasons don't matter."
Truth. Do better, Michigan.