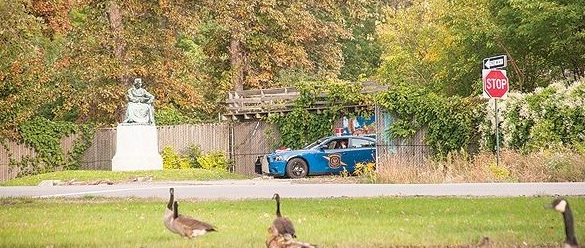 The Michigan State Employees Association is demanding that Michigan state park police officers receive body armor, Tasers, and guns to handle incidents it claims are "increasing in frequency and becoming ever more dangerous."
MSEA, the union that represents state park officers, claimed in a release that issues officers encounter include gang activity, drug and alcohol abuse, and a more than 300 person riot, the latter of which occurred in Grand Haven State Park.
MSEA filed a complaint on behalf of state park officers with the Michigan Occupational Safety and Health Administration with intent to get officers better equipment and training.
It argues that officers are expected to do the job of any other officer of the law, but without body armor, Tasers, a sidearm and proper communication equipment. The union also contends park officers lack proper training and backup to handle dangerous incidents.
MSEA President Ken Moore says the issue affects both officers and park visitors.
"All patrons of Michigan state parks should be assured of their safety as they enjoy the beauty of our great state," he says. "Furthermore, we are not going to just stand by and allow our state park officers to be threatened, abused and put in dangerous situations they are not equipped to deal with."
The call for more equipment comes
just after
a female park officer was assaulted on Belle Isle over the weekend
MSEA says that a "comprehensive mailing" was sent to state legislators and Governor Rick Snyder regarding their concerns but it received "virtually no response."
The Michigan Department of Natural Resources, which employs the officers, says it will evaluate the union's concerns.
Stay on top of Detroit news and views. Sign up for our weekly issue newsletter delivered each Wednesday.

(Jacob Stocking is a summer intern at Metro Times.)