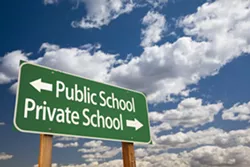 For the past three-months (years, if we're to be totally honest) Michigan politics have been uniquely focused on one topic: the future of Detroit schools.
What will happen to Detroit Public Schools — a district that has seen its debt balloon over the years, as emergency managers have shuffled through in 18-month rotations? What will happen to the charter sector — a potpourri of publicly funded, but privately run schools whose unregulated growth in the last decade has not only contributed to the financial decline of the traditional public school district, but also put forth only marginally better results and limited public accountability?
While these debates raged — and were ultimately decided in a contentious "Putting Students First" package that
passed in June
— few realized that the future of education in Detroit, and Michigan at large, was being negotiated in a more private arena.
On Monday, Gov. Rick Snyder
signed into law
a $16.14 billion education budget bill — 2 percent larger than the previous year's. While the increased ed spending has been widely celebrated, what more or less went undebated — and almost unnoticed — was the fact that $2.5 million of the new aid is earmarked for private and parochial schools.
Giving money to private schools — a form of education spending known as voucher schools — is highly contested nationally. It is an idea that has come up multiple times in Michigan legislature, but has never actually passed. In other states where voucher laws have been passed —
North Carolina
, Indiana, Florida,
Nevada
to name a few — lawsuits quickly ensue. Why? The idea of giving public dollars to religious schools ("parochiad") is a violation of the state's constitution. Other issues with vouchers center around accountability, since private schools are not held to the same testing and curriculum requirements (i.e. Common Core) as public and charter schools.
With this in mind, it should come as no surprise that
The Detroit News
is reporting today that unions and school groups in the state are currently contemplating legal action around the voucher notion.
"We're very seriously thinking about the strategy for challenging this really unconstitutional allocation of public dollars to private schools," David Hecker, president of the Michigan chapter of the American Federation of Teachers told the
News
.
While those in favor of the vouchers argue that the money is being used for state mandated requirements that private schools must follow (i.e. immunization compliance, fire drills, required courses like civics), those who are opposed to it point to the state constitution that very clearly bans "payment, credit, tax benefit, exemption or deductions, tuition voucher, subsidy, grant or loan of public monies" to non-public schools.
More notably, opponents of the voucher plan point out that while the current budget has state dollars going to more benign uses within private schools, the mere acceptance of vouchers would allow for other more questionable uses of public dollars in the future.
Why do they think this? Well, supporters of vouchers have more or less explained this before. Below you will find an incredibly prophetic and important article by former
Metro Times
journalist Curt Guyette from 1996. What he describes
is a plan
— from 20 years ago — for getting public dollars into private schools. The funders of such plans? The very same folks (
ahem, looking at you, DeVos family
) who have been pushing for charter schools in the state, more specifically in Detroit, during the more recent legislative debates (As Guyette explains it, charters were a "trojan horse" to blur the lines between public and private and make voucher school funding more attainable).
What's remarkable about Guyette's piece — and the quotes within it — is how it details the "long-game" voucher proponents are willing to play. Getting money to parochial schools is the goal, but making it happen in 5 years, 10 years, 30 years is somewhat irrelevant — as long as it happens.
Curt Guyette - Engler/DeVos 1996 by Allie Gross